BMW has clinched its third-straight Intercontinental GT Challenge Powered by Pirelli win after Team WRT's Philipp Eng, Sheldon van der Linde and Dries Vanthoor took victory at the Indianapolis 8 Hour Presented by AWS.

It follows hot on the heels of success at the CrowdStrike 24 Hours of Spa where Eng was also part of ROWE Racing's winning line-up, while Van der Linde, Vanthoor and WRT triumphed at the Kyalami 9 Hour in February.

However, the Bavarian marque should realistically have celebrated a one-two finish. Its other factory entry enjoyed a healthy 31-second lead when Augusto Farfus tangled with traffic halfway through the sixth hour. And although WRT's mechanics repaired the damaged front-left toe link, its #31 M4 GT3 was by then well out of contention.

Mercedes-AMG didn't have the pace to challenge for victory but completed the podium thanks to Craft-Bamboo and GruppeM's largely trouble-free runs. The result will see Jules Gounon – who shared second place with Maximilian Goetz and Raffaele Marciello – lead Eng by eight points when IGTC's season concludes at the Gulf 12 Hours on December 8-10.

Luca Stolz also remains a drivers' championship contender after he finished third alongside GruppeM co-drivers Dani Juncadella and Maro Engel.

Fanatec GT America's leading entry, Wright Motorsports, was also Porsche's top-scoring IGTC nomination in fourth overall. Even a puncture in the final hour couldn't deny Madison Snow, Jan Heylen and Trent Hindman a dominant domestic victory by one lap over the event's standout Pro-Am car: CrowdStrike by Riley's Mercedes-AMG shared by George Kurtz, Colin Braun and Nolan Siegel.
IGTC's Independent Cup, like its overall drivers' and manufacturers' championships, will be decided at Circuit Yas Marina after Antares Au scored his second class win in as many Intercontinental events. Huber Motorsport's Pro-Am Porsche also featuring Alfred Renauer and pole-winner Laurin Heinrich was always likely to drop back from its starting position but came home seventh overall and fifth in IGTC as Porsche's second-best nomination.

Au will start 11 points behind Jonathan Hui whose Sky Tempesta Ferrari finished second in the Independent Cup. Grove Racing's Porsche completed the podium to also leave Stephen Grove as a championship contender at the season finale.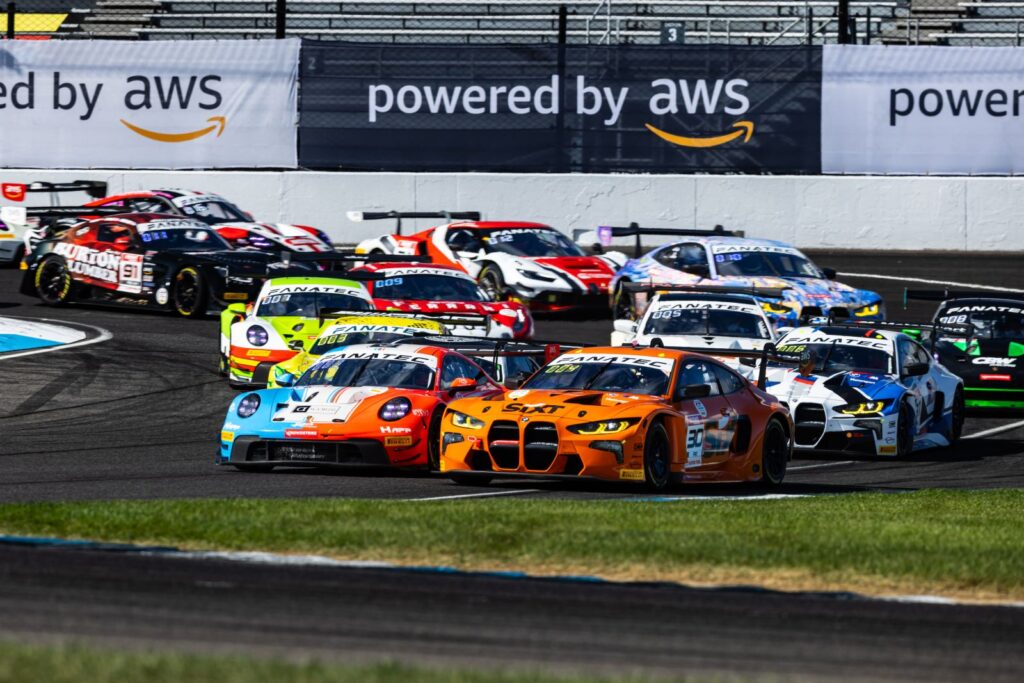 WRT's BMWs only qualified fourth and sixth but any suggestion they might struggle in race trim was dispelled by the end of the opening lap after Eng took the lead heading into Turn 1 and Farfus moved up two spots.

They were running one-two by the end of the first hour and pulling clear of the chasing factory Mercedes-AMGs, which had also cleared Huber's pole-winning Porsche driven by the Silver-graded Renauer.

The race's only caution period occurred halfway through the second hour when DXDT's Mercedes-AMG ground to a halt. The majority of the field pitted under Safety Car conditions, which promoted BimmerWorld's M4 into the lead. It lasted less than half a lap once racing resumed as Chandler Hull struggled to contain the fresh Pirelli-shod runners behind.

They included Maxime Martin and Vanthoor who nudged his team-mate out of the way just as both passed Hull. Race Control swapped WRT's cars back around but it was #30 that completed the stint and quarter distance in front after Vanthoor found another route around #31.

However, the positions reversed again just after the third hour when WRT's leading entry collected a drive-through penalty for exceeding its 65-minute stint length by just 11 seconds. It was an uncharacteristic mistake by WRT whose bright orange Sixt-backed BMW dropped to fourth overall behind Craft-Bamboo and GruppeM.

That gifted the sister car a significant advantage that it should have converted into victory. Even a slow puncture and unscheduled pitstop, albeit one within the strategic window, didn't compromise the car shared by Charles Weerts, Martin and Farfus who enjoyed a 31-second lead over Gounon at half-distance.

The gap was exactly the same 97 minutes later when the Brazilian misjudged his entry into Turn 1 and hit the Triarsi Competizione Ferrari. The damage wasn't terminal but did cost WRT a likely one-two.

By that stage #30 had made its way back up to second by passing Juncadella and Gounon. From there, its drivers reeled off the laps – and new Indy 8 Hour distance record – to score a dominant win that leaves Eng as well as Van der Linde and Vanthoor with a fighting chance of claiming the IGTC drivers' title.

Behind, GruppeM's scrappy first 90 minutes in which Engel had a brief off and then lost further time avoiding two spinners ahead allowed Craft-Bamboo to pull clear. But the two Mercedes-AMG's ultimately finished just 0.5s apart thanks to a damaged splitter that helped Stolz dramatically close on Marciello in the final hour.

Wright's Porsche was excellent throughout en route to fourth place and a dominant Fanatec GT America victory. However, its chances were also boosted by BimmerWorld's alternative strategy, late spin and resulting pitstop that dropped the BMW out of the top six.

Instead, ST Racing's Samantha Tan, Neil Verhagen and Jake Walker scored sixth place IGTC points for their manufacturer. And with both BMW and Mercedes-AMG each collecting 33 across their two best placed nominations, they now head to Gulf 12 Hours separated by nine with 43 still to play for.
Published by: Intercontinental GT Challenge
MSA Publishes media releases from a host of different sources on our website as a service to the sport. It is not practically possible to vet/approve every release that is published. Some news items and articles are written by correspondents and do not necessarily represent MSA's views.