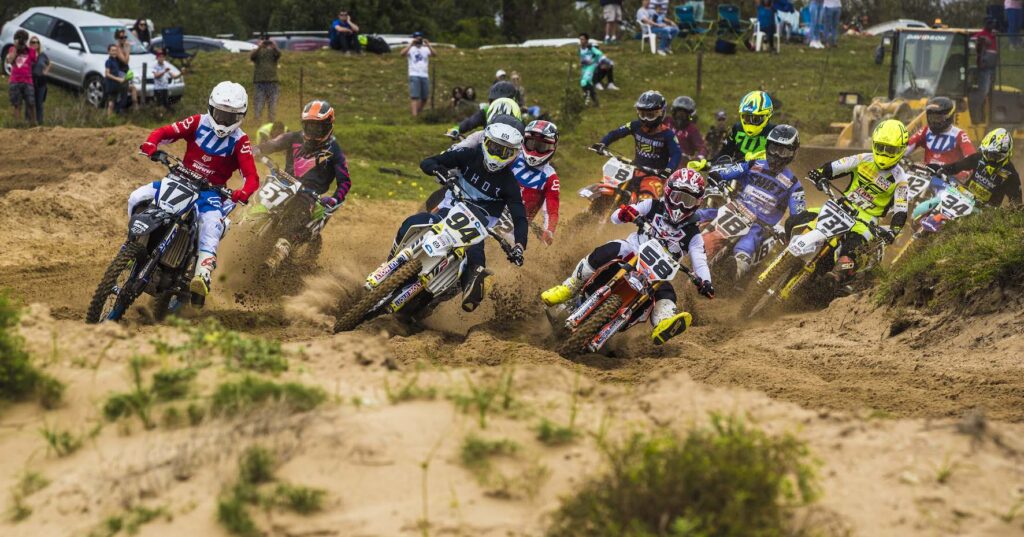 How does it work?
Motocross is a form of off-road motorcycle racing held on enclosed off-road circuits, which are of natural terrain.
A race will begin with up to 40 riders lining up at the start gate. The signal to start shall be indicated by a 15-second board being shown. After 10 seconds, a 5-second board will be shown. This will indicate that the starting gate will open from 5 to 10 seconds thereafter.
After the gate drops, riders will race into the first corner in a battle for the holeshot. The first rider to enter the corner gets the holeshot. The rider who takes the holeshot also has an advantage, especially on tight courses where overtaking may be difficult.
Riders will continue to race multiple laps determined for the class the rider is competing, before being waved the chequered flag at the finish line.
Sports derived from motocross:
A number of other types of motorcycle sport have been derived from Motocross:
Freestyle / Supermoto / Quad Motocross / Supercross / Sidecarcross / Pitbikes and Mini-motocross
How to get started?
First, get the feel on a BMX bicycle. Trips through local trails on a bicycle will give you that crucial first taste of rubber-and-rough and is a slower (although no less technical) introduction to off-road. It's even possible to sample some 'air-time' with a few small jumps.
To attend some BMX tracks will take the jumping aspect a step further, and the need for a combination of timing, pace and self-confidence means that it provides a small insight into what motocross riders experience.
Once this has been mastered, you can progress to a Motocross bike. If possible, hiring a motocross trainer would assist in mastering skills.
Motocross Tracks have practice days where you can attend in order to get the feel for the track and the bike – Practice makes perfect.
For Juniors (maximum 16 years old), there is a development programme called MotoKids Academy that you can attend to be taught correctly and learn on motocross tracks.
MotoKids Academy:
A programme for the development of junior motorcycle riders and provides a platform for fun motorcycle-riding, youngsters can enjoy riding socially, before making the decision of competitive or fun racing. MotoKids Academy is specifically for novice and amateur kids between the ages of 4 – 16 who ride motorcycles. For further information, please kindly contact Miranda du Plessis (admin@gxccracing.co.za / 081 777 0411)
Motocross Terminology:
Like any other sport, MX has its own terms and language that are used on a daily basis. Part of starting out in the sport, is learning what these terms mean:

• AIRTIME – The time spent in the air whilst jumping;
• ARM-PUMP – When the muscles in the forearms get hard. Often happens at the beginning of a race when a rider grips too hard;
• BERM – The build-up of dirt or sand around a corner forming a ridge or wall along which competitors can ride;
• BLOCK PASS – When a rider brakes and slides in front of another at a corner;
• FACE – The leading edge of a jump that determines how high or far you will fly when you take off;
• HOLE SHOT – The term given to the leader at the first turn;
• GNARLY – Refers to a rough, uneven track;
• KNOBBLY – A Motocross tyre;
• RAILED – Around a corner at an exceptionally high speed
• ROOST – The rocks and debris thrown up behind an accelerating motorcycle;
• RUTS – Grooves that form on a track as a consequence of the same line being used over and over;
• TABLETOPS – A flat jump;
• TEAR OFFS – Thin clear plastic lenses that fit over goggle lenses and which can be 'torn off' during a race as and when required;
• WASH BOARDS – A section of very small bumps that are designed only to be crossed at speeds commensurate with rider skill;
• WHIP – A jumping style often used by freestyle MX riders. Used in motocross as a means of correcting the bike direction in mid-jump;
• WHOOPS – A section of controlled smaller jumps that you have to find rhythm over
How to obtain a motocross bike number, classes and number board colours:
Once you have obtained your license via the online system (www.msaonline.co.za), please fill the below link in and the relevant Sport Co-ordinator will be in contact to reserve the race number for the season for the rider (Click here).

For further guidance and advice about the technical aspects, including your kit and bike, please click on the links below to download the National Motocross Regulations:
---
For more information, please get in contact with our Motocross Co-Ordinator Carmen Hill on carmen@motorsport.co.za