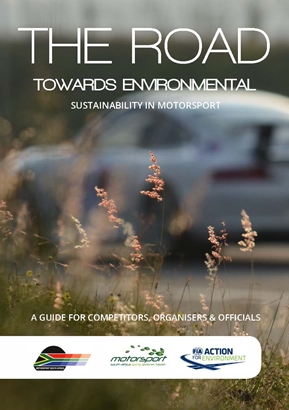 All human activities, whether work, domestic or recreational in origin, will have some impact on the environment. The challenge of participating in Motorsport may be enjoyed at both indoor and outdoor venues and is an activity whose enjoyment is based on the generation of mechanical energy to achieve its objectives.

The generation of this mechanical energy requires the use of a wide variety of chemical products, which, both in their manufactured state and in their utilization in the engine and other components of the vehicle are known toxic contaminants of the atmosphere, ground soil and water sources, flora and fauna.

The active participation of multiple motor vehicles and motorcycles in an event generates high levels of sound at all motorsport venues. To this level of sound must be added the extra sound generated by venue music, public address systems, traffic and people. Whilst this activity and accompanying noise may be exhilarating to motorsport enthusiasts, it may be interpreted as irritating noise when it disturbs the expected well being and life patterns of people, domestic and farm animals, resident in the vicinity of both permanent motorsport circuits and temporary venues.

The increasing popularity of Off Road Vehicles and motorsport events and recreational exploring in four wheel drive vehicles is a significant threat to both established and already threatened ecosystems, particularly in beach and desert areas.

Motorsport is one of the three categories in which motor vehicles and motorcycles are utilised, the other two being transport and recreation. Not one of these three categories is exempt from either environmental awareness or pollution. MSA wishes to be at the forefront of environmental awareness and protection and to heighten the awareness of environmental damage by intense promotion of its own environmental protection and safety code to all motorsport competitors and their crews, officials and organisers.

Through its international affiliation with the environmental commission of the FIM, MSA is acutely aware of international environmental planning and legislation and the potential threats to motorsport developing out of this legislation. Elements of this legislation, which are relevant to South African Motorsport, have been incorporated in the MSA code.

MSA is responsible for ensuring that all event organisers as well as competitors and officials comply with government requirements in so far as the protection of our environment is concerned.

MSA wishes competitors in all categories of motorsport enjoyment and satisfaction in participating in their chosen sport while caring for the environment at the same time. MSA desires that motorsport should be an outstanding example to all South African motorists of the care of the environment.