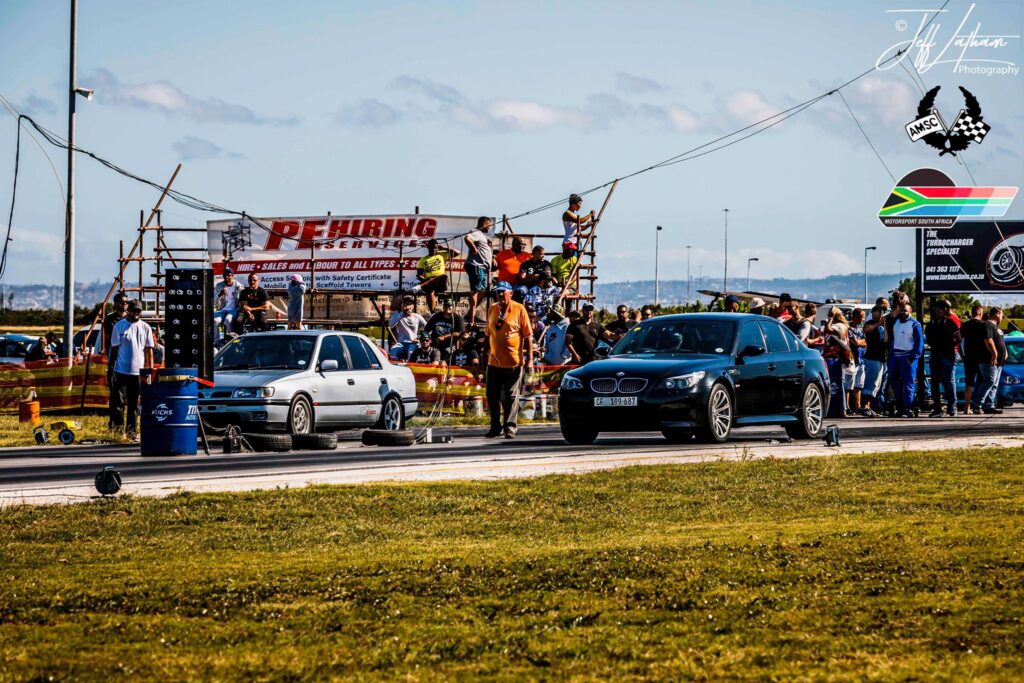 Drag racing is perhaps the fastest, loudest and most spectacular motor sport of all, pitting two cars and drivers / bikes and riders against each other to see which can cover a quarter of a mile from a standing start in the quickest time.

The discipline is most popular in its American homeland but there is a thriving scene here in South Africa. Most recognisable are the incredible Top Fuel, Nitro Funny Cars, which shake the ground enroute to top speeds of over 300mph, which they reach in under five seconds from rest. Top Fuel, though, is just the tip of the iceberg. On the bike side the Superbikes and Supersport Shootout Street Bikes are just as popular.
How does Drag Racing work?
Two vehicles/bikes, line up side-by-side on an arrow-straight strip. When the lights go out they accelerate away to the finish a quarter of a mile away (400m).

Depending on the specific event, the aim is either to reach the finish line as quickly as possible or to come as close as you can to the time that you predict you will run, without going quicker than it (bracket racing).

Generally events use a knock-out format, with the winner of each round progressing to the next until the winner is declared.
How do I get started?
First, get a feel for the sport by watching some events at MSA's main drag venues: Tarlton Raceway, Western Province Motor Club (Killarney), Dezzi Raceway and Algoa Motorsport Club (Aldo Scribante Grand Prix).

Take the opportunity to have a chat with some of the competitors during less busy moments; they will be able to answer any questions you may have and offer some advice.
What kind of car/bike do I need?
There are various classes for road cars (street cars)/ bikes, all of which much comply with the relevant Motorsport SA Drag Racing regulations if they are taking part in events. These classes are determined by factors such as engine size, modifications and fuel type.
You can either modify a road car/bike or you can buy a ready-prepared car/bike, although it will be up to you to make sure that it meets the regulations.
What equipment do I need?
What you need depends on the event or championship you'll be competing in, but you will need Motorsport SA-compliant safety kit such as a helmet, race suit, gloves and boots.
For further guidance and advice about the technical aspects, including your kit and vehicle/bike, please click on the link below for the Drag Racing Regulations.
---
For more information, please get in contact with our Drag Co-Ordinator Poka Lehapa on poka@motorsport.co.za