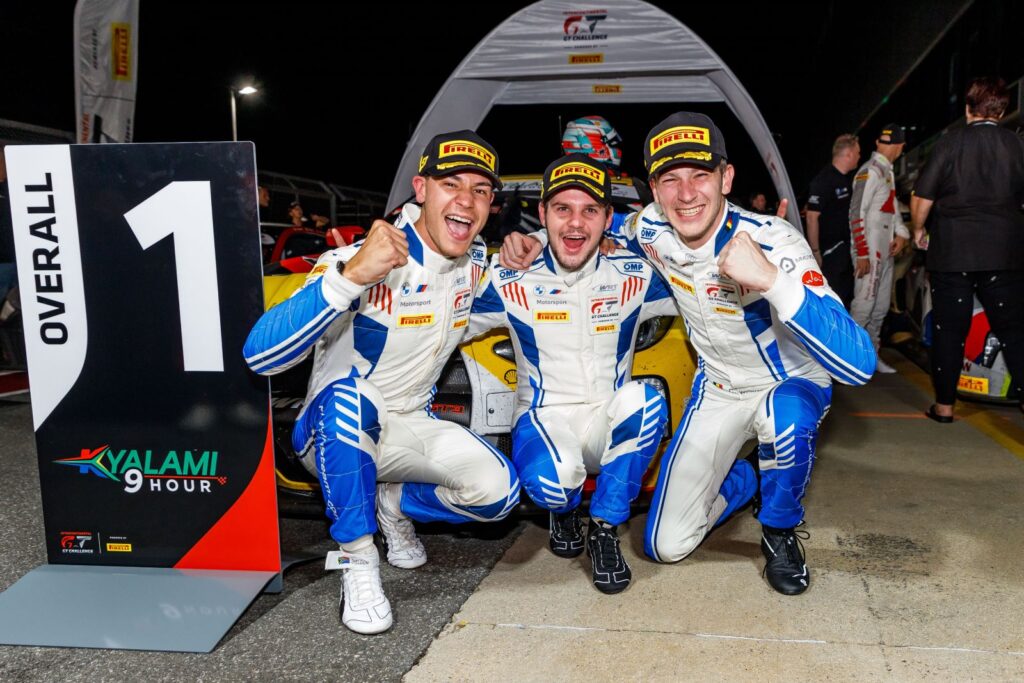 BMW has clinched its first Intercontinental GT Challenge Powered by Pirelli victory since 2020 after Sheldon van der Linde, Dries Vanthoor and Charles Weerts led home a Team WRT one-two at the Kyalami 9 Hour this evening.
The #32 M4 GT3 took the chequered flag 1.7s clear of the sister machine shared by Philipp Eng, Augusto Farfus and Maxime Martin who chased Van der Linde to the line after a late Safety Car period slashed the latter's advantage. Tresor Attempto's Audi crewed by Mattia Drudi, Ricardo Feller and Patric Niederhauser completed the overall podium another 1.3s behind.

It was BMW's first Intercontinental victory since Farfus and Van der Linde also triumphed in South Africa four seasons ago, while WRT ended a IGTC losing streak stretching back to the 2019 Suzuka 10 Hours where Vanthoor was also part of its winning Audi line-up.

Tresor Attempto's second R8 LMS GT3 finished fourth overall in the hands of Alex Aka, Dennis Marschall and Markus Winkelhock thanks, in part, to GruppeM Racing's gearbox issue that denied Maro Engel, Mikael Grenier and Raffaele Marciello a podium shot.

Instead, it was SunEnergy1 by SPS's entry that scored the bulk of Mercedes-AMG's IGTC points in fifth overall. The car shared by Kenny Habul, Jules Gounon and Yannick Mettler won the event's Pro-Am class, finished third of the Intercontinental entries, and won IGTC's Independent Cup.

Results elsewhere have also seen Habul and Gounon retain their overall drivers' championship lead by three points from Van der Linde, Vanthoor and Weerts. However, BMW's one-two now sees it tied with Mercedes-AMG at the top of the manufacturers' standings.
WRT was never headed after seizing control from GruppeM soon after the start despite Farfus and Van der Linde swapping second place at Turn 1 on the opening lap. The home favourite was back ahead with the help of team orders after eight minutes before he hunted down and passed Engel through the Jukskei Sweep with quarter-of-an-hour gone.

Farfus was also past the Mercedes-AMG before the first round of stops began just after the hour mark. But although #33 regularly closed in on #32, there was never any serious threat of a lead change between the two WRT entries which remained no more than four seconds apart until roughly half distance when Weerts began gapping Farfus after each entry had cycled through its three crew members.

Behind, GruppeM's race was slowly unravelling thanks to a radio issue that forced Grenier to communicate with his team using a mix of the pit board and his Mercedes-AMG's indicators. But far worse was to follow when a gearbox problem restricted the car to gears three, four and five.

That largely accounted for both Audis passing the Canadian in the fourth hour, Drudi doing so in the pits and then Markus Winkelhock on track.

The problem worsened once Engel climbed back aboard and eventually led to the car circulating five or even six seconds off the pace. The team made it to 70% distance in order to be classified and score IGTC points before effectively retiring.

As the evening approached it looked as though Audi might be able to challenge the BMWs. Aka signalled Tresor Attempto's potential by setting fastest lap while Feller homed in on Farfus. However, as darkness fell so the M4s upped their pace and it wasn't long before #32 and #33 pulled clear again.

Indeed, the race appeared to be heading for a regulation finish when Van der Linde took over the leading car from Vanthoor who'd established a 20-second lead over Martin thanks, in part, to the race's fastest lap. That was until Stradale Motorsport's Mercedes-AMG beached itself down the Mineshaft, which necessitated a Full Course Yellow and subsequent Safety Car period.

Suddenly the top-three were separated by a second when racing resumed with 20 minutes remaining. But while Niederhauser, on old tyres, didn't have the pace to challenge, Martin did initially hustle Van der Linde before the South African edged clear to claim his second IGTC win on home soil aboard a BMW.

Further back, the combination of pace and fault-free performances from all three of its drivers and pit crew helped SunEnergy1 clinch a well-deserved Pro-Am victory over Grove Racing's Porsche and the SPS automotive performance Mercedes-AMG.

Habul didn't put a foot wrong en route to maximum IGTC Independent Cup points while Mettler's speed saw him set two overall fastest laps early in the race. The result also sees Bathurst winners Gounon and Habul retain their overall drivers' championship lead, albeit now from Van der Linde, Vanthoor and Weerts.

An early puncture set Grove Racing back, but father-son duo Stephen and Brenton battled hard with the help of Earl Bamber to beat SPS's Miguel Ramos, Reece Barr and Luca Stolz to second in Pro-Am. Brenton's opportunistic move on Barr in traffic with just over an hour remaining would prove decisive.

Stradale's Charl Arangies, Arnold Neveling and Clint Weston also scored their first IGTC points in eighth overall, one place ahead of GruppeM's hobbled but classified entry, while MJR Motorsport's Marius Jackson, Mo Mia and Kwanda Mokoena rounded out the top-10.

The Kyalami Supercup for entries only contesting the opening hour was won by NGK Pablo Clark Racing's Mikaeel Pitamber who beat Sun Moodley (BigFoot Express Racing) and Joseph Ellerine (MJR Motorsport).

After races in Australia and South Africa within the space of a month IGTC now takes a well-earned break before resuming at the CrowdStrike 24 Hours of Spa on June 29 – July 2.

Published by: Intercontinental GT Challenge
MSA Publishes media releases from a host of different sources on our website as a service to the sport. It is not practically possible to vet/approve every release that is published. Some news items and articles are written by correspondents and do not necessarily represent MSA's views.