The FIA Rally Star Training Camp, which ran from May 22-June 1, has been declared a great success with the participants gaining vital knowledge and experience as they build up to the six FIA Rally Star Training Season rallies.
Organised by the FIA and the programme's partners, with the support of Automobile Club d'Italia as the host ASN, the FIA Rally Star Training Camp welcomed a team of rally industry experts to provide crucial advice and guidance to the six selected drivers and their codrivers.
As part of an intensive programme, the participants received training in pace note preparation, car set-up, press and TV media interviews and social media best practices. They also underwent various physical and mental assessments and had the opportunity to test the Pirelli-equipped Ford Fiesta Rally3 they will use on the six national-level events they will tackle from later this month onwards. Each driver covered approximately 200 kilometres on both asphalt and gravel.
All drivers then completed the reconnaissance for Rally Italia Sardegna, round six of the FIA World Rally Championship, at the same time as the WRC heroes they one day hope to emulate.
The Training Camp concluded with a day of media activities in the Rally Italia Sardegna service park in Olbia, where the six drivers also received guided tours of the Hyundai Shell Mobis WRT, M-Sport Ford WRT and Toyota Gazoo Racing WRT service areas.
The FIA Rally Star team of experts includes driver instructors Alexandre Bengué and John Haugland, co-driver instructors Nicolas Klinger and Chris Patterson, performance and mental coaches Brian Cameron, Shaun Philips and James Wozencroft, fitness coach Marek Ołszewski and media trainer Linda Hirvonen. M-Sport Poland team principal Maciej Woda as well as engineers Jakub Kalina and Igor Wisniewicz were among the company's representatives.
FIA Deputy President for Sport Robert Reid was also in attendance along with FIA Rally Star Project Leader Jérôme Roussel and FIA Rally Star Assistant Project Manager Bryan To.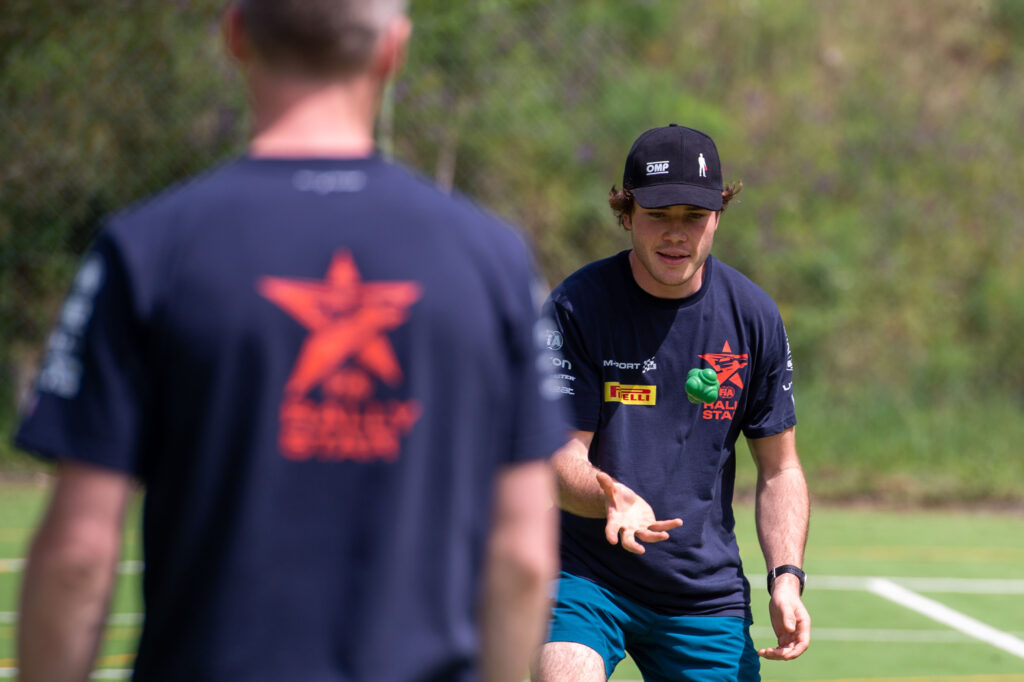 FIA Rally Star Project Leader Jérôme Roussel said: "We are very proud of the entire team behind FIA Rally Star and all the programme's valued partners. We have discovered six strong participants with different stories, backgrounds and cultures and the Training Camp provided an invaluable opportunity for them to develop many different aspects, from mental and physical coaching to pace note and recce training, as well as Tarmac and gravel testing. I also would like to thank the organisers of Rally Italia Sardegna who welcomed us with such enthusiasm. The Training Camp was a big learning curve for each of the young participants, but it has really set them up well for the Training Season, which begins with Rally San Marino from June 16/17."
Abdullah Al-Tawqi, 24, Oman: "My experience comes from motorbikes and karting so going through this full week of rally training was a whole new journey. The recce was a great way to learn because it was part of a WRC event. We drove so much on the first and second day and it made you realise how hard this sport can be, it was not a holiday for us. I look forward to the first rally in San Marino but the stages here in Sardinia were something special for sure."
Annia Cilloniz, 24, Peru: "We've been doing a lot of training since we arrived in Sardinia and we will now have to work very hard to reach the target. It's been such a unique feeling to drive the Ford Fiesta Rally3 for the first time and work on the pace notes with my co-driver. Coming to Rally Italia Sardegna gave me the opportunity to see some of the world's best drivers and meet Michèle Mouton, who is my role model and someone for whom I have a lot of respect. Hopefully one day, I can go as far as she did. I will give everything I can because there is no goal that cannot be reached with hard work."
Jose 'Abito' Caparo, 26, Peru: "From the first day we have had things to learn from the mentors. Tarmac testing was very good because the M-Sport Ford Fiesta Rally3 car is a great car. For sure, it was nice to drive on proper tyres, the Pirelli tyres are very good. I had never been in a rally car because my rally background is online. I felt very comfortable. We are so lucky to be here and doing the WRC recce was a one-of-a-kind experience."
Max Smart, 20, South Africa: "In regards to the mechanical know-how, I have been around motocross since I was four years old and got to the stage where I worked on all my own bikes, changing pistons, clutches, so the basics are there. But it was my first time driving on Tarmac and it's been very different for me. In the recce we could see the stages corner-by-corner and gain experience. When we did the actual WRC recce, it was the first time for me spending so much time with my co-driver and we also had to keep an open mind when we made mistakes."
Romet Jürgenson, 23, Estonia: "It has been a very special week – the recce training, for example. You see things differently which you didn't see before. You do things that you can improve on. You only have your notes. I thought that it was impossible to drive on such roads, because it is so rocky. But actually, with the Ford Fiesta Rally3, it was very good. In Estonia, we don't have these roads and it was such an eye-opener. Mechanics is also something that I want to improve this year."
Taylor Gill, 19, Australia: "It's been a trip of a lifetime for myself and my co-driver Dan and we've moved from Australia to Finland for a year. This programme is pretty intense and everyone knows that this sport is very European-based and we wanted to put down a base for next year and the future. During the Training Camp, we've been testing on Tarmac and on gravel, coaching, recce training and all the areas that we will need in an everyday rally. It has been amazing and everyone in the team has been with a really good energy throughout. Doing the Rally Italia Sardegna recce has been a good training for me as well. It was a case of refining the notes and working out sometimes when to go slow and when to be conservative."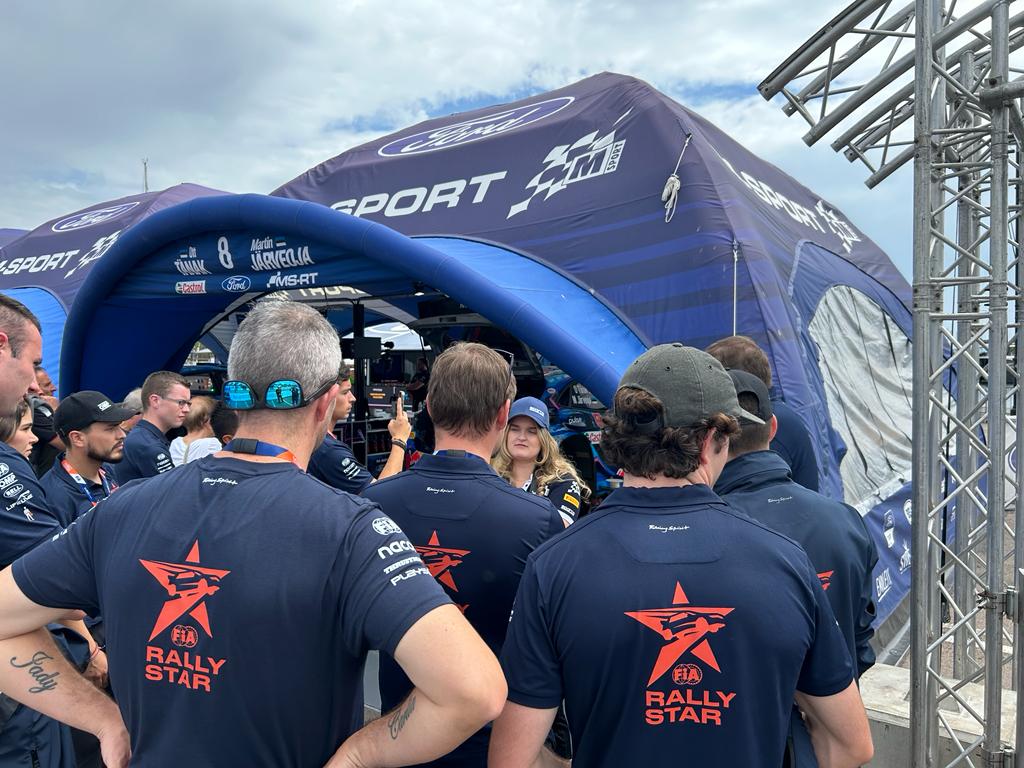 FIA Rally Star Training Season event schedule refresher
The FIA Rally Star Training Season will feature six events, four on gravel and two on Tarmac. The seven FIA Rally Star Training Season participants will compete in identical Pirelli-equipped Ford Fiesta Rally3s run by M-Sport Poland. The event calendar is as follows:
Rally San Marino (gravel), June 16-17
Rallye Weiz, Austria (Tarmac), July 13-15
Rally Nova Gorica, Slovenia (Tarmac), September 22-24
Rally Saarema, Estonia (Gravel), October 6-7
RallyRACC, Spain (Gravel), October 20-21
Lausitz Rallye, Germany (Gravel), November 9-11
The FIA Rally Star Training Season events have been specifically chosen to equip the drivers with experience of a wide variety of conditions and circumstances.
All costs are covered by the FIA and the programme partners, with the best four drivers at the completion of the FIA Rally Star Training Season securing a fully-funded season in the FIA Junior WRC Championship in 2024.
More photos are available upon request to rallystar@fia.com
MSA Publishes media releases from a host of different sources on our website as a service to the sport. It is not practically possible to vet/approve every release that is published. Some news items and articles are written by correspondents and do not necessarily represent MSA's views.