The 2023 Toyota Gazoo Racing (TGR) 1000 Kalahari Botswana Desert Race, the third round of the SA Rally-Raid Championship that is takes place this weekend from Friday until Sunday, 23 to 25 June at Jwaneng in Botswana, got underway with a fast 60 kilometre Pirelli Qualifying Race that determined the starting order for the second day of the race on Saturday. And it was the NWM Ford Castrol Team of Lance Woolridge/Kenny Gilbert (Ford NWM T1+ Ranger) who opened their scoresheet for the weekend on a promising note when they posted the fastest overall time (35 minutes 10 seconds).
A total of 23 teams lined up for the first day of the TGR 1000 Kalahari Botswana Desert Race in the Production Vehicle Category while 17 teams started the race in the Special Vehicle Category with Woolridge/Gilbert finishing two seconds clear of Saood Variawa/Danie Stassen (Toyota DKR Hilux T1+) in the Production Vehicle Category.
The 17 year-old Variawa is competing in his first SARRC event and leads the rest of the Toyota DKR Hilux T1+ teams with Henk Lategan/Brett Cummings third fastest (35:24); Guy Botterill/Simon Vacy-Lyle fourth (35:42) while former winners, Giniel de Villiers/Dennis Murphy were sixth (35:56), 23 seconds behind the second NWM Ford Castrol T1+ Ranger of Gareth Woolridge/Boyd Dreyer who opened the road.
Three more FIA T1+ teams finished in the overall top 10. Wors Prinsloo/André Vermeulen (Ford Ranger T1+) were seventh (36:17) followed 13 seconds later by another former desert race winner Chris Visser, with navigator, Albertus Venter (Red-Lined REVO T1+) while Gary Bertholdt/Henry Köhne (Renergen Toyota Hilux T1+) were 10th (36:59). Eben Basson/Leander Pienaar (#TeamHilux Rally-Raid) were fastest in FIA T1 (36:55) which put them in ninth place with a mere 109 seconds covering the leading 10 teams.
The father and son duo of Johan and Sean van Staden (Renault Duster) were second in FIA T1 (37:55) and finished 11th with the FIA T1 podium rounded off by Johan de Bruyn/Gerhard Schutte (Red-Lined REVO) who were 13th in the Production Vehicle Category (38:27).
The Horn brothers, Johan and Werner (#TeamHilux Rally-Raid Toyota DKR Hilux T1+) lost valuable time with two punctures and managed a time of 38 minutes 19 seconds that places them 10th in FIA T1+ and 12th overall. Their team-mates, Fouché and Bertus Blignaut could not finish the qualifier after they rolled their car. Dewald van Breda/Stompie Mynhard in the 2×4 CR6 were 11th in the class finishing a mere 10 seconds behind the Horn brothers.
In FIA T1 the most recent class winners and former desert race motorcycle competitors, Nic Pienaar/Carl Swanepoel enjoyed racing in Botswana in their Red-Lined REVO and got their weekend off to a good start finishing fourth in class (39:20) and 17th overall. They were followed closely by two more Red-Lined Motorsport T1 teams. The young Dutch driver, Pim Klassen (19) got his first taste of the Kalahari Desert sand together with Wade Harris and finished 18th while desert race newcomers, Gerhard and Rudi Heinlein, were 19th in their VK56.
Jayden Els/Elvéne Vonk (King Price Xtreme SVR) rounded off the top 20 and finished seventh in T1 (40:57) after losing time due to suspension problems resulting in them having only front wheel drive at their disposal. The German driver, Daniel Schröder and Ryan Bland (Nissan Navara) experienced brake problems and were eighth in the class (45:36).
The three Class T entries all completed the first day successfully. Hendrik and Heinrich du Plessis (Ford Ranger) lead the class and finished 15th overall in the Production Vehicle Category with Schalk Burger/Henk Janse van Vuuren (King Price Xtreme VW Amarok) a mere three seconds behind them in 16th. The Johnstone couple, Bernard and Minette (Neil Woolridge Motorsport Ford Ranger) had some problems and were the last vehicle to finish.
Special Vehicle Category
In the Special Vehicle Category, a return to Botswana turned out well for the experienced team of John Thomson and Maurice Zermatten (Zarco Challenger) who posted the best time (37:33) in the category as well as in Class A. Only 15 seconds covered the leading three teams in the category predicting a fierce race over the next two days.
Lood du Preez/Junior Vardy (Farmers Meat Stryker) finished second in the category and in Class A and trailed the leaders by only eight seconds while they were a mere seven seconds quicker than the defending champions, Tim Howes/Gary Campbell (Tim Drew Property Developments BAT Spec 4).
Eugene Bierman/Pieter Visser (BAT Spec 2) also got their TGR 1000 Kalahari Botswana Desert Race off to a solid start by finishing fourth in the category and in Class A. Their time of 40 minutes and 11 seconds put them 45 seconds clear of the Class P leaders, Mohamed Moultson/Moinuddin Ahmad (BAT Spec 0) who rounded off the top five.
There were also good results for more Class A teams with local Botswana teams Mohammed Noor/Antoine Stander (Porter) finishing sixth in the category (41:46) followed 37 seconds later by Ahmed Hussain/Victor Fincham (BAT Spec 3). The Lesotho team of Andrew Makenete/Ntaote Bereng (BAT Makmobile) were seventh in Class A and claimed the 15th place in the category with a time of 54:02.
In Class P, the remaining two places on the podium belonged to Khalil Hussain/André Geldenhuys (Sandmaster) who were ninth in the category and Quintin Lessing/Brendon Smith (CRT) who finished 13th overall.
Class G was won by Geoff Minnitt who teamed up with navigator Rodney Burke (Hydro Power Equipment Can-Am Maverick). The team had a relatively clean run and finished eighth overall in the Special Vehicle Category. They took 43 minutes and 23 seconds to complete the distance while the Class G runners-up, Ewald van Rensburg/Johan Scheepers in a similar vehicle finished 65 seconds behind them in 10th place overall, 28 seconds ahead of teammates Francois de Wit/Pierre Jordaan who rounded off Class G in 11th place.
Glen Theron/Craig Galvin were the leading Moto-Netix Racing Can-Am Maverick team in Class G. They were fourth in the class (45:33) with their teammates, the teenager Ian and his father, Werner Mostert, fifth in the class (49:29). Mohammed Dada/Muhammad Saloojee (X3 RS Turbo) were sixth in Class G.
Competitors described the route as fast and enjoyable with all the characteristics of a typical desert race in Botswana while hundreds of enthusiastic spectators cheered them on along the route.
The leading 10 teams draw their starting positions for the first of the two 220 kilometre loops on Saturday. De Villiers/Murphy will open the road followed by Woolridge/Dreyer; Botterill/Vacy-Lyle; Lategan/Cummings and Lance Woolridge/Gilbert. Variawa/Stassen will be off in sixth place with Bertholdt/Köhne seventh; Prinsloo/Vermeulen eighth; Basson/Pienaar ninth and Visser/Venter in 10th place.
The race will start at 08:00 from the Jwaneng Sports Complex where teams will stop after the first loop for a compulsory de-control while it will also finish there. Enthusiasts can follow the action on the RallySafe App.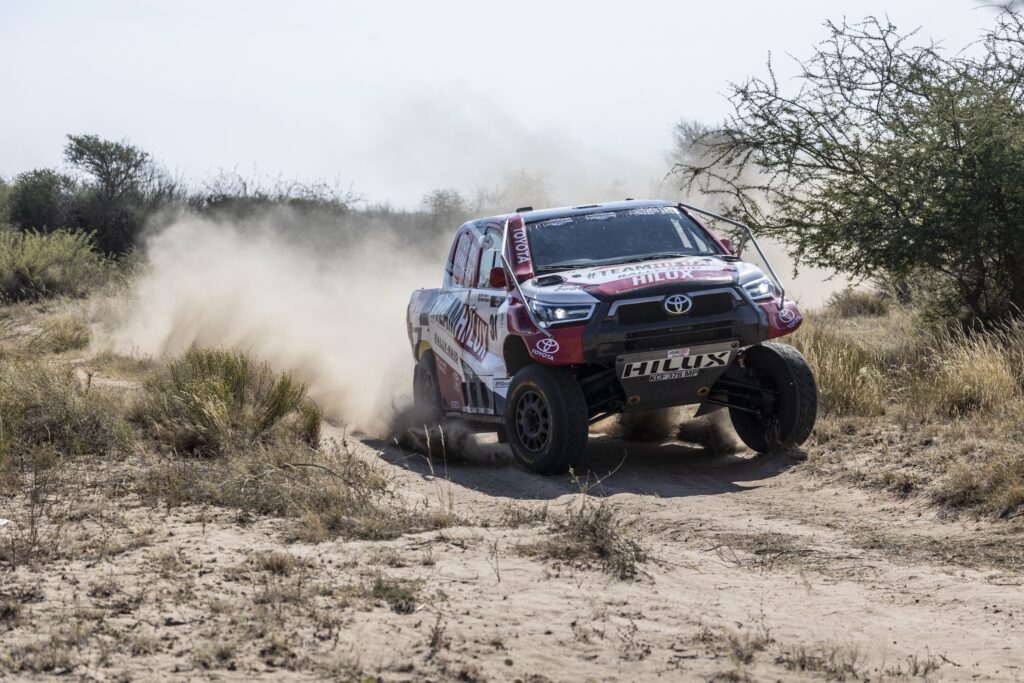 Published by: SA National Cross Country Series – Charmaine Fortune
Photography by: Plan C Productions
MSA Publishes media releases from a host of different sources on our website as a service to the sport. It is not practically possible to vet/approve every release that is published. Some news items and articles are written by correspondents and do not necessarily represent MSA's views.