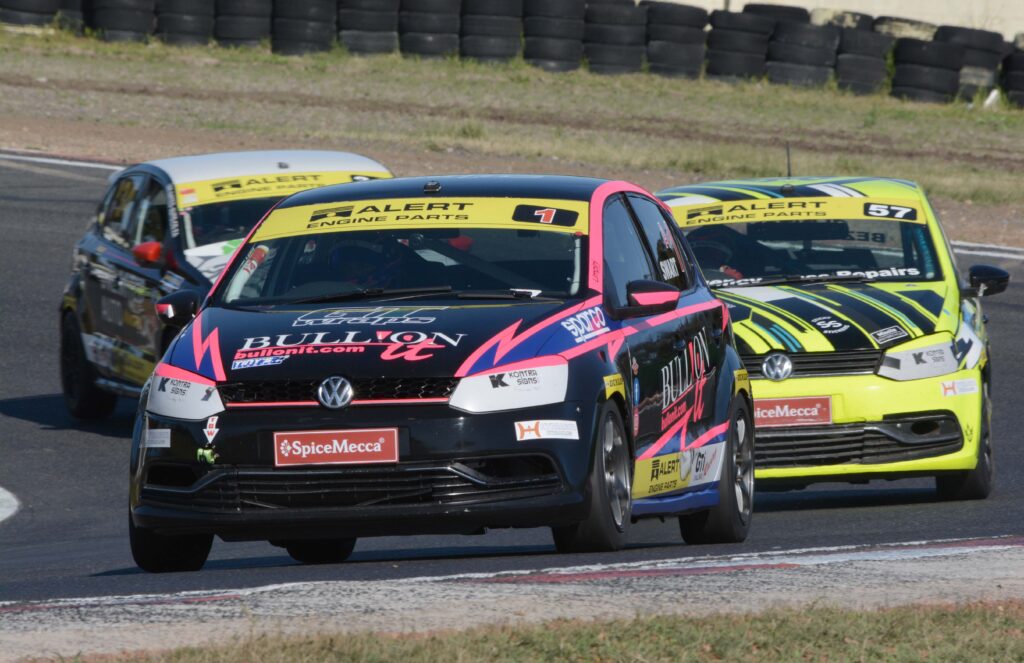 After a week of threatening rain, Saturday 27 May 2023 dawned as the near-perfect race day with pleasant temperatures and crystal clear skies. Round 5 of the Wingfield Power Series at the Killarney International Raceway also accommodated Ford & Friends and it was encouraging to see the number of visiting drivers – almost as good as in the "old days".

Jesse-Jane Marchetto brings a uniquely human element to the day as this incredible French lady pursues a human adventure in traveling over virtually every continent, sharing her love for Yoga, and taking her Ride4Love to everyone she encounters. And of course her interesting companion, Bastek (which becomes an interesting discussion when translated) , her "homeless" Arabic cat that travels with her on her 2002 BMW F650GS. Learn more about her on website Ride4Love.org.

Another person of interest was Brausch Niemann who was visiting from . Back in the day when I was about as tall as the grass around Killarney a sleek Lotus 23 looked very mean and fast and it was driven to great effect by Brausch Niemann. Legend has it that he also shrunk a Lotus 7 into a single seater to race in local "F1" races and then fitted the mudguards to qualify as a sports prototype on the same program. Now 85 years young he still rides his motorcycle. They were a different breed!

Bidding farewell to old friends is never easy, but fond memories will remain: Rest in peace George Fouché, Les Pantony, Tony Lindeque and Steve Leech.

Pirelli V8 Masters
He has been chipping away at this for a very long time but there can be no doubt that Sean Moore has the measure of the "oumanne" in the Pirelli V8 Masters category and that he has every intention of owning the number one in the 1 Ziegler APV347is. Pole position on 1min14.858 and two heat wins came with absolutely faultless driving that had the opposition trip over themselves.

Fabio Tafani wished he had stayed in Pretoria after having done the double in Turn 5, spinning into the kitty litter in both heats with the 39 Club Refrigeration APV347is sustaining no damage other than a very bruised ego.

Barry Ingle made it two second places in the 53 getWorth APV347is with Alister Brown breathing down his neck in the 22 NAC Helicopters APV347is. Rui Campos recovered from eighth in the first heat to fourth in the second to claim fourth overall in his 29 Campos Transport whilst Silver Class entry, Mark Voget, finished the day 5th overall in his 21 Great South APV347is. Menno Parsons interrupted his air show schedule with his extremely popular "Mustang Sally" P51 Mustang to drive his 69 Master Power Technologies APV347is "Mustang" to sixth overall.

Ken Finneman kept on finding innovative ways to shed weight from his 44 Blockcoin APV347is whilst Denis Gaiduck opted for a vist to the Turn 5 knorhoek in his 9 Knorhoek APV347is.

Thermo Fires Clubman Saloons
Marco Retter proved to be the star of the field on debut in his neat Progress Precision Engineering 50X BMW E46 with pole starter Cody Alberts his strongest challenger in the Avid Security 100A BMW 330i. Jess Huggett trading second place with Cody in heat two with his Rico Barlow Racing 70A VW Jetta 2 but having to settle for third overall on combined heats.

Shane Smith found that the new camber settings of his BMW somehow did not make sense, parked it in Sarel Sweep and the red flags were brought out in sympathy of the stricken Truckport Logistics 30A BMW E46 early in heat one.

Eugen Casperl (try pronouncing that correctly) fourth overall in his neat 95C BMW E46 with Paul Munnik in the overworked Audi VW Audi Clinic 79B VW Golf MkI fifth overall and in sixth spot it was Graeme van Rooijen in his Worcester Scrap metal 149C VW Golf MkI.

Class A it was Cody Alberts winning from Jess Huggett and in Class B it was Paul Munnik ahead of Daanyaal Coetzee (A&M Plumbing 46B BMW E46 M3). Class C had Eugen Casperl ahead of Graeme van Rooijen and Ciara van Niekerk (Wingfield Motors 16C VW Golf MkI 2.0). Charl Opperman took victory in class D with his Torq Lubricants 89D VW Golf MkI with Gary Manwaring (Excelsior Airbrakes 14D BMW E46) second and Denver Benjamin (Travel with Flair 13D VW Golf MkII) third. Class F saw the massive Huguenot Valley Water 123F Chrysler C300 beat the equally sized New Engineering 651F Ford Falcon of Evert du Toit home with Jan Tischendorf third in his regular 122F Opel Monza GSi 8v.

Class X going to Marco Retter in the Progres Engineering 50X BMW E46 with Yusuf Hendricks second in another neat Myh Auto BMW Specialist 61X BMW E36 Turbo. Oliver Hintenaus third on debut.

Bridgestone STC 650 and SSP 300 Motorcycles
Normally one of the most spectacular races of the day the smaller bikes decided to up the ante by having the most spectacular crash of the season when Nicholas Hutchings (HSC Racing 72 Suzuki SV650) ventilated the block on entry to Turn 2 (Quarry), creating a blind oil slick over the brow which saw no less than seven riders trying to score better points on their way to the scenery.
It actually looked quite scary and the unfortunate Zante Otto (Missile Motorcycles 73 Suzuki SV650) found herself taken out by another out of control rider before being skittled into an acrobatic back flip by another errant motorcycle. Escaping with just a broken ankle something of a bonus whilst Franco Flach (9 Kawasaki ER6)broke his collarbone in sympathy. Watching the recovery arrive at Turn 5 with a string of broken motorcycles is certainly not a common occurrence and in a way rather uncomfortable.

With the marshals facing quite a serious clean-up the motorcycles in all classes were reduced to a single heat of racing for the day and after nine laps had eventually been completed without further incidents it was Ryan Coetzee who won quite comfortably aboard his Project Sixty SA Racing Team 32 Kawasaki ER6. Jamie Hall second on his MGA Racing 65 Kawasaki ER650 and Gerrit Visser (43 Kawasaki ER650). Wynand Donaggi brought his HSC racing 10 Kawasaki ER6 home in fourth with Satvro Michel fifth on the Ballistic Uniforms & Apparel 24 Suzuki SV650.

In the SSP 300 category, it was Wouter Smit (Livingstone Baths 113 Kawasaki Ninja 400) won from Braddon Hutchings (HSC Racing 74 KTM RC390) and Raymond Alexander (Microil 11 Kawasaki Ninja 400). Abigail Bosson fourth (Ateka Yamaha YZF R3), Adrian Solomon (Pool King 4 Kawasaki Ninja 400) fifth, and Mitch Robinson (Mag Workshop 71 Kawasaki Ninja 399) missing that one cc in sixth.

South Motorcycles Clubmans, Classic SB, Breakfast Run
Paul Rulu (Clubmans – Engine Guru Motorworks 15 Kawasaki ZX10R) enjoyed a fairly easy victory from Piers Canute (Breakfast Run – 77 Project 60 Yamaha R6) with Conrad Meyer (Breakfast Run – 58 Suzuki GSXR1000) third. Willem Louw (Clubman – 86 Kawasaki ZX6R) fourth with Shandin Thompson (Clubman – MGA Racing 34 Yamaha R6 fifth and JP Schemers (Clubmans – 63 Honda CBR1000) sixth.

Derek Hendricks (Clubman – Biker Delight 57 Yamaha YZF R6) taking a seventh spot from Chad Thompson (Breakfast Run – 40 BMS Construction Suzuki GSXR600) with Dyllan Anderson (Breakfast Run – 42 Yamaha R6) ninth and Raymond Monk (Breakfast Run 163 Alti Honda CBR600) tenth overall.

Triumph Motorcycles Superbikes, SBK Challenge, Masters, 600cc
Kewyn Snyman (Missile Motorcycles 19 Honda CBR1000 Fireblade) owned the circuit with veteran Malcolm Rapson (Racebase 1 Suzuki GSXR1000) second. The third Superbike home was Shaun Mackrill (GFP Lighting 26 BMW S1000RR) with Hilton Redelinghuys (888 Motorcycles 87 Kawasaki ZX10R) dropping to fourth after a 30sec jump start penalty.

The 600cc category rarely disappoints and it was Slade van Niekerk (Project 60 SA 111 Kawasaki ZX6R) who literally stole victory on the line by 0.028sec from Tristin Pienaar (RS Trailers 50 Yamaha R6). Jason Linekar (RST 93 Honda CBR600) a somewhat distant third after a moment or two out of Turn 5. Rey Fiveash (Cape Office Furniture and Motorwise 88 Suzuki GSXR750) fourth, Evert Koorts ( 69 Suzuki GSXR750) fifth and Keana Strode (70 Kawasaki ZX6R) sixth.

Laude Classic Cars
When the top four cars qualified in the same second the anticipation of a great spectacle had everyone stepping up a gear. James Temple (Lindenberg Racing 33A Shelby Daytona Coupé) and Arnold Neveling (777A Ford Mustang Fastback) sharing the front row with Rudolf de Vos (24A Chevrolet Can Am) and Franco Donadio (Donadio Plant Hire 1A Ford Escort MkI) on row 2.

Franco Donadio then opened the gates when he withdrew after the warm-up lap, the Daytona Coupé started misfiring after lap 4 and the rapid NDT Racing 27X Ford Escort MkI driven by Nian du Toit also disappeared after Lap 4. Even the two Cross Cape Forklift Services Ford Mustang entries of Michael Hitchcock and Ferdi Mouton opted not to complete the heat.

It May have been the Ford & Friends event incorporating Laude Classic Cars but celebrating the 50th year of the Little Chev had Rudolf de Vos in a determined frame of mind and Basil van Rooyen grinning in Australia as he led the Ford Mustang Fastback V8 of Arnold Neveling home. Glen Uytenbogaardt was third in the 66B Ford Granana Perana V8 and Oliver Broome was fourth in the neat East Coast Classics 123A Chevrolet SS V8. Louis Powell the first four-cylinder past the flag in his Meissner replica Ford Tygervalley 151A Ford Escort MkI. Jeandré Botes is sixth in the legendary SABAT 29B Nissan Skyline GTX six-cylinder.

With a stupendous variety to enjoy the result was almost immaterial as every car passing by had some story attached to it that made it worth discussing and the great compliment of visitors present made the Laude Classic Cars a truly memorable event. What an honour for Deon Conradie to have 10x SA and 16x WP Rally Champion, Serge Damseaux, present whilst racing a replica of the car Serge had raced in Gp N, the Garage 86 No 86 Toyota Conquest RSi.

Race two was unfortunately cut short after five laps when Oliver Broome moved the retaining wall on the inside of Turn 3. The beautiful East Coast Classics 123X Chevrolet SS V8 sustained light damage whilst the wall required medical services.

Rudolf de Vos and Arnold Neveling first and second with Franco Donadio third, Michael Hitchcock fourth, Glen Uytenbogaardt fifth, and Oliver Broome sixth. Possibly not a true reflection of what the result would have been after eight laps, but once again the cars on the track were simply awesome to watch.

As you have possibly gathered by now there were many Ford entries, and a few serious Chevrolet entries but only one Guilia Ceasar, and boy did it rattle a few cages! Tervor Tuck upheld the Alfa Romeo honour by putting in two sterling drives with the 224C Alfa Romeo Guilia that even had Wynand Nell state that one day he will grow up and build himself an Alfa!

On the same token, the Springbok-based Harkers Automotive 44C Ford Anglia was driven with great gusto, but Ceasar prevailed overall. Even Martin Bensch managed to finish both heats in the replica Lucky Strike 16C Ford Capri. The 14C Toyota Celica of Wentzel Nortman looked the part but will have to come back to play the part, and ditto to the Lindenberg Racing 24X Ford Cortina MkII of Jonathan Needham.

The Synthesis Software Technology 5X Ford Escort MkI of Deon Schwabsky impressed whilst the indecently quick Flat Four Racing 148D VW Beetle of Dave Rowley continues to get quicker. A few years and kilograms separated the two Ford Fairlane entries but both impressed on track. Malcolm Uytenbogaardt only needed three wheels in contact with terra firma to bring his 63C Ford Fairlane V8 home whilst Paige Lindenberg required everything on deck to bring her Lindenberg Racing 19D Ford Fairlane V8 home.

Overall the class results on track saw
Class A Rudolf de Vos – Arnold Neveling – Oliver Broome – Louis Powell – Michael Hitchcock – Franco Donadio
Class B Glen Uytenbogaardt – Jeandré Botes – Andrew Honeywell – Ferdi Mouton
Class C Trevor Tuck – Wynand Nell – Layne Hutchings – Malcolm Uytenbogaardt – Deon Conradie – Martin Bensch.
Class D Paige Lindenberg – Dave Rowley – Jan-Willem de la Porte – René van Rensburg
Class E James Mathhee – Piet Matthee

Alert Engine Parts GTi Challenge
The grid in class A had the first four cars on the same second, in class B the first two, and in class C the first five. Seven cars in class A, eight in B and thirteen in class C had the panel beaters smiling, but the carnage was avoided and great racing saw each class deliver great racing instead. Ok, heat one was red-flagged after four laps when rookie Devon Dreyer flipped his API Property Group 68C VW Golf MkI onto its side.

Normally one would celebrate your own birthday with victory but Jurie Swart Jnr treated his father to a great birthday by taking overall honours after two truly impressive drives in the Bullion IT 39A VW Polo 6 with Clinton Bezuidenhout second in his Progress Precision Engineering 57A VW Polo 6. Kai van Zyl (Unlimited Auto Angri 34A VW Polo 6) third with Nathan Victor (Summit Racing 71A VW Polo 6) fourth, Dillon Joubert (EuroBlitz 44A VW polo 6) fifth, and Schalk Geldenhuys (G&A Motorsport VW Polo 6) sixth overall.

Ryan van Eden (RvE Digital Marketing 28B VW Polo 6) did not put a wheel wrong en route to overall class victory with Tate Bishop (Angri Racing Academy 94B VW Jetta) second and Zaki Hendricks (Wheelworx Mag repairs 7B VW Polo 6) in third spot after having experimented with a few wide lines. Kyle Visser (Charl Engineering 61B VW Polo 6) took fourth with Brent van der Schyff (WKA 69B VW Polo Classic) fifth and Daniel Sandenbergh (49B VW Golf MkI) sixth.

Dylan van Eden (RvE Digital Marketing 55C VW Golf MkI) claimed overall class victory from Mark Fontini (Goch & Cooper 31C VW Golf MkI) and Raazigh Harris Cooltouch Racing 19C VW Golf MkI) a distant third. Ruan Uys (48C VW Golf MkI) home fourth with Daniel Munna (33C VW Golf MkI) fifth and Faizal Jacobs (Auto Magneto 40C VW Golf MkI) sixth.

Wild Rose Gin 100km Challenge
The Spitfire Furniture Sport and GT category looked healthier in numbers for the popular 100km mini endurance race that constituted their only appearance for the day.

The obvious favorite for overall victory was Craig Jarvis in his mighty 68S Ginetta G57 and he duly led from the start, only to succumb to fuel pump issues after thirteen laps. Following suit was Steve Humble in the rapid Opel-powered Mallock Mk14 when the car suddenly overheated after thirteen laps.

Dawie Joubert made life interesting for himself by dropping to last on lap one but then proceeded to pick everyone off in the Wild Rose Gin 18A Porsche 991. Whatever the main ingredient might be in the Wild Rose Gin seems to be potent as he soon burst into the lead to win much as he pleased. Francis Carruthers ran dry in the Harp Motorsport 69A Pilbeam PM84 and not even Brian Johnson could motivate him en route to second overall with the Martini liveried Advanced Packaging Technology 43A Porsche GT3 Cup of Gary Kieswetter home in third spot.

What a treat to listen to the two Porsche entries running together with their distinctive gearshift music to the ears of any enthusiast.

Martin Pugh made it to the finish in the fourth spot with the new look 21B Nissan Shelby Can Am with Gavin Gorman equally pleased with the fifth spot in his 16C VW Nardini Sports. Divan Luzmore slithering his way into sixth spot with the sweet-sounding GT Clubsport 99C Nissan 350Z.

Emile Botha (Precision Wealth 19D Nissan 350Z) taking a class win from Connor Kilbride (Spirit 42D Nissan 350Z) and Ray Farnham (9 Opel Birkin 7).

All Ford Race
The all-Ford race was won, well, by a Ford naturally. Sean Moore completed his faultless day by taking a third victory in the 1 Ziegler APV347is with Barry Ingle second in the 53 getWorth APV347is and Rui Campos third in his 29 Campos Transport APV347is. Menno Parsons placed his 69 APV347is fourth with Stuart Spooner fifth in the 55 APV347is and Ken Finneman kept enough parts in one piece to bring his 44 APV347is home sixth.

Arnold Neveling is seventh in the 777A Ford Mustang Fastback V8 followed by Franco Donadio in the Donadio Plant Hire 1A Ford Escort MkI and Fabi Tafani in the 39 Club Refrigeration APV347is (just not his day for racing). Michael Hitchcock tenth in his Cross Cape Forklift Services 67A Ford Mustang Notchback V8.

22 Fords's coming out to play in the late afternoon sun to finish off a magical day of good clean racing at Killarney. Unfortunately, with motorsport being motorsport, not everyone enjoyed a glitch-free outing, but their presence was noted and appreciated.
Published by: Patrick Vermaak
MSA Publishes media releases from a host of different sources on our website as a service to the sport. It is not practically possible to vet/approve every release that is published. Some news items and articles are written by correspondents and do not necessarily represent MSA's views.