5x F1 World Champion, Juan Manuel "The Master" Fangio, would have celebrated his 112th birthday on 24 June 2023 and Italian manufacturer, Alfa Romeo, celebrate 113 years today. Former SA Touring Car champion, Michael Briggs (57), shares this birthday with legendary motorsport photographer Cornelius "Kees" van de Coolwijk (80). The 175th day of the year, leaving just 190 to the end of 2023 it also represented the mid winter shortest daylight race day of the season.

Only five F1 Grand Prix contested on this date and each were won by a driver who would become World Champion and then of course this year there are 24 F1 GP on the calender. Also great to note the presence of R100 legend, Dave Köpke.

Fortunately the weather was kind and though the circuit started off greasy and cold, it never rained and for a brief period it actually felt quite pleasant outside. Paying tribute to David John Crossley, Glen de Jongh and Last Chibondo during the lunch break reminding all of us that time remains the most valuable asset.

An 18 race itinerary on the shortest race day of the year certainly kept everyone on their toes.

Laude Classic Cars
Franco Donadio, 1A Donadio Plant Hire Ford Escort MkI 2.0, simply did not feel like playing around and simply disappeared at the front of the field in heat one whilst Michael Hitchcock was made to work hard keeping Glen Uytenbogaardt at bay in the Cross Cape Forklift Services 67A Ford Mustang Notchback V8. Trying to get decent grip from those massive slicks on a very greasy track had the Mustang and, former Carter's Boys, Cross Cape Forklift Services 66A Ford Granada Perana V8 split by just 0.699sec at the flag whilst Erik Mouton brought the understeering Mouton's Motors 143A Chevrolet De Ville V8 home a distant fourth. Andrew Honeywell simply not in the power league of the V8's but still managing to shadow the Battlestar Gallactica home in fifth spot with the neat Gulf liveried 196B Porsche 944 Turbo. At a spritely 71 years of age Malcolm Uytenbogaardt certainly proved that there is life in the old dog by placing his popular 63C Ford Fairlane V8 sixth.

Sadly, showing a great turn of speed, but still suffering in reliability the Mouton's Motors Studebaker Silver Hawk cried enough after four laps. Might that be related to the fact that it is listed as a Chev Silver Hawk?

Heat two again saw Franco Donadio and the hasty Escort lead from flag to flag whilst the V8 brigade struggled to find enough grip. Erik Mouton set the wiring alight on the De Ville in order to heat up the tyres and failed to make the grid. Michael Hitchcock had just warned Glen Uytenbogaardt to not beat the Mustang in the Granada when he slithered into the scenery. Glen taking second place in the Perana Granada and Michael drove hard enough to find enough grip for a great third spot with the consistent Porsche of Andrew Honeywell fourth.

Ferdi Mouton could contain his thirst long enough to bring his Cross Cape Forklift Services 68B Ford Mustang Notchback V8 home fifth with Bruce Avern-Taplin sixth in his very rapid 77C Toyota Corolla Twin Cam Sprinter.

Overall the first six was Franco Donadio, Glen Uytenbogaardt, Michael Hitchcock, Bruce Avern-Taplin and Wynand Nell in the very cheeky Harker's Automotive 44C Ford Anglia.

Class A saw Franco Donadio pretty much in a class of his own with Cross Cape guest driver Glen Uytenbogaardt second and Michael Hitchcock third.

Class B deservedly went to Andrew Honeywell with Bruce Avern-Taplin second and a thirsty Ferdi Mouton relegated to third.
Class C saw that incredibly quick Ford Anglia of Wynand Nell in determined frame with Deon Conradie second in his Garage 86 Toyota Conquest RSi 1600. Brian Evans third in the very neat Cape Eye Laser 441C Ford Escort MkI. Layne Hutchings fourth in the HSC Racing 74C VW Golf MkII GTi and fifth place going to Trevor Hutchings in the HSC Racing 71C VW Scirocco. Herman de Kock sixth in class with his neat 59 Ford Escort MkI.

Class D Dave Rowley demonstrated that a VW Beetle travels fast in both directions when he spun in Turn 5 with the rapid 148D VW Beetle and recovered to win the class.

Class E saw Piet Matthee take the win in his Porsche 928 with the very impressive little Morris Minor of Anton Rollino a fighting second.
As the first event on the itinerary it was clear that the greasy surface was giving everyone a hard time and a number of entertaining, but totally unexpected, drifts produced some hairy moments. Jacques Blom missed heat one and then the Texaco Ford Sierra Turbo blew off some steam parked on the outside of Turn 5 after just 3 laps in heat two.

Pirelli V8 Masters
Heat one of the Pirelli V8 Masters was just getting the vote for the race of the day when Fabio Tafani started to drop back after overheating his tyres in an effort to pass Sean Moore at the front of the field. Using all of their respective racecraft their duel was really extremely entertaining as they hunted for that minute advantage. Veteran, Marcel Angel, clawing his way into this tussle and eventually pip Tafani by 0.494 sec for second place. Jason Ibbotson enjoying a quiet run to fourth with Menno Parsons fifth and Michael Nel sixth.

Heat two saw Sean Moore and the Ziegler Logistics 1 APV347is establish their position as the combination to beat in this series with Marcel Angel proving that he will be taking on the challenge in the Autohaus Angel 14 APV347is and Fabio Tafani planning his attack in third with the Club Refrigeration 39 APV347is. Jason Ibbotson fourth in his Autohaus Angel 46 APV347is , Dayne Angel fifth in the 9 APV347is and Stuart Spooner sixth in the 55 APV347is.

Overall the Gold order Sean Moore, Marcel Angel, Fabio Tafani, Jason Ibbotson, Menno Parsons and Michael Nel and Silver saw Stuart Spooner ahead of Brandon Dean.

Thermo Fires Clubman Saloons
Marco Retter, Progress Precision Engineering 50A BMW E46, impressed by keeping Jess Huggett, Philwest 70A VW Jetta 2, at bay with Daanyaal Coetzee, A&M Plumbing 46B BMW E46 M3, third, Cody Alberts, Avid Security 100A BMW 330i fourth, Yusuf Hendricks, Myh Auto BMW Specialist 61C BMW E36, fifth and Graeme van Rooijen, Worcester Scrap Metal 149B VW Golf MkI, sixth in the first heat.

Heat two saw the Imaad Modack debut a monster MIM Autos BMW 325 that looked fit for modern GT2 competition on the Nurburgring. Magnificent as it looked it really did look like it should be more at home in the Sport & GT category as it simply cruised to victory.

Cody Alberts took second spot from Jess Huggett after Marco Retter had discovered that the infield into Turn 5 was not a practical option. Compliments on avoiding a massive pile-up by somehow keeping the red Beemer on the infield and fighting back to eighth spot minus a few body panels.

Daanyaal Coetzee fourth, Nieyaas Modack fifth an anther very mean looking MIM Beemer and Shane Smith sixth in his BMW.
Overall the top six favoured the consistent Jess Hugget in his Philwest VW Jetta 2.0 with "it's gonna be a boy" Cody Alberts second, Daanyaal Coetzee third, Marco Retter fourth, Graeme van Rooijen fifth and JP Share (Bester Tegniese Dienste 1 BMW E36) sixth.

Class A Jess Huggett, Cody Alberts, Marco Retter
Class B Daanyaal Coetzee, Graeme van Rooijen, JP Share, Ewald Weiland (Weiland Construction 77 Alfa Romeo GTV 3.0)
Class C Yusuf Hendricks, Eugen Casperl (95 BMW E46), Ciara Van Niekerk (Wingfield Motors 16 VW Golf MkI 2.0).
Class D Gary Manwaring (Excelsior Brakes 14 BMW E46)
Class E Oliver Hintenaus (76 BMW E36)
Class F André van der Merwe (Huguenot Vallei Mineral Water 123 Chrysler 300C), Evert van Niekerk (New Engineering 651 Ford Falcon), Ley Fielding (67 BMW E36), Adam Omar (24 VW Golf MkI)
Class X Mia Bensch (Virtual 5 110 BMW E36), John da Silva (VW Golf MkI), Nieyaaz Modack (MIM 37 BMW)

Spitfire Furniture Sport & GT Cars
Finally the Spitfire Furniture Sport & GT category got a much needed boost with the front of the field attracting much attention. Missing was Gary Kieswetter, Josh Broome and Phillip Booysen, but the presence of a new challenger to the mighty Ginetta G57 of Craig Jarvis was boosted with Steve Humble considering the fight worthy of the Harp Motorsport 91 Pilbeam-Judd PM91.
Nick Adcock could not keep the grin contained as the new Adjust4Sleep / Motul Nova NP02 looked the part and certainly got everyone sitting up during practice on a very greasy track. Three cars faster than Dawie Joubert in the Porsche was impressive indeed.

Craig Jarvis got done to 1min09.893 with Steve Humble breathing down his neck for a couple of laps before being forced to pit and Nick Adcock circulated consistently in the new Nova to have one consider this as potentially good news for the rest of the season. Francis Carruthers stayed out of trouble to place the Harp Motorsport 69 Pilbeam PM84 third in heat one after Dawie Joubert turned the Wild Rose 18A Porsche 992 GT3 into a submarine, recovering to sixth spot. Martin Pugh fourth in the Appleberry Farm 21B Shelby CanAm and Divan Luzmore fifth in the sweet sounding GT Clubsport 99C Nissan 350Z.

Heat two again saw Craig Jarvis taking victory from Nick Adcock with Dawie Joubert staying on the black stuff to claim third. Francis Carruthers settling for fourth with Martin Pugh fifth and Emile Botha sixth in his Emile Botha Investments 19 Nissan 350Z.
Overall the individual class results were Craig Jarvis leading Nick Adcock home in class S. Francis Carruthers taking a rare class A win from Dawie Jouber. Martin Pugh won class B whilst Paul Beachy-Head surprised himself with a class C win in his 2 Audi R8 Turbo. Emile Botha took class D from Simeon Penev (77 Nissan 350Z) and Connor Kilbride (42 Spirit Nissan 350Z)

Kaltron Supercars
This Owen Ashley single make series still suffers from a lack of numbers but with a proud history of brilliant racing since 1997 it is anticipated that the numbers will slowly but surely increase as it offers equal opportunity to prove your talent as a driver.
Andrew Moffitt led Glen Phillips home in Heat 1 with Kyle Hallick third and Craig Hume fourth. Carel van der Merwe found conditions tricky and settled for a distant fifth.

Heat 2 again saw the experience of Andrew Moffitt and Glen Phillips prove valuable with Yassen Damon third and Kyle Hallick fourth and Craig Hume in fifth. Overall the order was Andrew Moffitt, Glen Philips, Kyle Hallick, Craig Hume.

Bejo Trustees Fine Cars
Günther Appelgryn enjoyed an unopposed drive to victory in the Appelgryn Trading BMW E36 325i as the Mazda MX5 of Robert Toscano had expired with rear suspension failure enroute to Killarney. The Bejo Trustees Fine Cars are street legal and are driven to the circuit for each meeting.
Jaco Oosthuizen second in his Ravenol Toyota Conquest RSi 1600 and Dave Alexander third in the British racing green Morgan. Di Dugmore third in a proper Frogeye Piri Piri Racing Austin Healey Sprite with Chris Champion fourth in his MGA Twin Cam.
Heat 2 and once again Günther Appelgryn commanded the lead on track but Dave Alexander was now beginning to enjoy the Morgan and claimed second from Jaco Oosthuizen in the Conquest. Chris Champion, Di Dugmore and Roger Lewis completing the British contingent.

On Index of Performance the points scoring overall result saw Jaco Oosthuizen claiming the top spot from Günther Appelgryn with Di Dugmore third, Chris Champion fourth and Dave Alexander fifth.

Bridgestone BTC 650 SSP 300 Motorcycles
The circuit remained sketchy for the motorcyclists, well for some of them at least. Jamie Hall travelled from Knysna in the Garden Route so it would be fair to accept that when you put so much dedication into your racing that you would either go big or stay home!

The race of the day saw Jamie Hall (MGA Racing 65 Kawasaki ER650), Ryan Coetzee (Project Sixty 60 SA 32 Kawasaki ER650) and Nicholas Hutchings (HSC Racing Kawasaki ER650) throw everything at each other from lights to flag in a fantastic tussle for supremacy, crossing the line almost side by side.

Jamie Hall beating Ryan Coetzee by just 0.039sec and Ryan just 0.382sec ahead of Nicholas. Matthew van Niekerk fourth aboard his Bulldog Racing 92 Suzuki Sv650and Nasief Smart fifth on his C4 Racing 123 Kawasaki ER650. Wayne Arendse completing the top six on his The JJ Smith Trust 94 Kawasaki ER650.

Adrian Solomon claimed the SSP300 category aboard his Pool King / ULAG / Western Cape Pumps 4 Kawasaki Ninja 400 (Should this not be the SSP400 category?). Abigail Bosson riding her Aleka / Project Sixty 60 SA / Calburg Yamaha YZF R3 to second and in third it was Braddon Hutchings on the HSC Racing KTM RC 390. Raymond Alexander fourth on the Microil 11 Kawasaki Ninja 300 and in fifth spot it was Mitch Robinson on his Mag Workshop 71 Kawasaki Ninja 399. The top six completed by Garett Goss aboard a Livingstone Baths 20 Kawasaki Ninja 400.

Heat two brought eight more exciting laps as the leading trio resumed their battle. Ryan Coetzee pipping Nicholas Hutchings by a scant 0.320sec and Jamie Hall just 0.404sec further back in third. Matthew van Niekerk, Nasief Smart and Wayne Arendse completing the top six in the STC650 category.

In the SSP300 class Adrian Solomon repeated his H1 dominance with Abigail Bosson second, Raymond Alexander third, Mitch Robinson fourth, Braddon Hutchings fifth and Garett Goss sixth.

Overall Ryan Coetzee claimed victory by 0.265sec from Jamie Hall with Nicholas Hutchings third, Matthew van Niekerk fourth, Nasief Smart fifth and Wayne Arendse sixth in the STC650 category.

Adrian Solomon claimed the SSP300 category from Abigail Bosson, Raymond Alexander, Braddon Hutchings, Mitch Robinson and Garett Goss.

South Motorcycles Clubman, Classic Superbikes and Breakfast Run
Gerhard Vrey claimed the opening Clubman heat aboard his Somerset Auto Clinic / Mad Macs 11 Kawasaki ZX10R with a determined Jayson Bulterman second aboard an unlikely racer, the Power Steering Solutions 90 BMW F800. Samkelo Liwani third aboard his 49 Yamaha YZF R6 with Piers Canute fourth aboard his colourful Project Sixty 60 SA 77 Yamaha R6. Levarne Sobotker fifth on a 56 Suzuki GSXR750 and the top six completed by Willem Louw on an 86 Kawasaki ZX6R.

Chad Thomson led the Breakfast Run category after H1 on his BMS / ST Construction 40 Suzuki GSXR600 with Dylan Anderson takng second on his 42 Yamaha R6 and Phillip Rimmer third aboard his Iron Horse Relocations 8 Yamaha R1.

Wayne Gresse taking H1 of the Classic Superbikes aboard his Tony's Motor Spares 95 Yamaha R1 with the BMW R1100S machines of Mario Ferreira and Willie Morries second and third.

Drying track conditions favoured the powerful Clubman machines and again Gerhard Vrey won, but this time only 0.704sec ahead of Samkelo Liwani with Piers Canute third, Levarne Sobotker fourth, JP Schemers (63 Honda CBR1000) fifth and Jayson Bulterman sixth.

Breakfast Run a repeat of H1 with the same in the Classic Superbike category.
Overall the Clubman category saw Gerhard Vrey ahead of Samkelo Liwani, Piers Canute, Jayson Bulterman, Levarne Sobotker and Willem Louw.

Overall Breakfast Run order Chad Thomson, Dyllan Anderson, Phillip Rimmer and in the Classic Superbikes it was Wayne Gresse, Mario Ferreira (Alf's Motorrad 44 BMW) and Willam Morries (Alf's Motorrad 13 BMW).

Alert Engine Parts GTi Challenge
Jurie Swart claimed Pole Position in his Number 1 Bullion IT VW Polo 6R but if ever there was a number one in the firing line, this was it! Nathan Victor, Clinton Bezuidenhout, Dillon Joubert, Schalk Geldenhuys, Kai van Zyl and Ian Kapp all willing to trade wing mirrors, paint and bumpers to knock Jurie off his perch.

Class B quietly becoming more competitive with each outing and Zaki Hendricks had Mohammed Khalfey and Mario Roux gunning for him. Fifteen entries in Class C explains the sudden shortage of MkI Golf spares in the Western Cape but certainly looked impressive on track.

Jurie Swart lived up to his reputation bay taking heat 1 from Nathan Victor, Clinton Bezuidenhout, Dillon Joubert, Schalk Geldenhuys and Kai van Zyl. Mohammed Khalfey claimed class B from Zaki Hendricks, Mario Roux, Brent van der Schyff and Marc Thompson.

Class C had Mark Fontini continue his dominant performance with Nur Abass second, Dylan van Eden third, Matthew Rowe fourth, Faizal Jacobs fifth and Rameez Boltman sixth.

Heat two was war! If there were Judges of Fact almost everyone in this field would have been penalised for pushing and shoving. Brakes became a luxury as the car in front served nicely with respect to stopping for corners. Somehow all the cars remained in basic shape and the racing was intense throughout. Analysing who bumped whom, when and where would take a few hours of reviewing this race but Clinton Bezuidenhout somehow reached André Grewe and the chequered flag first in his Progress Precision Engineering 57 VW Polo 6R for his first heat win at Killarney.

Kai van Zyl just 0.076sec behind in his Origen Oil 34 VW Polo 6R and Nathan Victor following in third sport with his Summit racing 71 VW Polo 6R just 0.380sec slower. Dillon Joubert at one stage looked like a potential winner but eventually made it home fourth in his Euroblitz / Tac Steel / Powder Coating World VW Polo 6R 0.417sec behind Victor. Jurie Swart got the short end this time and had to settle for fifth spot, 0.484sec later in the Bullion IT 1 VW Polo 6R. Ian Kapp sixth in his Hydracor Hydraulics 65 VW Polo 6R (with no damage).

Zaki Hendricks (Wheelworx Mag Repairs 7 VW Polo 6R) back in front in class B with Mario Roux (Automar 17 VW Polo 6R) second, Mohammed Khalfey third (MAD Performance 14 VW Polo 6R) and Marc Thompson (Somerset Refrigeration 81 VW Polo Classic) fourth.

Mark Fontini kept himself well clear of the pushing and shoving class C ratpack to record yet another class win in his Goch &Cooper 31 VW Golf MkI. Matthew Rowe second in the Veldt reared 30 VW Golf MkI and Faizal Jacobs third in his Tracktion Advanced Driving 40 VW Golf MkI. Nur Abass (Spice Mecca Golf), Dylan van Eden (RVE Digital Marketing 55 Golf) and Daniel Munna (Api Property Group 33 Golf) completed the top six.

Somehow most managed to complete the entire heat and given the action at the head of each class this series holds much promise for the balance of the season.

Overall however it was still Jurie Swart from Nathan Victor, Clinton Bezuidenhout, Dillon Joubert, Kai van Zyl and Ian Kapp but there is nothing to pick between the class A cars.

Mohammed Khalfey claimed class B from Zaki Hendricks, Mario Roux, Marc Thompson and Brent van der Schyff. In class C it was Mark Fontini from Nur Abass, Dylan van Eden, Matthew Rowe, Faizal Jacobs and Daniel Munna and it is getting tighter.

Formula Libre
Byron Mitchell posted the second fastest time of the day enroute to H1 victory in his Dolphin Engineering 21 VW Reynard with Dee-Jay Booysen second in his Dico / The Burner Factory 20 VW Reynard. Darren Liebenberg really enjoyed his drive in the MC designs 26C Formula M Kawasaki after having required a new fuel pump overnight and third was great reward.

Ryno Pentz fourth in the Dico 4×4 Accessories 65C Omega FVeewith Kelley Fletcher fifth in her Dolphin Racing 22 Lantis FVee and the top six completed by André le Riche in his 18 Lantis FVee.

Heat two and the top six order was Byron Mitchell, Dee-Jay Booysen, Darren Liebenberg, Haydn Ellwood (76C Swift SF92F), Andre le Riche and Kelly Fletcher. Ryno Pentz put his sponsor on the spot by burying his Omega in the tyre wall coming out of Turn 5.
Overall top six Byron Mitchell, Dee-Jay Booysen, Darren Liebenberg, Andre le Riche, Kelly Fletcher and Haydn Ellwood.
Class S Byron Mitchell, Dee-Jay Booysen
Class C Darren Liebenberg, Haydn Ellwood
Class V Andre le Riche, Kelly Fletcher, Donovan Ramsay (Kerston Foods 95 Sting FVee), Ricky Anderson (Forza FVee), Wynand de Ritter (Palm Tyres / PG Glass 10 Lantis FVee).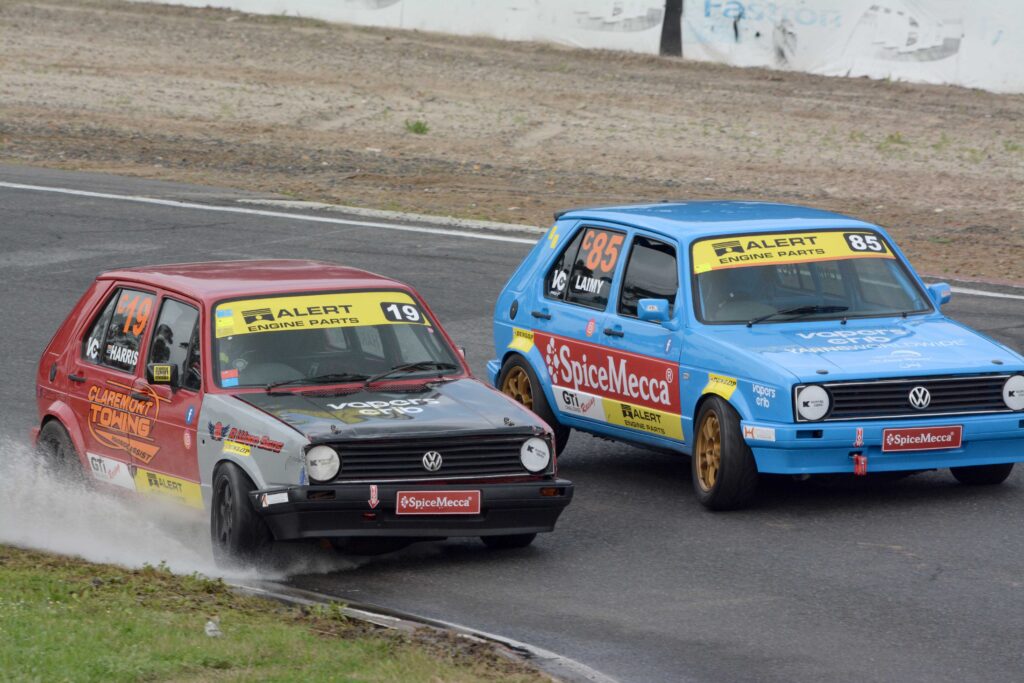 Publilshed by: Patrick Vermaak
MSA Publishes media releases from a host of different sources on our website as a service to the sport. It is not practically possible to vet/approve every release that is published. Some news items and articles are written by correspondents and do not necessarily represent MSA's views.