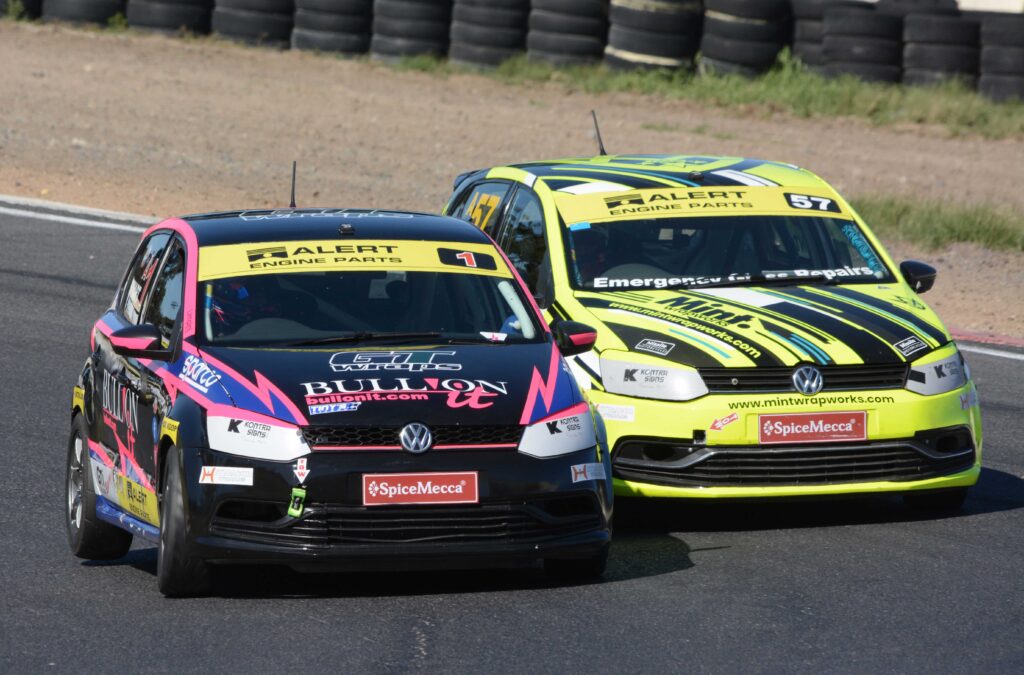 The 91st day of the calender arrived with almost perfect racing conditions and with only 274 days remaining few considered playing jokes on April Fools day, 1 April 2023.
Given that qualifying on Friday was run with a serious southerly wind and the fact that not everyone could actually be present for qualifying the grids for the individual car categories sported a few surprises. Motorcycles would qualify on Saturday.

Bridgestone STC 650 and SSP300 Motorcycles
Nicholas Hutchings (HSC Racing 72 Suzuki SV650) won the first heat by just 0.428sec from Ryan Coetzee (Project Sixty60 32 Kawasaki Ninja 650) after nine entertaining laps with Zante Otto proving to be a serious threat on her third placed Missile Motorcycles 73 Suzuki SV650. Franco Flach fourth aboard his 9 Kawasaki ER650 and Jamie Hall fifth aboard his Garden Route based MGA Racing 65 Kawasaki ER650. The top six completed by David Enticott on the Motorwise / Sarum Engineering 78 Kawasaki ER650.

Adrian Solomon winning the SSP300 category on his Ulag / The Pool King 4 Kawasaki Ninja 400 with Arno Erasmus second on the Magworkshop 20 KTM RC390 and Abigail Bosson third on her Atcka / Calberg Yamaha YZFR3. Raymond Alexander (HSC Racing 11 Kawasaki Ninja 300) fourth, Braddon Hutchings ( HSC Racing 74 KTM RC 390) fifth and Mitch Robinson (Mag Workshop 71 Kawasaki Ninja 390) sixth.

The second heat proved somewhat more spread out with the top six being Nicholas Hutchings, Ryan Coetzee, Zante Otto, Jamie Hall, Franco Flach and David Enticott.

Raymond Alexander claimed SSP300 from Abigail Bosson, Braddon Hutchings, Mitth Robinson and Abdul Essack.

Overall the Bridgestone STC650 top six was Nicholas Hutchings, Ryan Coetzee, Zante Otto, Jamie Hall, David Enticott and Lance Jonas.

The Bridgestone SSP300 order overall had Adrian Solomon winning from Arno Erasmus, Abigail Bosson, Raymond Alexander, Braddon Hutchings and Mitch Robinson.

Triumph Superbikes / SBK Challenge / Masters / 600cc Motorcycles
Kewyn Snyman dominated the Superbike category aboard his Missile Motorcycles 19 Honda CBR1000 with Alex van den Berg impressive in second place aboard his GFP Superbikes 54 Suzuki GSXR1000 and veteran Malcolm Rapson third on his Racebase 1M Suzuki GSXR1000.
Tristan Pienaar claimed the 600cc category aboard his 50 Yamaha R6 with Slade van Niekerk (Project Sixty60 Kawasaki ZX6) second, Jason Linaker (RST 93 Honda CBR600)third and Jamie Hall (Master Glass Garden Route 65 Yamaha R6) fourth.

Brad Bodsworth won the Superbike Challenge category aboard his Get Well Soon Matty D 41 Aprilia RSVU RF with Lubabalo Ntisana second on his LB Auto 53 Triumph Daytona and in third spot it was Wayne Arendse on his The JJ Smith Trust 33 Kawasaki ZX10R.

Heat two saw Kewyn repeat his first race dominance with Malcolm Rapson second and Tristan Pienaar third. Hilton Redelinghuys (888 Motorcycles 87 Kawasaki ZX10R) fourth, Slade van Niekerk fifth and Jason Linaker sixth.

Overall the Superbike order was Kewyn Snyman, Malcolm Rapson, Hilton Redelinghuys and Matthew van Niekerk (Bulldog Racing 92 Yamaha R1).

Superbike Challenge order overall Brad Bodsworth, Wayne Arendse, Wesley Hendricks (Maxicool & Motorwise 29 Kawasaki ZX10R), Quinten Weening (Bulldog Racing 85 Yamaha R1), Lubabalo Ntisana and Jonathan Schwerin (67 Kawasaki ZX10R).

And in the 600cc category Tristan Pienaar won from Slade van Niekerk, Jason Linaker, Jamie Hall.

South Clubmans / Classic SBK / Breakfast Run Motorcycles
Keana Strode (70 Kawasaki ZX6R) won the first heat after Ewert Koorts (69 Suzuki GSXR750) had decided to turn agricultural in Fastron corner. With only his ego damaged he was able to remount and finish the race. Willem Louw accepting second place aboard his 86 Kawasaki ZX6R with Jason Bulterman third aboard his Power Steering Solutions 90 BMW F800.

Wayne Gresse won the Classic SBK category on his Tony's Motor Spares 95 Yamaha R1 with John Kosterman second on his 81 Suzuki GSXR1100 and Sharief Reynolds third on his 7 Ducati 996.

Phillip Rimmer claimed Breakfast Run honours aboard his Iron Hors Relocations 8 Yamaha R1 with Ryan Smuts second on his 30 Honda CBR1000 and Alexander Flay third on his 21 Honda CBR RR.

Ewert Koorts made no mistakes in H2 to win from Keana Strode, Willem Louw, Jayson Bulterman, Shandin Thompson (MGA Racing 34 Yamaha R6) and Wayne Gresse.

Overall Results
Breakfast Run – Ryan Smuts, Philip Rimmer and Alexander Flay
Classic SBK – Wayne Gresse, John Kosterman, Sharief Reynolds, William Morries, Mario Ferreira
Clubmans – Kean Strode, Willem Louw, Ewert Koorts, Jayson Bulterman, Shandin Thompson and Derek Hendricks (Bikers Delight 57 Yamaha R6)

Alert Engine Parts GTi Challenge
With eight cars qualifying in class A the scene was set for an almighty tussle as Clinton Bezuidenhout claimed pole position by 0.056 sec from Jurie Swart Jnr. Kyle Visser claiming the class B pole by 0.071sec from Zaki Hendricks whilst Dylan van Eden nabbed class C from Matthew Rowe.

Nothing came of the expected war in class A as Clinton Bezuidenhout retired with a broken rim and tyre after 1 lap leaving Jurie Swart to cruise to victory from Kai van Zyl, Dillon Joubert, Schalk Geldenhuys and Ian Kapp. Zaki Hendricks and Mohammed Khalfey crossed the class B finish line 0.440sec apart with Marc Thompson third and Brent van der Schyff fourth. Dylan van Eden claimed class C from Matthew Rowe and Faizal Jacobs with Nur Abass, Daniel Munna and Raaziegh Harris completing the top six.

Heat two and again Jurie Swart Jnr stamped his authority on Class A with Dillon Joubert second, Nathan Victor third and Clinton Bezuidenhout fourth. Schalk Geldenhuys and Ian Kapp completing the top six. Mohammed Khalfey turned the table on Zaki Hendricks in class B with Marc Thompson third and Brent van der Schyff fourth.

Dylan van Eden winning class C from Raaziegh Harris by a scant 0.119sec and a questionable squeeze into the pit wall enroute to the flag on the final lap. Matthew Rowe third, Rameez Boltman fourth without spinning, Daniel Munna fifth and Nur Abass sixth.

Overall Jurie Swart Jnr (1A Bullion It) won from Dillon Joubert (44A Euroblitz / Tac Steel / Powder Coating World), Schalk Geldenhuys (10A G&A Motorsport / Ferroli), Ian Kapp (65A Hydracor Hydraulics) in class A with Zaki Hendricks (7B Wheelworx) edging Mohammed Khalfey (14B MAD Performance) by a mere 0.015sec for overall victory in class B with Marc Thompson (81B Somerset Refrigiration) third and Brent van der Schyff (69B Whiteknuckle / Magmaster / PG Autoglass) fourth.

Dylan van Eden (55C RVE Digital) first in class C with Matthew Rowe (30C Veldt Reared) second, Faizal Jacobs (40C Century Karting / Durham Agency) third, Nur Abass (15C Spice Mecca) fourth Daniel Munna (33C API Property CPT) fifth and Raaziegh Harris (19C Cooltouch Racing) sixth. Compliments as the only car finishing the day without straight panels was Ross Schroëder (16C API Property CPT) in his class C Gold MkI.

Formula Libre
For sheer pace on the day the VW Reynard trio in class S of the Formula Libre category cannot be matched as Byron Mitchell (21S Dolphin Engineering) posted a 1min09.960 for pole position with Storm Lanfear (27S AMD Engineering / RDSA) second fastest.

Byron Mitchell taking the opening heat in dominant fashion whilst just 0.054sec separated Dee-Jay Booysen and Storm Lanfear for second and third after 10 laps. Darren Liebenberg and his unique 22C Formula M Kawasaki 635cc claimed fourth with Hayd Ellwood fifth in his 76C Swift FF. André le Riche sixth in the 18V Lantis, just 0.78sec clear of Zane Amundsen (30V Repsol Lantis).

Heat two again had Byron Mitchell vanish into the distance with Storm Lanfear getting the better of Dee-Jay Booysen by 0.436sec. Darren Liebenberg fourth, Haydn Ellwood Fifth and André le Riche again pipping Zane Amundsen for sixth spot.

Overall Byron Mitchell won from Storm Lanfear and Dee-Jay Booysen (separated by just 0.382sec). Darren Liebenberg fourth, Haydn Ellwood fifth and André le Rich sixth. As always the Formula V brigade provide some great racing and the order behind Amundsen was Richard Carr (49V Rhema), Donovan Ramsay (95V Kerston Foods Sting), Cyril Somerville (61C Liqui Moly Rhema) and Luan van Heerden (28V Omega). Luan trying to qualify for WRX with an interesting kerb hop.

Laude Classic Cars
Friday qualifying will always prove a challenge as not everyone have the freedom to be present and so it was that only 21 drivers qualified. One of the mysterious and rarely seen cats put in an appearance too.

An interesting field of 26 extremely diverse machinery started the first heat with the Donadio Plant Hire 1A Ford Escort MkI taking on no less than two Ford Mustang V8 opponents. The nimble escort out braking and out cornering the heavier challengers, but boy does those ponies look impressive down the straights. This time David beat Goliath with Franco finishing ahead of Michael Hitchcock (Cross Cape Forklift Servies 67A Ford Mustang Notchback V8) and Arnold Neveling (777X Ford Mustang Fastback V8).

Arnold guest driving the ex-Peter Lindenberg 777 car owned by Jan-Wille de la Porte to extremely good effect and it really was treat to watch the three drivers searching for the best performance from three very similar, yet very different cars. The ever efficient Gulf liveried LHD 196A Porsche 944 Turbo of Andrew Honeywell fourth with Jarryd Evans fifth in the ex-Hennie van der Linde / Dick Sorenson and now Cary Blows owned 29B Sabat Nissan Slyine 2.8. Was this the first class B win for this car since it was retired from the Wesbank Championship?

Watching Ferdi Mouton (cCross Cape Forklift Services 68B Ford Mustang Notchback V8) hanging on to the superior handling Skyline yet another reason why the Laude Classic Cars must rate as the most popular saloon championship at regional level. Add the very nimble and quick 77B Toyota Corolla Twin Cam Sprinter of Bruce Avern-Taplin and class B becomes an interesting tussle.

Probably the most entertaining tussle of the day was between Brian Evans (Cape Eye Laser 441C Ford Escort MkI) and Wynand Nell (Harkers Automotive 44C Ford Anglia and these two absolutely immaculately prepared cars were separated by just 0.568sec with the Serge Damseaux replica Garage 86 86C Toyota Conquest RSi 1.8 of Deon Conradie remaining in touch throughout.

Dave Rowley had his Gulf liveried 148D VW Beetle 2.3 running beautifully and it really is great to see this almost iconic machine staying ahead of Jan-Willem de la Porte in his 240D Datsun 240Z.

James Matthee won class E in his almost modern Technofill 700E Honda CRX with Piet Matthee second in his Technofill 33E Porsche 928 with Anton Rollino third in the magnificent Rob Tissington 42E Morris Minor 1293cc and Niel Mouton fourth in his 48E Alfa Romeo Guilia Super.

Heat two held much promise of an even better spectacle but then Murphy delivered a left front flat to Michael Hitchcock which slowed him to an eventual fifth place whilst Arnold Neveling obviously felt much more comfortable in his courtesy car and the additional confidence led to an even heavier foot down the straights, the little Escort simply running out of breath and having to settle for second spot. Jarryd Evans and Ferdi Mouton provided great fun in class B and a cheeky outside pass through Fastron sealed third spot for the Skyline with the red Mustang fourth. Bruce Avern-Taplin and the deceptively quick Corolla sixth.

Wynand Nell looked like he would get the upper hand over Brian Evans but as the two class D protagonists approached Fastron for the final time a rare error saw Evans tap Nell into a very wide line and 0.599sec across the finish line with Deon Conradie in tow made it extremely difficult to nominate a driver of the day.

Dave Rowley owned class D in the Beetle with Jan-Willem de La Porte second in the 240Z and in class E James Matthee beat Piet Matthee to the honours with Niel Mouton pipping Anton Rollino.

Overall Franco Donadio proved supreme in the Donadio Plant Hire 1A Ford Escort MkI with guest driver, Arnold Neveling, second in the ex-Peter Lindenberg 777 Ford Mustang Fastback V8 and Michael Hitchcock third in his Cross Cape Forklift Services 67A Ford Mustang Notchback V8.

Officially Jarryd Evans was classified as class X as this was his first drive in the fourth placed SABAT 29B Nissan Skyline 2.8 and Ferdi Mouton fifth in the Cross Cape Forklift Services 68B Ford Mustang Notchback V8 and Bruce Avern-Taplin sixth in the rapid Corolla.

Brian Evans beat Wynand Nell, Deon Conradie, Layne Hutchings (HSC Racing 74C VW Golf MkII GTi) and Herman de Kock (59C Ford Escort MkI) in class C. Dave Rowley taking class D from Jan-Willem de La Porte. James Matthee beat his father Piet Matthee to the class E honours with Anton Rollino third and Niel Mouton fourth.

No idea who was eventually nominated a Driver of the Day but guest drivers Arnold Neveling and Jarryd Evans would certainly have been firm candidates with Brian Evans blemishing his almost certain nomination by punting Wynand Nell on the final lap!

Bejo Trustees Fine Cars
Another category in need of numbers but the core remains healthy and as expected it was Jaco Lambert who led the field past the chequered flag in the Lambert Racing 28 VW Jetta. Günther Appelgryn and Robert Toscano resumed their normal tussle but this time the Appelgryn Trading 13 BMW E36 325i semmed to have the measure of the Technoparts 334 Mazda Miata MX5 and Natasha Tischendorf, 2 VW Jetta CLi MkI, managed to stay ahead of the Coenie Matthee 3 Porsche 928

Heat two saw Günther pip Robert on the line, having finally discovered a faster line through Fastron. Coenie Matthee third across the line in his Porsche. The Jaco Lambert 28 VW Jetta retired with a minor hole in the side of the engine block.

Günther Appelgryn placed his Appelgryn Trading BMW E36 325i first on the track with Robert Tooscano and his Technoparts Mazda Miata MX5 second and Coenie Matthee third in his "Snake eyes) Porsche 928.

On Index of Performance the result saw Robert Toscano pipping the ever consistent 1 MGA of Roger Lewis with Günther Appelgryn third. Natasha Tischendorf fourth in her VW Jetta MkI, Coenie Matthee fifth and the Ravenol Toyota Conquest RSi of Jaco Oosthuizen sixth.

Pirelli V8 Masters
Sean Moore claimed pole position in the No 1 Ziegler Logistics APV347is, the only driver to break through 1min 16 on 1min15.691. Mark Ridgway joining the green machine on the front row in his getWorth 53 APV 347is, with the seasoned veterans Marcel Angel (14 Autohaus Angel) and Fabio Tafani (39 Club Refrigeration) on row two. Allister Brown (22 NAC Helicopters) and Jason Ibbotson (46 Autohaus Angel) the final Gold entries on row three.

Menno Parsons (69) and Stuart Spooner (17) topped the Silver grid with Ken Finneman, Mark Voget (21 Great South) and Gary Thompson (55) completing the eleven car entry for Saturday.
Alister Brown removed himself from the leading bunch by spinning into Hoals Hoek, then Marcel Angel coasted into the pits with water running down the side.

Now the question beckoned, has Sean Moore finally found the pace and consistency to put one over Fabio Tafani and Marcel Angel? Mark Ridgway also making his presence felt in third with Jason Ibbotson fourth. Menno Parsons upped into the Gold category and he would finish sixth, behind the Silver winner, Gary Thomson. Mark Voget and Stuart Spooner bringing up the back of the field.

Sean Moore served notice of his intentions for the balance of the 2023 season when he beat Fabio Tafani and Marcel Angel to the flag in H2 with Mark Ridgway keeping the trio in sight. Jason Ibbotson fifth and Alister Brown sixth and Menno Parsons seventh. Gary Thomson, Mark Voget and Stuart Spooner the Silver finishers.

Overall Sean Moore took a very convincing first position with Fabio Tafni second and Mark Ridgway third. Jason Ibbotson slotted into fourth and Gary Thomson claimed fifth from Menno Parsons.

Really anticipating a serious comeback by both Fabio Tafani and Marcel Angel with Sean Moore now wearing the target on his back and Mark Ridgway getting ready to join this interesting fray.
Kaltron Formula Supercars

Showing promise with each outing the Kaltron Supercars managed to to have seven of the eight cars entered start Heat 1 with Glen Phillips and Andrew Moffitt putting on a spirited dual for first place. Andrew crossing the line 0.291 sec ahead of Glen with Yassen Damon third, Kyle Hallick (RBK Products) fourth, Carel van der Merwe (Van der Merwe Racing) fifth and Craig Hume (Kaltron) sixth.

Seven started H2 but only four reached the chequered flag with Glen Phillips ahead of Michael Nel (Petrel International), Carel van der Merwe and Kyle Hallick. Carel and Kyle making contact in Fastron corner which saw Kyle in the dirt and Carel sneaking past with a nose out of joint.

Overall Glen Phillips topped the scoresheet with Kyle Hallick second and Carel van der Mewe third. The only three to have covered the full distance. Still believe this category can regain it's status as one of the most equal and competitive series at regional level.

Thermo Fires Clubman Saloons
Cody Alberts won the Clubman Saloon category overall in his Avid Security 100A BMW 330i with Daanyaal Coetzee second in his A&M Plumbing 46B BMW E46 and Paul Munnik taking third in his Audi VW Auto Clinic 79B VW Golf MkI. Ciara van Niekerk somewhat surprised in fourth spot with her Wingfield Motors 16D VW Golf MkI and Andrew Honeywell fifth in his 196D BMW 328i. Michael Flynn compleing the top six in his Flynns Auto Detailing 97D VW Golf MkI.

Jess Hugget lost third gear on his Rico Barlow 70A VW Jetta 2 whilst the G&A Motorsport Farmtruck 3A VW Golf MkII of Clint Rennard also failed.
Published by: Patrick Vermaak

MSA Publishes media releases from a host of different sources on our website as a service to the sport. It is not practically possible to vet/approve every release that is published. Some news items and articles are written by correspondents and do not necessarily represent MSA's views.