RallyRACC's gravel stages are up next for six young talents of the future as the FIA Rally Star Training Season reaches its decisive phase from October 20-21.
The fifth of six FIA Rally Star Training Season events, Spain's RallyRACC was an FIA World Rally Championship regular up until last October.
While it was run only on asphalt 12 months ago, gravel stages are nothing new on RallyRACC, which put crews through their paces on loose-surface roads as recently as 2019.
Based in Salou on Catalunya's Costa Daurada, the 58th RallyRACC is the third of four gravel events on the FIA Rally Star Training Season calendar and the second of three in quick succession.
It follows on from the Saaremaa Rally in Estonia (October 6-7) and takes place three weeks prior to Germany's Lausitz Rallye (November 9-11).
Having built their experience on the San Marino Rally in June, July's Rallye Weiz in Austria and Rally Nova Gorica, which took place in Slovenia last month, the intense finish to the FIA Rally Star Training Season was a carefully considered move.
Not only will the rapid-fire roster of rallies accelerate the learning and aid the progression of the six FIA Rally Star drivers, it will also help to prepare them for the future with a career in the FIA World Rally Championship the ultimate goal.
The FIA Rally Star Training Season is the first step on the ladder to the WRC and has given six drivers with limited competition experience the chance to gain crucial knowledge and showcase their ability on national-level events.
Competing in identical Ford Fiesta Rally3s on Pirelli tyres and run by M-Sport Poland, the six young talents qualified for their Continental Final via selection events organised by their ASNs or through online competitions as part of the FIA's objective to increase motor sport participation globally.
The winners of the five Continental Finals plus the winner of the Women's Final were then chosen for the FIA Rally Star Training Season.
At the end of the FIA Rally Star Training Season, the best four performing drivers will progress to the FIA Junior WRC Championship in 2024. The FIA is providing this incredible opportunity free of charge.
The FIA Road Sport Department, which conceived and manages the FIA Rally Star programme, works closely with the ASN of the host country and the local organising club of each Training Season event. The Real Federación Española de Automovilismo (RFEdA) and the Real Automóvil Club de Catalunya (RACC) have been a constant source of help and guidance ahead of RallyRACC.
The challenge in store on RallyRACC
RallyRACC's gravel stages vary from fast and flowing to tight and twisty but with a hard base ever present. Two runs through the 12.49-kilometre Santes Creus stage launch the competitive action on Friday October 20. They're followed by three repeated stages and one single-use Tarmac test covering a timed distance of 98.41 kilometres on Saturday October 21. Friday's route takes crews a short distance west of the PortAventura service park in Salou, with Saturday's stages based in hilly terrain some 100 kilometres west of the host town.
FIA Rally Star latest news and views
Having resumed his FIA Rally Star Training Season schedule on the Saaremaa Rally, South African Max Smart will be aiming to increase his confidence and make it three event finishes in succession on RallyRACC. He turns 21 the day after the finish.
A home rally for her co-driver Esther Gutierrez, Annia Cilloniz says of competing on gravel: "I still have a lot more to learn but it's more natural and more instinctive to me, so I love it".
RallyRACC will be Taylor Gill's final FIA Rally Star Training Season event before turning 20 on October 30. While the Australian relished competing on the sealed-surface events in Austria and Slovenia earlier this season, he has more experience on gravel. He was the highest-placed FIA Rally Star finisher on the Saaremaa Rally.
With the Saaremaa Rally marking three consecutive events on which Abdullah Al-Tawqi has completed without significant issue or damage to his Ford Fiesta Rally3, RallyRACC will provide an opportunity for the Oman driver to continue to utilise the experience he's gaining and training he's receiving.
Jose 'Abito' Caparo from Peru will start RallyRACC having worked on perfecting his braking distances following the Saaremaa Rally, where he finished sixth in the highly competitive EMV3 class for Rally3 cars.
While delivering strong performances and gathering as much experience as possible are prerequisites for the FIA Rally Star drivers, Estonia's Romet Jürgenson will be hoping to post another class-winning display after tyre damage prevented him from doing just that on the Saaremaa Rally, his home event. Jürgenson visited RallyRACC in 2019 when he cheered countrymen Ott Tänak and Martin Järveoja to the FIA World Rally Championship title. "To go back there rallying myself is really special," he said.
FIA Rally Star Project Leader Jérôme Roussel said: "The opportunity to compete in the FIA Junior WRC Championship is life-changing and for four FIA Rally Star Drivers the chance to make this incredible step is getting closer as we enter the final third of the FIA Rally Star Training Season. It means there are two events left for these hugely promising six drivers to not only continue gathering vital learnings for the future, but to also demonstrate their speed and potential in competitive conditions. Our young hopefuls will prepare for RallyRACC well aware of the possibilities that lie ahead but also mindful of what they achieved in the demanding weather conditions they faced on the Saaremaa Rally. Despite the challenges, they all got to the finish and should not forget this achievement when they take the start in Salou, a town where many rally successes have been celebrated in the past. RallyRACC is an exciting prospect for the FIA Rally Star drivers and we thank the RFEdA and the RACC for their ongoing support and assistance"
Taylor Gill said: "From what I've seen watching onboards, the roads tend to look like they have quite a hard base, which will put an emphasis on tyre wear. Compared to the stages in Estonia, which were quite soft and sandy with big ruts, the RallyRACC stages look more similar to what I've experienced in Australia. It was definitely satisfying to reach the finish of the Saaremaa Rally because the conditions meant it was a lot rougher and tougher than I was expecting. Getting to the finish again on RallyRACC is of course a big priority but we want to be pushing hard and showing good speed. The speed we showed in Estonia was not as good as it could have been for various reasons, so I really want to explore the limits and keep pushing, setting good, consistent stage times at a higher pace. Gravel is the surface I have more experience on, but I was definitely enjoying the Tarmac and starting to really love it after the two events we did. I wouldn't say I have a huge bias one way or another, but I have done more rallies on gravel so it's still my more comfortable surface at the moment."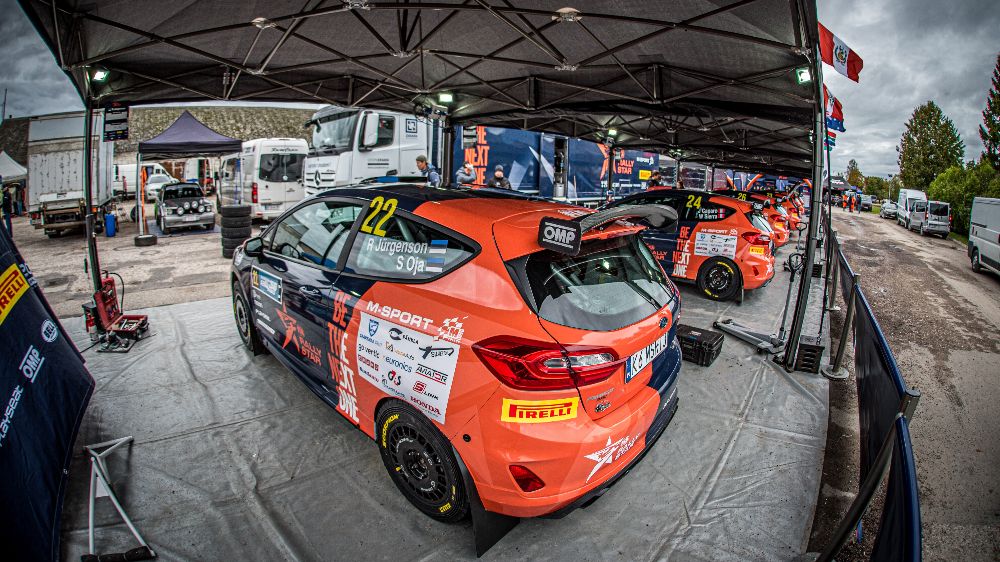 FIA Rally Star Training Season participants (in RallyRACC start number order)
17 Romet Jürgenson (23, Estonia) / Co-driver: Siim Oja (EST)
18 Taylor Gill (19, Australia) / Co-driver: Daniel Brkic (AUS)
19 Jose 'Abito' Caparo (26, Peru) / Co-driver: 'Willy' Guillermo Sierra Ovalle (PER)
20 Abdullah Al-Tawqi (24, Oman) / Co-driver: Ronan Comerford (IRL)
21 Max Smart (20, South Africa) / Co-driver: Cameron Fair (GBR)
22 Annia Cilloniz (24, Peru) / Co-driver: Esther Gutierrez (ESP)
FIA Rally Star Training Season event schedule refresher
The FIA Rally Star Training Season consists of six events, four on gravel and two on Tarmac:
San Marino Rally (Gravel), June 16-17
Rallye Weiz, Austria (Tarmac), July 13-15
Rally Nova Gorica, Slovenia (Tarmac), September 22-24
Rally Saaremaa, Estonia (Gravel), October 6-7
RallyRACC, Spain (Gravel), October 20-21
Lausitz Rallye, Germany (Gravel), November 9-11
A test will take place ahead of each event along with an extensive post-rally debrief. The FIA Rally Star Training Season events have been specifically chosen to equip the drivers with experience of a wide variety of conditions and circumstances.
The six FIA Rally Star Training Season participants will compete in identical Pirelli-equipped Ford Fiesta Rally3s run by M-Sport Poland.
All costs are covered by the FIA with the best four drivers at the completion of the FIA Rally Star Training Season securing a fully funded season in the FIA Junior WRC Championship in 2024.
MSA Publishes media releases from a host of different sources on our website as a service to the sport. It is not practically possible to vet/approve every release that is published. Some news items and articles are written by correspondents and do not necessarily represent MSA's views.