Timo Scheider brought Johan Kristoffersson's winning run in the FIA World Rallycross Championship to an end with a sensational performance in South Africa, as the German's maiden victory ensured the title fight goes on to the Hong Kong season finale.

For the first time in World RX history, the entire field took to the track in equal machinery at Killarney International Raceway, and Scheider was a leading contender from the outset. After finishing third on Saturday – matching his previous best result from the 2023 campaign – the ALL-INKL.COM Münnich Motorsport star got the better of all of his rivals today to reach the top step of the podium.

Scheider's day did not get off to the best of starts, as rear motor failure restricted him to the fifth-fastest time in the single-lap SuperPole shootout and a puncture then dropped him out of the lead in heat one. Unbowed, he battled back to top the timesheets in both heats two and three – in so doing, vaulting to the summit of the intermediate standings and earning himself pole position for the opening semi-final.

Another flawless run saw the German pip Kevin Hansen to the chequered flag by just over three tenths-of-a-second, before he held his nerve once more in the final, executing a textbook launch and keeping his pursuers calmly at bay throughout.

"It's pretty difficult to describe this right now," Scheider reflected. "I feel quite emotional. I've been chasing this win for some time; it hasn't always been easy, but we've kept fighting and I always try to squeeze the most out of what I have.

"The level of competition in World RX is so high and we all know how difficult it is to beat Johan [Kristoffersson], so I'm super-proud for both myself and the ALL-INKL.COM team – they put so much energy into this project and have kept believing in me. It's quite overwhelming, to be honest. I want to dedicate this victory to my dad, who passed away last year. And to all of the fans here in Cape Town – thank you for being amazing!"

Scheider's South African success has elevated him to third in the title standings, just three points behind Kevin Hansen, who replicated his Saturday result by scooping the runner-up spoils again on Sunday.

To do so, the Hansen World RX Team ace had to fend off a charging Kristoffersson, who admitted to 'completely sleeping' at the start of the final, enabling his countryman to dive up the inside and into second place. Try as he might, the championship leader was never able to get back ahead, obliging him to wait a little longer in his quest to secure a sixth career crown.

Klara Andersson crossed the finish line fourth following a much-improved display compared to the previous day, just ahead of 2019 world champion Timmy Hansen, but their positions were reversed when the CE Dealer Team driver was handed a penalty for contact. Niclas Grönholm – the winner in South Africa four years ago – wound up sixth.

The 2023 World RX campaign will conclude with the championship's first-ever city centre event next month – a double-header in downtown Hong Kong on 11-12 November.

FINAL RESULT: WORLD RX
Timo SCHEIDER (DEU) ALL-INKL.COM Münnich Motorsport 5 laps
Kevin HANSEN (SWE) Hansen World RX Team + 1.021s
Johan KRISTOFFERSSON (SWE) Volkswagen Dealerteam BAUHAUS + 1.344s
Timmy HANSEN (SWE) Hansen World RX Team + 6.656s
Klara ANDERSSON (SWE) CE Dealer Team + 6.175s *
Niclas GRÖNHOLM (FIN) CE Dealer Team + 8.532s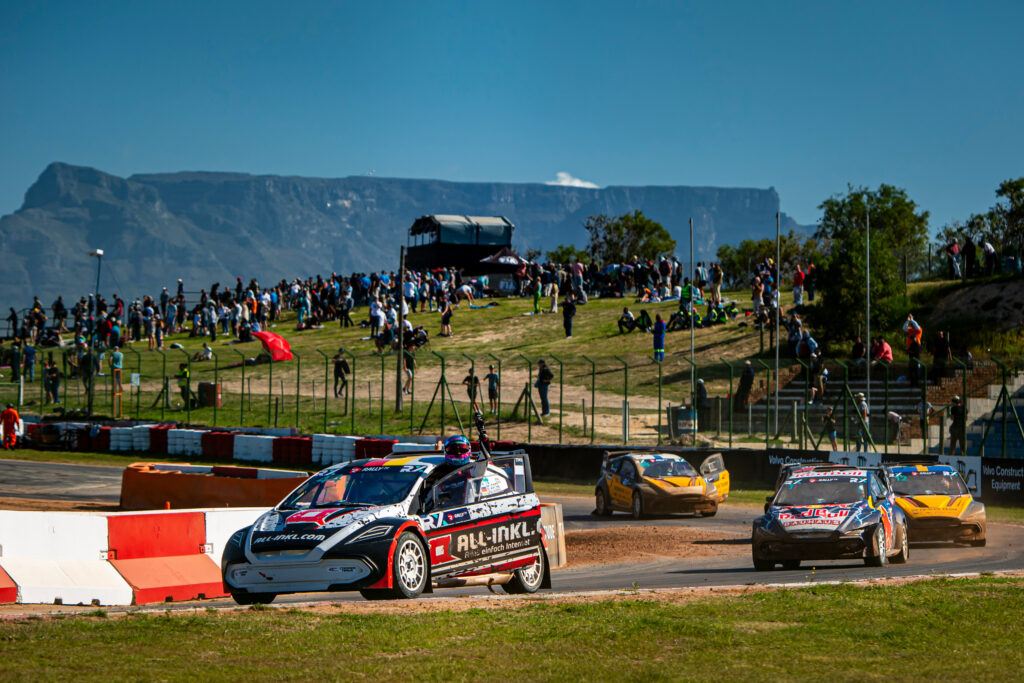 Published by: Russell Atkins
MSA Publishes media releases from a host of different sources on our website as a service to the sport. It is not practically possible to vet/approve every release that is published. Some news items and articles are written by correspondents and do not necessarily represent MSA's views.