The BMW ///M Performance Parts Race Series will start its downhill slope towards the 2023 climax this coming weekend (23-24 June) at the same venue that hosted the season opener, Zwartkops Raceway west of Pretoria.
This will be the final round before the mid-season winter break, with all overall and class title contenders eager to hold the psychological advantage before the two-month lull. Dave Reshe heads the overall championship with 74 points, but his rivals will take every opportunity to close in on his lead.
One of his rivals is Class A's Leon Loubser. Although dropping a place in the overall championship standings in Round 4, he still holds a comfortable lead in the class, with 60 points to his name. Loubser dominated proceedings in the season opener, but on that occasion, his competition was two drivers who broke into the class on the weekend, along with debutant Leyton Fourie. This time, he will face fierce challenges from William Einkamerer, who took his first win of the year at Phakisa Freeway, albeit by default. The driver whose victory celebrations were halted abruptly was Bob Neill, who was found passing under a yellow flag. Einkamer, with 20 points, and Neill, with 11 points, will know that title aspirations are a bit far-fetched at this stage but share the desire to take the win by being the first to cross the line. This three-way battle is set to be fast and fierce.
Class B provided some of the closest on-track action around the short and tight Zwartkops Raceway in Round 1 between Andreas Meier, Nek Makris and Lyle Ramsay. Meier leads the class with 61 points, which also saw him edge ahead of Loubser in the overall standings. The former double champion is trailed by Makris, six points adrift after recording his first win in Round 4. Former class leader Ramsay is six points adrift and eager to make up ground. Lorenzo Gualtieri (32 Points) and Renier Smith (27 points) have also made their presence in the class felt in recent rounds and will be eager to take the class honours at Zwartkops Raceway. Oz Biagioni will also be contesting for a podium.
Class C saw the most significant shake-up at Phakisa, with defending series champion Nicholas Fischer now occupying the top spot, moving up from fifth place. With 42 points, Fischer holds a seven-point advantage over Jan Eversteyn, who is three points clear of Jaco Storm, who took his first Class C win at Phakisa Freeway. Troy Cochran, Alan Hilligenn and Hein van der Merwe, who missed Round 4, will all be back on the grid at Zwartkops Raceway. They have 30, 29 and 28 points to their names, respectively. Particularly Van der Merwe will look to bag two strong results this weekend. The season opener saw him take the early class lead with a double win, but since then and due to various misfortunes, he only added eight points. Dewit Oosthuizen, Barnard de Gouveia, Varish Ganpath, Vigen Naidu, Shane Grobler, and Bennie Luyt are all eager to get to the top as well, while Neil Pillay will also be back on the grid. Throughout 2023, the midpack has provided some of the closest races with the most unpredictable outcomes, and this weekend should not break from the status quo.
Reinhardt Miller started the season as one of the newer drivers in the series, showing a lot of potential in Class D. At the halfway mark, he's leading the class and lying fourth overall, with 55 points to his name. This sees him 16 clear of the battle for second place between Nicholas Herbst (39 points), Neil Reynolds (33 Points) and Craig Herbst (31 Points). While the Herbst son and father pair are yet to win a race in 2023, they have been consistent frontrunners throughout. Manny Ribeiro is fifth with 28 points. Lenard Archer and Johan Miller will continue their quest to get to the front, while Trevor Long will also be back in contention.
Rehse's winning streak might have ended at Phakisa Freeway, but he is still 19 points clear of second-placed Arri van Heerden. The latter leapfrogged Chris Bohmer (45 Points) in the last round following his double victory. Mike Grobler (23 Points) and Dewald Smith (22 Points) complete the top five. Caren Nienaber accumulated 19 points while making steady progress in her debut season. This weekend will also see George Economides make his first 2023 appearance.
The big news is that, like in the season opener, another reigning national champion will debut in the series. Last time, the Global Touring Cars (GTC) SupaCup champion Leyton Fourie competed in two rounds before heading abroad to compete in the BMW M2 Cup. This time, the reigning Investchem Formula 1600 champion and current GTC Championship contender, Josh le Roux, will move in behind the wheel of the Bucketlist Racing-prepared BMW F30 340i vacated by Fourie.
Saturday races will see the gird being split into two groups. All races will be contested over ten laps and will start at:
10:45: Classes D & E – Race 1
11:45: Classes A, B & C – Race 1
15:05: Classes D & E – Race 2
15:55: Classes A, B & C – Race 2
Spectator tickets can be purchased directly from the Zwartkops Raceway entrance gate on Saturday or by contacting their office beforehand. All the day's races will be broadcast live on the BMW Car Club Gauteng Facebook page and the 2WheelsTV YouTube channel.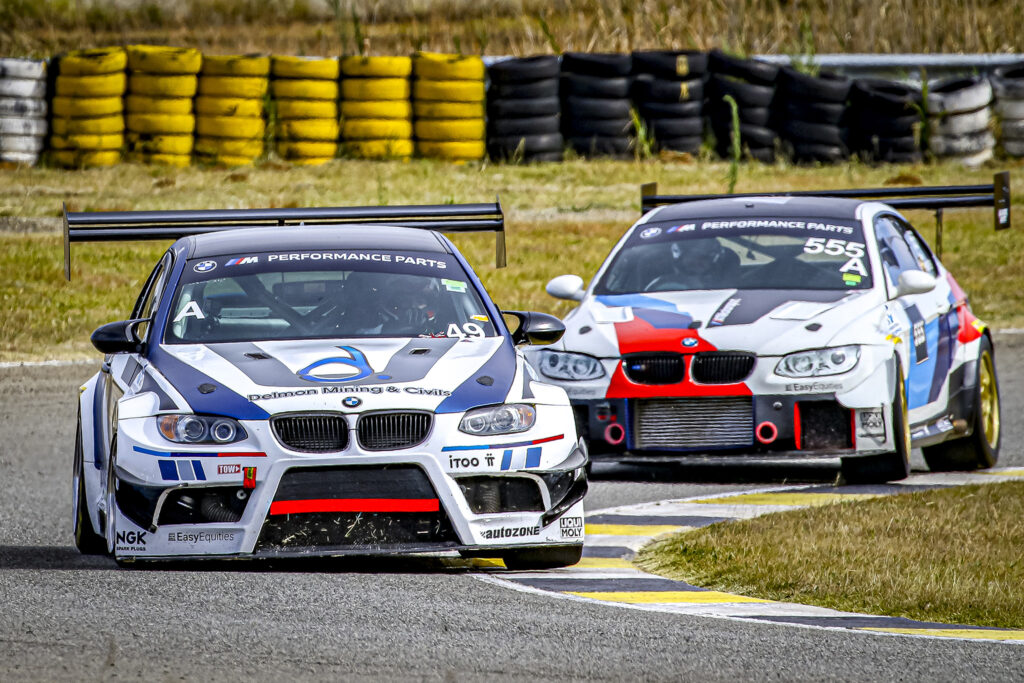 Issued by Brandsponential on behalf of BMW Car Club Gauteng
Photography by: Raymond Cornwell, Jason Hanslo, James Thomson and Paul Bedford
MSA Publishes media releases from a host of different sources on our website as a service to the sport. It is not practically possible to vet/approve every release that is published. Some news items and articles are written by correspondents and do not necessarily represent MSA's views.