What Walter Hayes Trophy Formula Ford Festival Report
Where Silverstone, England.
When 4-5 November 2023
Community International
South Africans star at Silverstone Formula Ford festival
The South African team starred at the prestigious international Formula Ford Walter Hayes Trophy at Silverstone in England over the weekend. In a day of incredible comebacks, Capetonian Andrew Rackstraw clawed his way back to a stunning podium third in the Final, with Robert Wolk coming from the back of the grid to 11th, and Julian van der Watt ending 17th from the back after fighting for the lead early on. Josh Le Roux also put on a storming display from the back to fifth, before dropping back again.
The strong six-man South African team starred as four of the men, all of them Global Touring Car drivers and former Investchem Formula 1600 champions, qualified for the Final of the world's biggest Formula Ford 1600 weekend. The Walter Hayes Trophy attracts over 100 drivers from across the planet to the epic weekend of wheel-to-wheel racing famously subjected to all forms of terribly wet and cold November Blighty weather at Silverstone.
GTC racer and former Formula 1600 champion, Julian van der Watt enjoyed a relatively simple run to the final, ending fourth in his Heat in wretched wet conditions on Saturday, to qualify his Investchem Mygale SJ01 seventh for his Semi Final. There, he stayed out of trouble, despite it looking for him, to come home fourth and qualify sixth for the Final on a during track on a late sunny Silverstone Sunday morning.
Another GTC racer and 2021 F1600 champion, Andrew Rackstraw took a more difficult route after a shocking Saturday. Both he and Andrew Schofield had to fight back into the Semi Finals ending first and second in Sunday morning's Last Chance Race. Rackstraw then delivered a storming Semi Final to rise from 27th on the grid to fifth at the flag, as he set the fastest lap aboard his Kevin Mills Racing Spectrum 011C. He would line up eighth in the Final.
2022 SA Investchem Formula 1600 champion and 2023 GTC pilot, Josh Le Roux had a brilliant qualifying to line up fourth in his Semi Final aboard his Kevin Mils Racing Spectrum 011C. But he slid off on the opening lap and had to charge back from the tail of the field. He took full advantage of the two safety car restarts in the race to sneak into the Final with a last lap move, 33rd on the grid.
It was a similar story for double SA Global Touring Car, and multiple Formula 1600 champion Robert Wolk, who qualified his Investchem Mygale SJ01 midfield for his Semi Final. He dropped back following an early off, only to steal a Final slot with a last corner move to start the Final 34th alongside Le Roux. Andrew Schofield meanwhile ended 20th in his Semi Final to line up tenth for the first Pre Final aboard his Investchem Reynard 89FF. He would end up eleventh there.
Another SA Investchem Formula Ford regular, Rick Morris enjoyed a brilliant weekend, ending second in class and 20th overall in his Semi Final his Pre-'81 Royale RP29. The veteran lined up eighth in the Carl Harmer Classic Formula Ford Trophy. He was fourth by the end of lap 1, and into the lead on the second tour. Morris fought a canny battle up front but a midrace squall stirred things up a little as Rick raced home a fighting fifth.
That Harmer Trophy rain made for a wet and slippery 15-lap 2023 Walter Hayes Final as van der Watt lined up sixth, Rackstraw eighth and Wolk and Le Roux on the penultimate row of the grid. Van der Watt emerged fifth and Rackstraw sixth from fraught but incident free first lap, but Julian took to the grass to avoid contact midway around the second tour to drop to the very back.
That left Rackstraw in a fighting fifth, with Wolk up to 18th and Le Roux 21st. The safety car was deployed on lap 6 with Rackstraw well in the frontrunner mix in fifth, Wolk 15th, Le Roux 16th and van der Watt back in 29th and able to join the back of the bunch once the race re-started. That left nine greasy laps to complete as the action resumed off another standing start.
And the action was extreme. Rackstraw continued to fight in in the mad bunch, in or around third, and within touching distance of the lead. Josh Le Roux astoundingly momentarily rose to fifth. But it was tough up there and he dropped back before finally spinning and falling further into back the bottom of the top twenty shortly after another brief safety car period.
The action was extreme up front, but it opened up a little with about a lap to race as Rackstraw found himself in third behind Englishmen Chris Middlehurst and KMR teammate Mike Eastwell as the field raced to the flag. Robert Wolk fought back to 11th from the back of the grid, while Julian van der Watt, last at the restart, was up to 17th at the flag, with young Josh Le Roux back in 26th, an unfair indicator of an incredible drive.
Rackstraw, who posted his fourth fastest lap of the weekend in the Final, then stood proudly on the podium with the South African flag flying, the first time at the Festival for a South African, to bring an incredible weekend to a close.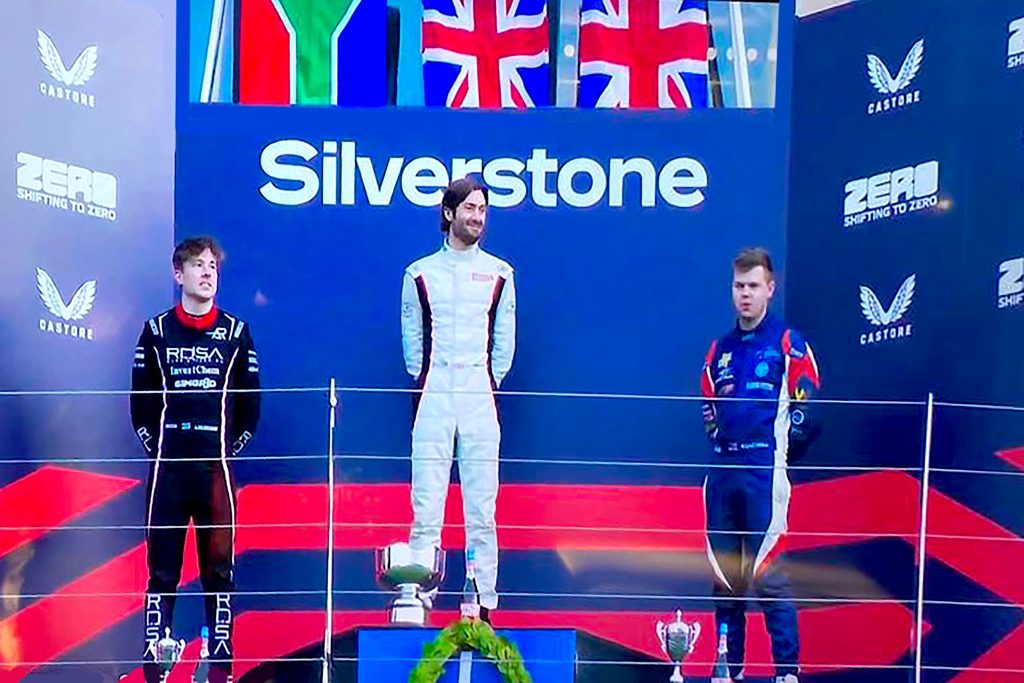 Issued on behalf of Investchem Formula 1600
Photography by: Jeff Bloxham
MSA Publishes media releases from a host of different sources on our website as a service to the sport. It is not practically possible to vet/approve every release that is published. Some news items and articles are written by correspondents and do not necessarily represent MSA's views.