Torrential rain enroute to Porterville set the scene for what was to come during the CPMCC organised rally. Twenty initial entries shrunk to an eventual eighteen starters and despite the incredibly wet conditions the event still attracted a fair amount of spectators.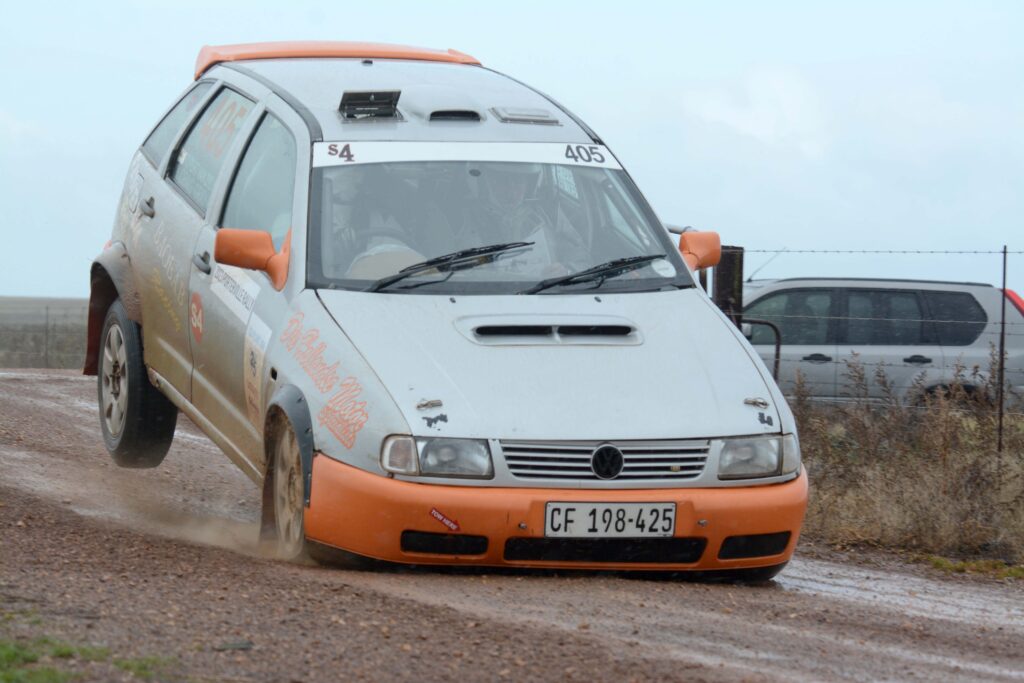 On paper it looked like a 4×4 war, but it would prove to be something of a Llewellyn Jones and Christophé Pichon benefit event as their opposition removed themselves from the equation to leave the 434 CPMCC S5 Subaru Impreza 2.0 Turbo 4×4 almost unchallenged at the top of the timesheets throughout the day.

Yes, the wet conditions favoured the 4×4 cars, but winning by a margin of 8min08 truly set them apart as they were simply cruising to victory. Shaun Jones and Jason Thorpe came out guns ablaze in their 424 CPMCC S5 Advanced Asphalting Subaru Impreza 2.0 Turbo 4×4 but was sidelined after just two stages with a broken differential.

Scoring the distance and height record on the SS1 !!! Yump no totally unexpected, after all this is Shaun Jones we are writing about! Cape Town International almost got excited about the bogey in their airspace and we were looking forward to the second attempt to see if Cape Carnaveral would be responding.

Owen Jones and Aden Bredekamp started even worse when a leaking waterpipe delayed their start and then the left front suspension failed during SS5 to see the 454 CPMCC S5 Subaru Impreza 2.0 Turbo 4×4 withdrawn.

Warren Scholtz and Justin Gay started SS1 but finished the stage with the engine on their 444 CPMCC S5 Dynamic Plant Solutions Subaru Impreza 2.0 Turbo 4×4 requiring urgent engine solutions.

Wednesday saw Paul van Wyk finally looking happy with the performance figures on the 469 CPMCC S5 acciDent Guru Audi S3 1.8 Turbo Quattro after having changed the injectors but the Dyno sheet was still warm when the engine cried enough. The team spending Thursday night changing engines.

After an encouraging opening four stages they hit a rock in the watersplash on SS5 which resulted in a flat right front tyre which then destroyed the shockabsorber. Changing the tyre in the mud cost more than six minutes (and a jack) and then the exhaust system started to drag on the ground.

Considering this one of the toughest events of the 25 year rallying career Paul van Wyk and Matt Köhler persisted to the end to finish sixth overall and second in class.

Inus du Plessis and Piet Carinus were content to let the 4×4's play at the front and just wanted to drive a clean event and score as many points as possible. They would eventually finish second overall, but certainly not because they enjoyed the intended clean and quiet drive they had anticipated. Twice Inus finished stages rather wide eyed when a vacuum pipe worked loose and the brake pedal became an ornament that controlled the size of your eyes rather than stopping the car. Fortunately the scenery had softened thanks to the rain and they bounced off some "muddy things". Add a puncture in SS1 and an intermittent misfire and they happily accepted great damage control with a surprise second overall in the 461 CPMCC S5 Coastal Tool Hire BMW E36 328i 3.0.

Cobus Edas and Razley Ryklief sported Suzuki Malmesbury on the windscreen of their 464 CCMCC S3 Toyota Corolla RXi 1600 and that outboard certainly helped at times as the veteran drove to third overall. A little fortunate as they were technically beaten on special stage times by Seraaj Amlay and Ziyaad Amlay in the 457 CCMCC S3 Ramlay Builders Toyota Corolla RXi 1600 but the latter crew incurred eight minutes of lateness during the day. And Riyaan, no, they did not falter or stall in the watersplash!
Rupert van Zyl and Craig Gray did their level best to empty the watersplash in their Hollandse Motor Spesialis 405 CPMCC S4 VW Polo 2.0 8v. Possibly frustrated as there were no telephone poles to attack along the way, but they proved quite entertaining on stage.

The only car that attacked the watersplash even more spectacularly was the acciDent Guru Audi, but that turned sour on them.
Johann and Petra Zulch enjoyed a pretty good day in their 439 CPMCC S2 Ceres Toyota Ford Escort 1600 Sport. Johann felt more comfortable with carburettors on the engine and despite being forced to run in category S3 (they were the only S2 team entered) they surprised with a great drive to seventh overall and second in class. Oupa en sy Ford heel tevrede!

The final team to be classified as finishers were Tyler and Terry Croy in the Racing for Autism 447 CCMCC S3 Toyota Corolla RXi 1600. Staying on the road at any speed was something of an achievement for anyone and certainly tested every team to their limits (maybe not 434)

Justin Engle and Ryan Pey looked good in the 445 CCMCC S3 Toyota Corolla RXi 1600 but then the crownwheel and pinion cried enough after six stages. Gareth Vernon and Marius Rudolph were heading towards a good finish too when their 459 CPMCC S4 BMW E36 328i punctured, the tyre bailed off the rim and their slide into a muddy ditch saw the car retiring after a soft roll in the, you guessed it, the final stage.

Erin Joshua and Ibraheem Amlay another combination the seemed to revel in the wet conditions until their 462 CCMCC S3 Toyota Conquest RSi 1600 decided to give up their S3 lead and potential 5th overall by breaking the rear suspension 1km from the stage six flying finish. And then they skittled into the mud on SS7, unable to extract the Conquest on their own.

Benjamin Johnson and Lloyd Arnold enjoyed mixed fortunes on their local debut in the ex-George Smalberger 468 CPMCC S3 Shield VW Polo 2.0. Great to see them continue the Ostrich feather tradition of the late Mark Johnson (father of Benjamin) but the Polo did not enjoy all the water and electrical gremlins saw them retire after SS5.

Julian Calvert and Nick Knights got into gear with 409 CPMCC S3 Liewe Lulu VW Golf GTi 2.0 but it so happened that Liewe Lulu then refused to select any other gears, forcing them to retire after SS1.

Warren Köhler and Lloyd Brady brought SS5 to a halt when a misted windscreen and standing water combined to step the 465 CCMCC S4 Köhler Pac BMW E36 328i into a rut on a fairly high speed straight before hitting the concrete base of a gate with the left front wheel trapping the navigators feet.

Medical response was almost immediate with Shaun Jones and Jason Thorpe the first recipients of the In Da Mood (Salvan Moodley) Guesthouse sportmanship floating trophy for their assistance at the scene of the accident. Encouraging to see Lloyd Brady report a broken left ankle and swollen right foot as the extent of his injuries. The Beemer may take longer to return as damage was quite extensive.

Mike Nathan and Derek Jacobs won what is considered the wettest event ever in Ceres with the GpN4 Mitsubishi Lancer Evo 9 – now that is a long time ago! Porterville however certainly gives it a run for the title as the wettest event ever.

Porterville High School was "home" to the event and it was rather fun to see the veterans take instructions from the CoC teacher in a classroom. Jip, they did not hear a word. To the marshals, assistants, supporters and spectators who slithered around to make the event a success a great big THANK YOU.

Arrowing and Sweep two functions that were really put to the test in extremely wet conditions.

Thank you to Coastal Tool Hire, Subaru Somerset West, CEJ Plant Hire, Goeie Hoop Onderdele, Dynamic Plant Solutions and Porterville Tourism for your valued support.

To Oom Robert Marle who celebrated his birthday with customary smile and friendly demeanour – your dedication to the sport is truly admired and appreciated! Few will ever understand or appreciate what it takes to organise a round of the Western Cape Club Class Rally Championship.

Sean Kriel never got the memo and still marshalled with his waterproof "plakkies" and the local farmers spectating at the SS5 watersplash commented that the little bit of rain was welcome!

Floating home was fun too.
Published by: Patrick Vermaak
MSA Publishes media releases from a host of different sources on our website as a service to the sport. It is not practically possible to vet/approve every release that is published. Some news items and articles are written by correspondents and do not necessarily represent MSA's views.