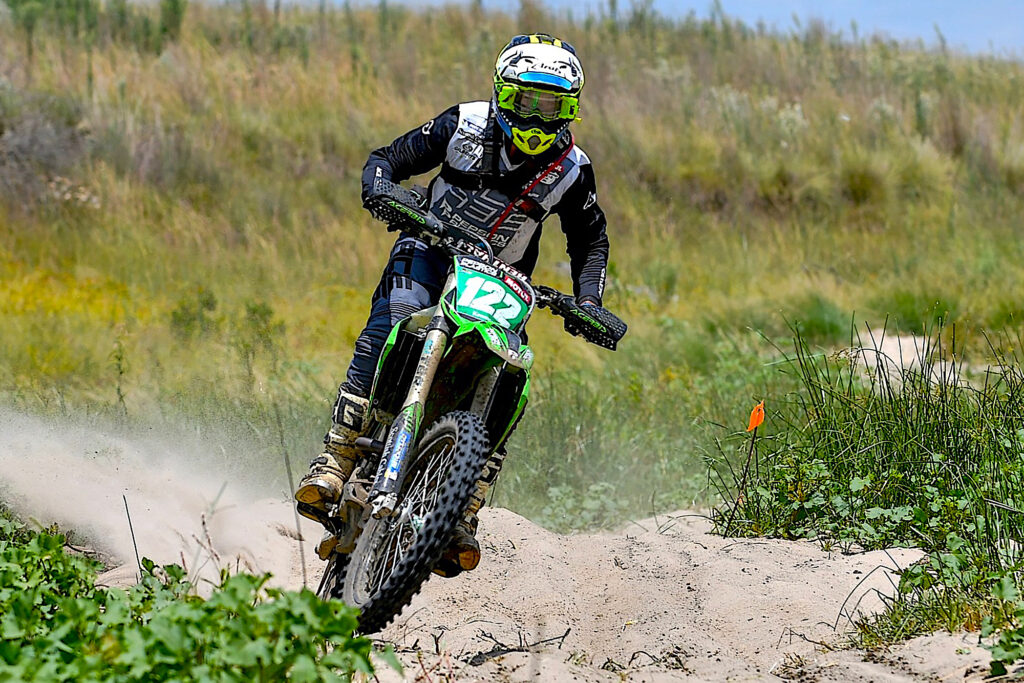 What SA Cross Country Motorcycle Championship Preview
Where Legends Farm, Pretoria
When Saturday 4 March 2023
Community South Africa National
Pepson Plastics Factory Kawasaki Racing ready for National season
Pepson Plastics Factory Kawasaki Racing with Motul, Gilbert Mining, Scottish Cables, Michelin, Acerbis, Renthal, DID and Arai, is ready to race in the 2023 Trademore South African Cross Country Championship. The action starts with the opening round at Legends outside Pretoria on Saturday 4 March.
The team has assembled a formidable line-up for the new season, including champions and stalwarts, backed up by some fresh Cross Country talent with more than enough dirtbike racing experience. Pepson Plastics Kawasaki's Taki Bogiages, Jaycee Nienaber and Wade Den will race in 450cc OR1. 2022 National High School champion Wian Wentzel steps up to the 250cc OR3 class for Pepson Plastics Kawasaki alongside Motocross convert Ryan Angilley.
Former Cross Country racer, Brian Bontekoning returns from circuit racing in the Kawasaki ZX10 Masters to join the Pepson Plastics Kawasaki's Masters charge alongside double champion Pieter Holl. The Pepson Plastics Kawasaki National Junior Team includes Jayden Boyce in the 125cc High School class, and 85cc lads Jake Pretorius and Nathan Sinclair.
"I am truly thankful to once again be part of such an amazing team for the 2023 season," OR1 man Jaycee Nienaber confirmed. "I'm more than just excited to represent Pepson Plastics Kawasaki on my KX 450 X in both the premier National Cross Country Championship and in my regional GXCC series. "Now I look forward to doing Iain and the lads more than proud. "Let's do this!"
"I'm hugely excited for my first National in the OR1 class aboard my Pepson Plastics Kawasaki KX 450 X," OR3 graduate Taki Bogiages explains. "I have worked hard to get comfortable on my new machine, and I'm ready to race against some of the best guys in the country. "We have had some crazy weather up in Gauteng over the past few weeks, which makes this national even more interesting. "Iain and the team have made sure that I'm ready to give this season my best shot and I can't wait to deliver on that."
SA National High School champion Wian Wentzel is raring to go on his National OR3 debut on his Pepson Plastics Kawasaki KX 250 X. "I knew when I joined Pepson Plastics Kawasaki that it would be a fun, family oriented team, and that is exactly how it is," Wian explains. "I've adapted really well to my new steed and it's unlike any other bike I've ridden. "Now I look forward to enjoying a great season and to do my team proud by scoring good points in every round. "Can't wait!"
Masters man Brian Bontekoning is relishing his Cross Country return. "I bought a Kawasaki KDX 175 when I finished the army in the '80s, and I've been at it ever since," Brian explains. "I raced for Kawasaki in the '90s and kept riding socially after that and raced Supermoto and circuit racing in the ZX10 Masters. "Then Iain offered me a one-off ride. "He was happy, I was blown away and now I'm delighted to race Cross Country for his pro Pepson Plastics Kawasaki team while my dear wife keeps waiting for me to grow up!"
"I am super proud for the opportunity to race in the 125cc High School class for Pepson Plastics Kawasaki factory team for the first time at this weekend's National," 85cc graduate Jayden Boyce admitted. "I'm most grateful to my team and sponsors for all the support and care. "I plan to try my best to finish all my races and to learn as much as I can from the team in my first season and to be ready to give my utmost best on the 125 next year!"
Jake Pretorius is back in the Pepson Plastics Kawasaki National 85cc Junior Team following a strong season in the 65cc Interprovincial class in 2022. Jake won several races through 2022 and finished second on his 85cc debut in the first GXCC regional of the new season. Pretorius will be backed by Nathan Sinclair, who moves across to the Pepson Plastics Kawasaki squat after impressing in his only national of 2022 .
Missing from the line-up this weekend, Pepson Plastics' SA Senior Cross Country champion Kenny Gilbert has a crucial date clash, but he will return for the rest of the season. "Unfortunately I will miss this one," Kenny confessed. "But I'll be back, even if this season promises to be a far tougher task, with a stronger field of riders to compete against. "All the better for an epic fight-back!"
Former five-time SA motocross champion Ryan Angilley will return to the saddle for the first time in ten years in OR3 a little later in the 2023 season. "The last time I won, was on a Kawasaki, so this brings back great memories!," Ryan admitted. "I have never raced Cross Country before; I'm a rookie and I have no expectations. "But I'm getting the hang of it and I trust in Iain, the Pepson Plastics team and my skills, so I'm going to have a lot of fun seeing where we end up!"
"Pepson Plastics Kawasaki Factory Racing is ready to race at the first South African Cross Country National at Legends this weekend," team boss Iain Pepper concludes. "We have put a huge effort in as a team and we are looking forward to another fun season racing with our blend of pace and experience as we chase a few more national titles. "Give them hell boys, ride hard, enjoy yourselves and bring that silverware home!"
Pepson Plastics Factory Kawasaki races with Motul lubricants, Gilbert Mining, Scottish Cables, Michelin tyres, Acerbis plastics, Renthal handlebars, DID chains and Arai helmets
Issued on behalf of Kawasaki Cross Country
MSA Publishes media releases from a host of different sources on our website as a service to the sport. It is not practically possible to vet/approve every release that is published. Some news items and articles are written by correspondents and do not necessarily represent MSA's views.