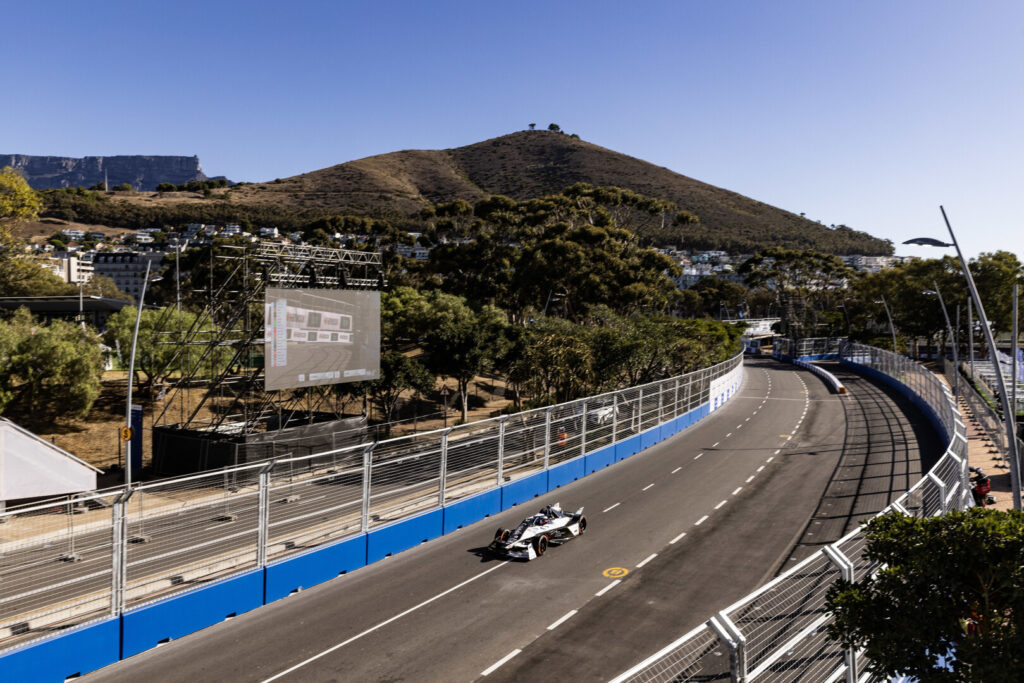 Mitch Evans finished P11 for Jaguar TCS Racing, just outside of the points, in a hectic Cape Town E-Prix.
The Jaguar TCS Racing team showed the pace of the Jaguar I-TYPE 6 throughout all practice sessions. Mitch Evans lined up fourth in the South African capital after making it through to the semi-finals of the qualifying Duels. The Kiwi held his position off the start line, found a solid rhythm in the Jaguar I-TYPE 6 and the team had a good energy management strategy.

On lap 11 of the 32-lap race, Mitch served a drive-through penalty for overuse of power at the start. Following the penalty, Mitch re-joined the track at the back of the pack and worked hard to close the gap to the rest of the field. On lap 28 Mitch overtook the NIO 333 of Sérgio Sette Câmara to move up to P12. A last-lap accident for Sacha Fenestraz promoted Mitch to P11.

Sam Bird was unable to compete in the inaugural Cape Town E-Prix following an accident in Qualifying. On his final flying lap, the Brit crashed into the barriers while trying to slow down for an accident to the Maserati MSG of Edoardo Mortara ahead. His Jaguar I-TYPE 6 required a chassis change but there was insufficient time to complete the work before the race.

Both Jaguar-powered Envision Racing cars finished in the top five. Nick Cassidy showed the speed and efficiency of the Jaguar I-TYPE 6 with his second podium in as many races.

Sam Bird is eighth in the 2023 ABB FIA Formula E World Championship drivers' standings, while Mitch Evans remains twelfth.

Heading into the sixth round of the World Championship, Jaguar TCS Racing is sixth in the 2023 ABB FIA Formula E World Championship teams' standings.

James Barclay, Jaguar TCS Racing Team Principal: "It's been an incredibly frustrating day again here in Cape Town. The Jaguar I-TYPE 6 has been strong all weekend, Mitch was holding fourth place really well and we were managing our pace for later in the race. We need to evaluate why Mitch had an overuse of power. For Sam's side of the garage we're absolutely gutted. He was driving well, the car was quick and his accident could have been avoided. As a championship we need to learn and improve. As a team we have shown in the past that we will give everything to get the cars out of the garage and turn up racing but with that amount of damage it just wasn't possible today. We have a great team, an incredibly quick race car and we will keep striving towards winning."

Mitch Evans, Jaguar TCS Racing driver, #9: "Today was another disappointing blow to my championship campaign. We know we have an incredibly fast Jaguar I-TYPE 6 and I haven't been able to get the points that I feel the team deserve. We'll try again in São Paulo."

Sam Bird, Jaguar TCS Racing driver, #10: "Due to factors outside of my control, my weekend in Cape Town has been destroyed and it really hurts. There should have been a timely red flag today and I'm disappointed that there wasn't. The good news is that the Jaguar I-TYPE 6 is very quick – we've seen that in our pace all weekend."

The sixth round of the 2023 ABB FIA Formula E World Championship takes place in São Paulo, Brazil for the first time on Saturday 25 March.

Published by: Jaguar South Africa
MSA Publishes media releases from a host of different sources on our website as a service to the sport. It is not practically possible to vet/approve every release that is published. Some news items and articles are written by correspondents and do not necessarily represent MSA's views.