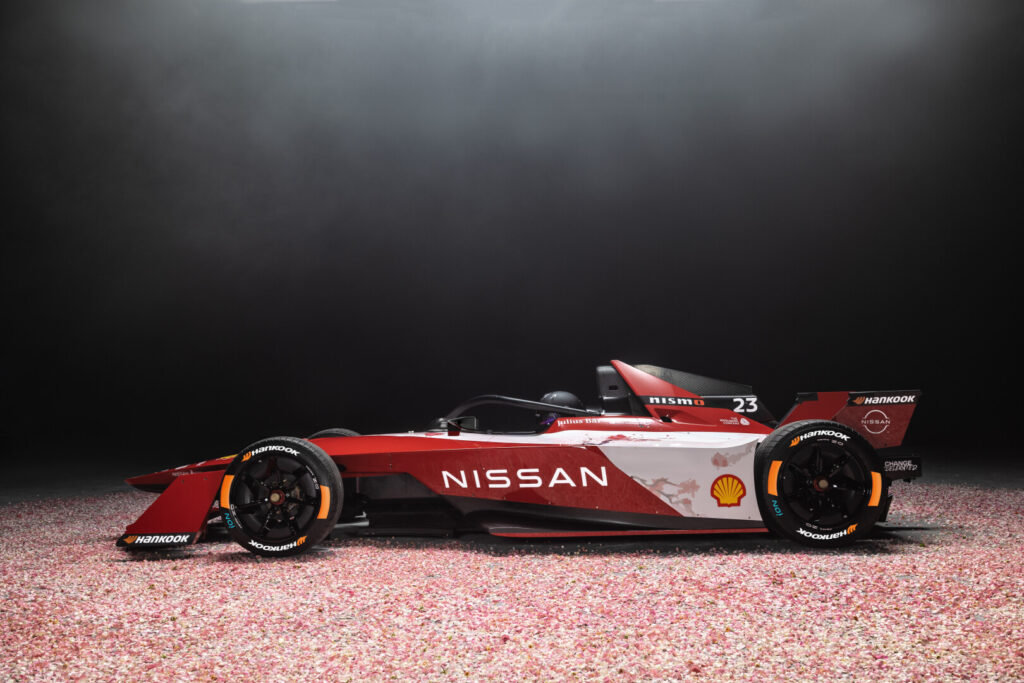 Formula E comes to South Africa as Nissan showcases its commitment to electrification


CAPE TOWN, South Africa (February 25, 2023) – Nissan Formula E Team is set to take on Round 5 of the 2022/23 ABB FIA Formula E World Championship on Saturday in Cape Town. As South Africa hosts its first ever E-Prix, the race marks a transition in motorsport and for the African market more broadly, bridging the gap for electrification and EV adoption.

With more than a decade of EV expertise and 85 years of motorsport heritage, Nissan aims to bring its experience to the fore in Season 9 of the championship. With sustainability at the core of Nissan's long-term vision, Ambition 2030, the company is dedicated to accelerating electrified mobility through innovation. "Nissan South Africa is proud to be playing its role in bringing electrification to the forefront of market discussions. In the Formula E racing series, we not only aim to compete and excel, but also bring the thrill of electric vehicles to the centre stage," said Mike Whitefield Managing Director for Nissan Africa's Regional Business Unit.

Season 9 marks a new era for Nissan's participation in the championship as the company takes full ownership of all its operations in Formula E and makes its debut competing as a unified team under its new name. This season, the team are competing behind the wheel of the all-new NISSAN e-4ORCE 04, showcasing Nissan's enhanced powertrain capabilities.

Nissan has taken learnings from its extensive experience in EV technology to develop the powertrain and control systems of the NISSAN e-4ORCE 04, producing its most efficient racing car to date. Featuring a striking new livery, Nissan's bold new cherry blossom design is heavily inspired by its Japanese DNA and symbolises a new beginning for the team this season. The racing series will put Nissan's powertrain expertise to the test and the insights gained will be invaluable in supporting Nissan's track-to-road technology transfer and in increasing consumer awareness of the future potential of EVs.
On Saturday 25th February, behind the wheel of the NISSAN e-4ORCE 04, Nissan Formula E Team drivers, Sacha Fenestraz and Norman Nato, will break new ground at the Cape Town Street Circuit. The track will flow through the Waterfront and Green Point districts, offering picturesque views of Table Mountain and the city. The drivers will have little room for error as the 12-turn circuit is poised to be one of the fastest on the calendar.

"This new venue in Cape Town will be very challenging and demanding for both the drivers and the cars," said Tommaso Volpe, Managing Director and Team Principal, Nissan Formula E Team. "From our work in the simulator we know it will be very fast, even faster than Hyderabad, so any mistake could have major consequences. We come to South Africa with our learnings from India, although the results weren't what we hoped they'd be. The team has extra motivation to fight for points with both cars in South Africa."

As part of a series of events in the lead up to the historic ABB FIA Formula E World Championship in Cape Town, Nissan has also announced the launch of its innovative e-POWER technology in Africa. On 24th February, Nissan introduced attendees to e-POWER and e-4ORCE technologies through a Qashqai and X-Trail driving experience at Killarney Raceway in Milnerton, Cape Town to demonstrate the full ability of this innovative technology.

"Alongside our support for Nissan Formula E Team, we are proud to launch our e-POWER technology – Africa's bridge to full electrification adoption," said Mike. "Demonstrating how easily electrified mobility can fit seamlessly into everyone's lifestyle, Nissan is on a mission to create a cleaner, safer and more inclusive world for everyone. e-POWER, Nissan's revolutionary bridge to EV technology, is an essential part of the practical transition for Africa from Internal Combustion Engines (ICE) to Electric Vehicles (EV)."

Season 9 of Formula E marks a new era for Nissan's participation in the championship and the introduction of e-POWER to Africa marks a new era for the market more broadly. The Nissan team is putting its expertise to the test, daring to do what others don't, and the upcoming race in Cape Town will deliver innovation and excitement both on and off the track.
Qualifying in Cape Town begins at 11:40 SAST (UTC +2) with the race getting underway at 16:00 SAST on Saturday 25 February. Find out how to watch here.

Driver Quotes
Sacha Fenestraz
"It's going to be a very interesting track, it's set to be the fastest of the season. Overtaking looks like it will be tough, which makes qualifying extra important this weekend. We've seen our pace increase in the last two races, we were very unfortunate in Hyderabad, but we've been improving throughout each event this season, so we've got a good chance to score plenty of points in Cape Town. The high-speed corners will make it challenging, but being a brand-new track, it also gives me confidence as a rookie, as once again nobody has driven here before. I'm looking forward to the weekend and hopefully we can achieve a positive result!"

Norman Nato
"Cape Town is a brand-new track on the calendar and it is expected to be the fastest of the season, so it will be challenging to put a lap together with all the high-speed sections and the bumps. We've scored points in the last two races and are continuing to improve as a team, but we are hungry for more. Taking a step forward and scoring with both cars is the target so we've been working hard in the simulator to optimize our performance."
Published by: Nissan South Africa

MSA Publishes media releases from a host of different sources on our website as a service to the sport. It is not practically possible to vet/approve every release that is published. Some news items and articles are written by correspondents and do not necessarily represent MSA's views.