The 2024 season will see an eight-round calendar for the Mobil 1 V8 Supercars Championship to decide both the National GT class and Club GT2 class titles.
In And Around Gauteng
The series will feature on the Regional Extreme Festival roster in 2024 and will expand to eight rounds from the current seven. Across the board, all South African motorsport categories have been aligned to a specific tour roster.
The tour will visit Zwartkops Raceway in Pretoria on four occasions, which will host both the season opener and finale. The series will also compete around both the clockwise and anti-clockwise Red Star Raceway layouts. The season's penultimate round will mark the first outing around the anti-clockwise circuit layout since 2021.
Kyalami Grand Prix Circuit will be the second stop for the series as part of a bumper-edition Extreme Festival event featuring all National and Regional categories.
Phakisa Freeway in Welkom falls away from the calendar after the circuit lost its permit to host Motorsport South Africa-sanctioned events. The last such event hosted at the circuit was the Extreme Festival, which featured Round 3 of this year's Mobil 1 V8 Supercars Championship.
A Return To Cape Town
As part of the Extreme Festival's rotation policy for the season's coastal round, Cape Town's Killarney International Raceway will replace Aldo Scribante Racetrack in Gqeberha. This marks a return for the circuit to the Mobil 1 V8 Supercars calendar after a one-year absence.
The choice of the year's coastal circuit is made by the tour, following input from all categories involved.
The 2024 Calendar
The series will visit these circuits on the following weekends.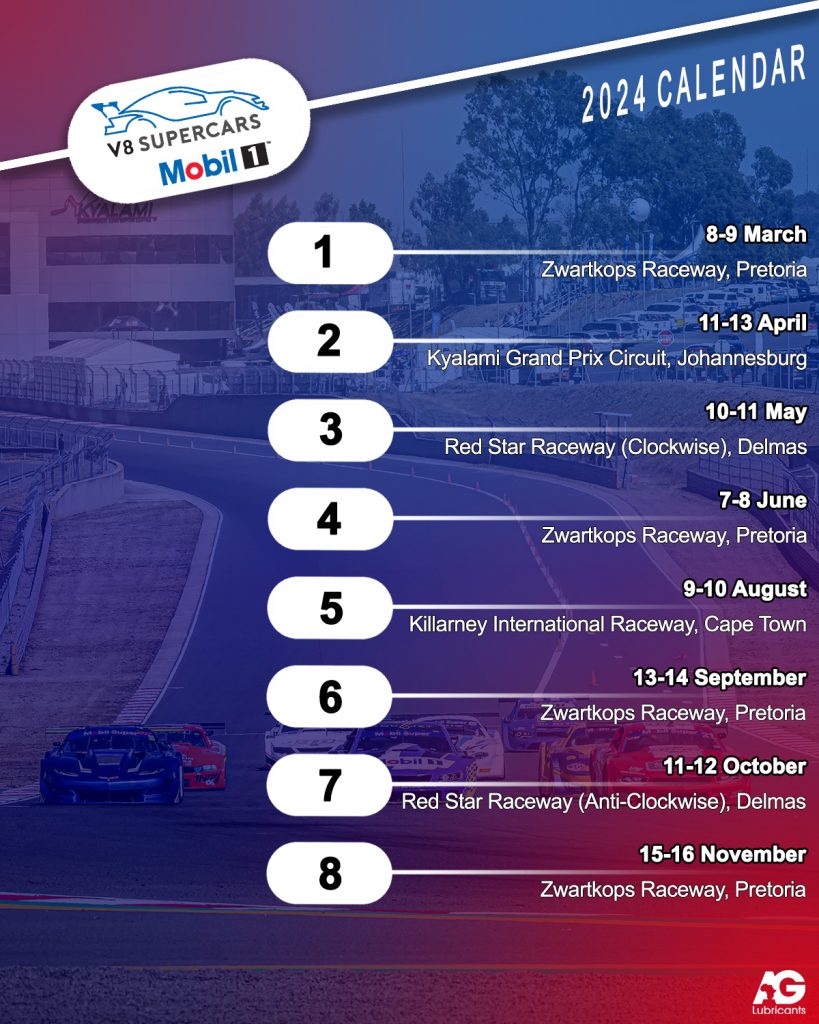 Rounds that will feature more than two races or count for double points will be communicated by Mobil 1 V8 Supercars in due course.
African Group Lubricants
Nicole Jooste, Marketing Manager of African Group Lubricants, looks forward to the 2024 season. "African Group Lubricants welcomes the expanded Mobil 1 V8 Supercars calendar for 2024, as it provides us with more opportunities to showcase the benefits of using the world's leading range of lubricants, Mobil 1, in extreme conditions. We are also delighted to return to Cape Town, a region where motorsport enthusiasts are as passionate about the series as our products."
Website
Facebook
Instagram
You Tube
Linktree
Issued by Brandsponential on behalf of African Group Lubricants
Photography by: Paul Bedford
MSA Publishes media releases from a host of different sources on our website as a service to the sport. It is not practically possible to vet/approve every release that is published. Some news items and articles are written by correspondents and do not necessarily represent MSA's views.