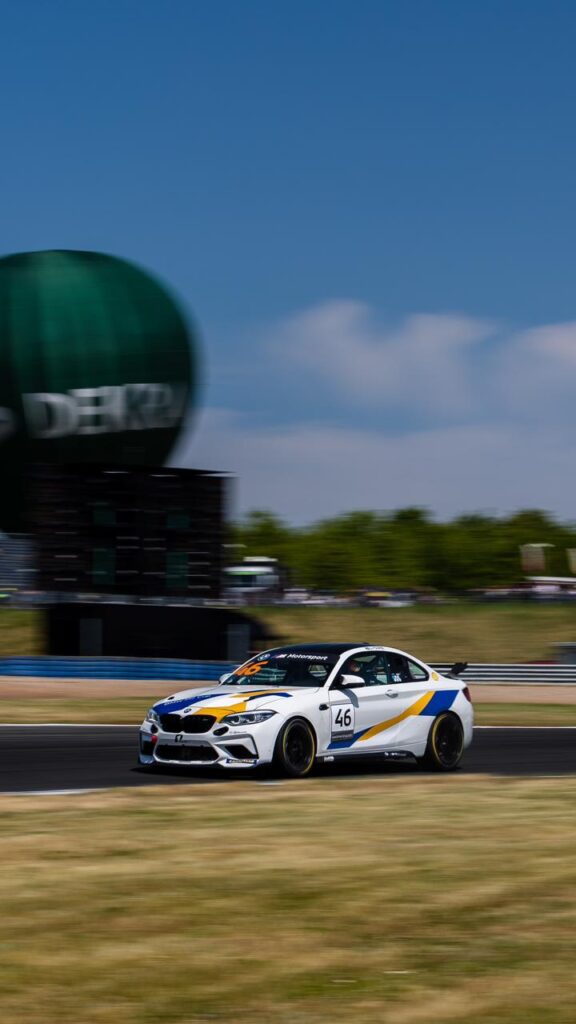 The start to Leyton Fourie's European debut concluded at Oschersleben Motorsport Arena in the BMW M2 CS Cup.
Leyton's 2023 campaign had started a week prior at The Red Bull Ring in what can only be described as one of, if not the most perfect of race weekends. Leyton secured Pole Position at the daunting high speed circuit by almost half a second. Leyton's team mate Senna van Soelen made the perfect start to Race 1 leading for the initial part of the race but tactically decided to drop to 2nd place to conserve the tyres. Leyton took over the driving duties with 35 minutes to go. Within 3 laps Leyton had regained the lead and went on to secure his maiden European win.
On Sunday it was Leyton's turn to start Race 2. He made a perfect start and resisted the pressure from behind. His consistant speed however was too good and over 30 minutes he had built up a 3 second lead whilst conserving the tyres for Senna's stint. The drivers and Bas Koeten Racing executed another perfect driver change and Senna brought the car home for another win. Thus a perfect weekend with Pole, 2 Fastest Laps and 2 Race Wins. This was a great result for the championship extending their lead from Zandvoort where Senna had won both races.
Leyton arrived at Oschersleben Motorsport Arena beaming with confidence on the back of the great results achieved at Red Bull Ring. The weekend however got off to the worst start possible when Leyton was unable to post a time in the only Practice Session before qualifying due to an electrical issue with his car. Project 1 tried in vain to electronically reset the car but Leyton unfortunately spent the entire session in the pits with the cars hood up and numerous laptops plugged into the ECU. For many other racing drivers such a setback would have been too much to process but Leyton shrugged it off knowing that he had spent the previous weekend racing a similar car and was still confident in securing Pole Position in qualifying later that day. His calm demeanor and attitude was admirable. Team owner and founder of Project 1 Hans-Berndt Kamps described it as the most professional response that he had ever seen in such a situation. This from a man that had founded his team in 1993 and was a manager to drivers such as Timo Glock, Nico Hülkenberg – to name a few.
Next up was qualifying. Project 1 changed Leyton to a new car which meant he had to spend the first 15 Minutes of the 35 Minute qualifying session bedding in brake pads on the new car. Leyton duly went about this task trying not to place any wear on his new tyres. After 5 laps he started his first fast lap which was good enough for 9th, his second flyer which was good enough for 3rd which already saw a purple 2nd sector. To the entire paddocks astonishment his 3rd lap had a purple 1st and 2nd Sector and was good enough for Pole Position. Leyton set a time that would not be beaten. With 5 min to go he left the pits did another fast lap to secure a 2nd place grid start for race 2. His accomplishment was unfortunately short lived as the Race Stewards issued a 3 place grid penalty for impeding another competitors lap which happened during the phase of bedding in brake pads. Leyton felt that this penalty was unfair and unnecessary due to the fact that the competitor had slowed down to allow him to pass and resume his racing line. To add to his frustration, another competitor was only issued a warning for an equivalent transgression. In the same manner, Leyton took the penalty in his stride as he did with the mechanical issue faced in practice.
At the start of the first race, Leyton immediately made up a position into 3rd place. Motorsport Arena Oschersleben is known to be a tricky track and it is near impossible to overtake. He did an impressive job during the race to conserve tyres and maintain his 3rd position for the entire 30 minute race whilst being one of the fastest cars on track. This accomplishment was celebrated with a champagne style podium and some valuable championship points.
Sunday's race saw Leyton starting on the front row in 2nd position. "I was able to maintain this 2nd position for about 50% of the race and at the same time put pressure on the car ahead with my aim being to conserve my tyres and attack for the win in the final minutes of the race" said Leyton. Great disappointment arose when Leyton faced unexpected DSC failure with 15 minutes to go which affected the car's braking system resulting in tyres locking up and damage to the tyres. Leyton did his best to manage this situation whilst trying to defend his position. This however required him to drive in a way that was not possible with the car's failures resulting in Leyton dropping down by 2 postions. This bad situation was then compounded on the last corner of the last lap with the chequered flag in sight when another competitor attempted an over-ambitious pass that involved clipping the grass on the inside of the last turn, colliding into the side of Leyton's car and forcing him off track resulting in another loss of 2 positions which saw Leyton cross the finish line in 6th position.
The positives we can take from this weekend are that Leyton had the pace necessary to top the sheet for qualifying and win 2 races. However some bad luck and unfortunate and unexpected circumstances beyond his control resulted in suboptimal results. With 5 rounds and 10 races to go, Leyton finds himself only 12 points behind 1st place in the current championship standings. We hope to improve and have an ideal weekend at the historical Norisring street circuit on the 8th & 9th of July.
"I would like to thank Project 1 for all their efforts this weekend as well as all of my supporters near and far" mentioned Leyton.
Published by: Gerald Fourie
MSA Publishes media releases from a host of different sources on our website as a service to the sport. It is not practically possible to vet/approve every release that is published. Some news items and articles are written by correspondents and do not necessarily represent MSA's views.