Round 4 of the Porsche Mobil Cup at the Hungarian Grand Prix in Budapest, held from 21 to 23 July 2023, presented Keagan Masters and his team with the opportunity to face challenges head on.

"The difference between a mediocre motorsport racing unit — which includes the driver and his entire entourage — and a professional team, is their unswerving ability to find creative solutions to any problems or obstacles presented to them," says Mpho Elijah Gumbi, who heads up ICAN Management, the South African management company mentoring and supporting Masters overseas.

"My race weekend started on the back foot as we struggled with the setup of my car during the practice and qualifying rounds, leaving me in P16 going into race day. This is all part of the learning curve, as we are a rookie team, with experience gained from one race to the next being of great value to us. This allows us to discover what setup works best on each track. We brainstormed the problem on Saturday evening and entered the race on Sunday with a setup better suited to the track. In this instance, the F1 rubber on the vehicle's tyres — which we assumed would help with increased traction — was clearly the problem," says Masters.
In Sunday's race, Masters exhibited a highly competitive spirit that resulted in him recording the fifth fastest lap in the race. Masters says that his strategy for the race was to drive strategically and safely, for a final P12. "The tyres struggled in the heat, and it was in my own best interests not to be a 'hero', but rather to conserve the tyres for better performance at the end of the race. The tactic paid off, with me overtaking two drivers in one fell swoop on one of the final corners."

Gumbi points out that while Masters faced challenges at Budapest, these are all part of the overall development of a driver and his team as they move into the highly competitive international circuit. "What stands out for me is that Keagan demonstrated his ability to competently and skillfully handle a disabled car. The car presented with major over-steer on entry into and exit out of corners, with the rear end of the vehicle inclining towards spinning. This meant he was forced to adopt two opposing driving styles to combat the over-steer: smooth and gentle on the one hand, and shocking the front steering to induce under-steer, on the other hand. This results in very tricky driving conditions, and he needs to be commended for his performance under very trying conditions."

"This experience has given the team a far better understanding of the car and of how your tyres can have such a big impact on the driving performance. We can now take that knowledge and use it to our advantage in the future. We are looking forward to Round 5 of the Porsche Mobil 1 Supercup in Belgium over the weekend of 28 to 30 July. Thereafter, we will have four weeks to prepare for Rounds 6 and 7 at the Dutch Grand Prix in Zandvoort from 25 to 27 August, and the final round at Grand Premio D'Italia in Monza from 1 to 3 September," says Masters.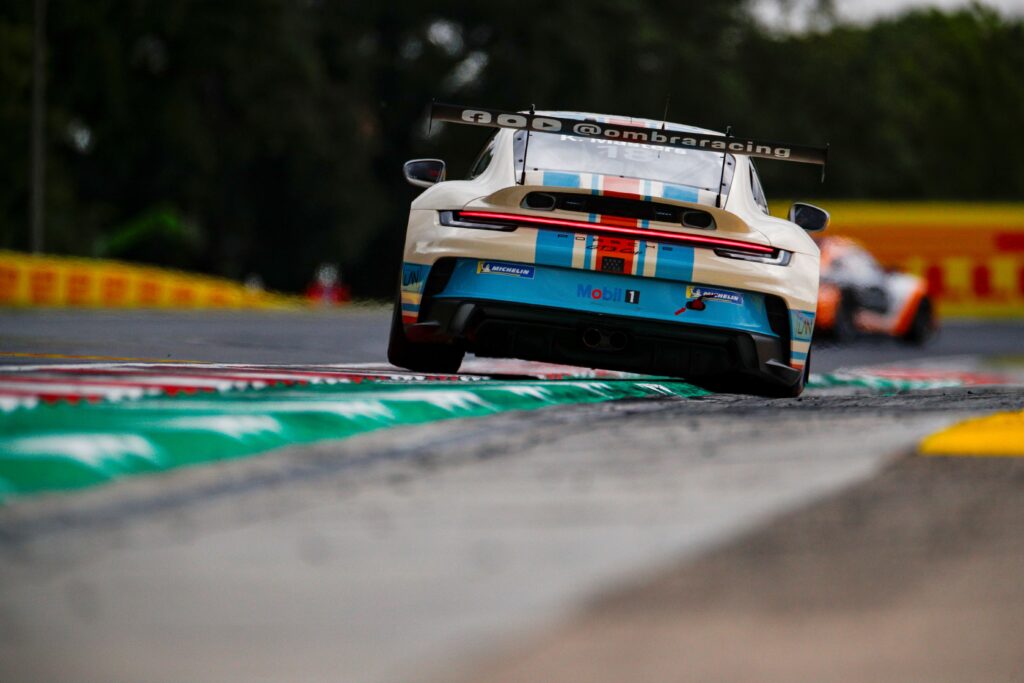 Published by: Allyson Koekhoven
Picture Caption: As a team we managed to turn the car around after a difficult qualifying session, which I am super happy about! We are constantly learning and adapting which is key in this championship.
Photography by: Porsche Mobil 1 Supercup
MSA Publishes media releases from a host of different sources on our website as a service to the sport. It is not practically possible to vet/approve every release that is published. Some news items and articles are written by correspondents and do not necessarily represent MSA's views.