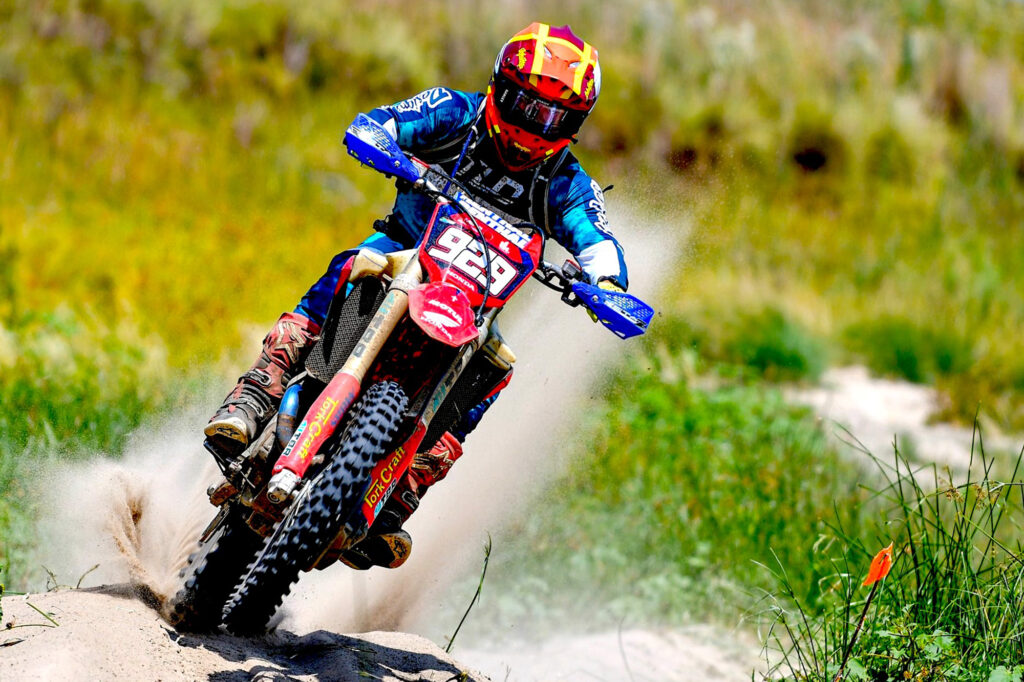 Bigger, stronger Franchise Co Sleepover Tork Craft Honda Wing team poised for '23

What Honda SA National Cross Country Preview 2023
Where Legends Park, Pretoria
When Saturday 4 March 2023
Community South Africa National
Franchise Co Sleepover Tork Craft Honda Wing Racing returns to the Trademore South African Cross Country Motorcycle Championship in grand style for 2023. After taking a measured, yet race-winning step back to Cross Country racing last year, the new team is poised for a multi-bike attack across all classes for the new season.
Starting with opening round at Legends near Pretoria on Saturday 4 March, the team has bikes competing in the OR1 class, 250cc OR3, Senior, Masters, 125, High School, and 85 cc Senior and Junior classes.
From the top, Franchise Co Sleepover Tork Craft Honda Wing Racing is running a three-bike Honda CRF 450 RX OR1 team in the open class. Big news is that South African OR1 champion Mike Pentecost has stolen the headlines by switching to red for 2023. Pentecost will race in the open class alongside rapid Honda regulars, 2022 race winner and OR1 runner up Gareth Cole, and Hayden Louw.
"Short and sweet, I'm really, really excited and super-keen for the new season with the new brand, man!" Mike Pentecost explains. "It's always good for a little change – it lights that fire and it's so cool to be riding for Honda Wing South Africa with Harry's Franchise Co Tork Craft Honda Wing team in Troy Lee kit and wearing Oakley goggles.
"We've spent so much time dialling my new Franchise Co Sleepover Tork Craft Honda Wing CRF 450 RX in with TBR suspension and I would say that we are there on set-up! "So, I'm looking forward to seeing who else will be out there, and who will be on the pace. "I just can't wait to get on the start line and smash the year on my new Red Rocket Honda!"
Gareth Cole is likewise limbering up for an epic season in the saddle. "I could not be happier with my Franchise Co Sleepover Tork Craft Honda Wing family for 2023," Gareth confirmed. "Everyone is so welcoming and helpful, and we have such an awesome vibe. "I was second in National OR1 last year, so it would be awesome to go one better, but there's such good competition in 2023. "Keep your eyes on our red rockets – we are out to make Harry 'De Coster' Grobler proud!
Hayden Louw is another Franchise Sleepover Co Tork Craft Honda Wing rider who cannot wait for his 2023 National season to get under way. "My Honda CRF 450 RX is ready to race!" Hayden confirms. "We spent a lot of time on set-up and we've come up with something good. "I enjoyed racing at Legends last year, so hopefully it's more of the same, but there's huge pressure and everyone will be pushing hard at the first race. "Huge thanks to Harry and the team for all the effort and support. "Now to make it worth their while. "Let's race!"
The big guns will be backed up by nothing less than a four-bike Franchise Co Sleepover Tork Craft Honda Wing 250cc OR3 attack. 2022 250cc riders Haydn Cole and Tyron Beverley, new teammate John Botha and young High School class graduate Noah Maartens will ride a quartet of Honda Wing CRF 250 RXs in 2023.
"I'm hoping for a consistent season in the very competitive OR3 class aboard my Franchise Co Sleepover Tork Craft Honda Wing CRF 250 RX," Haydn Cole explains. "What machine! "I'm absolutely loving the bike. "My goal is to try put my Honda on the podium as many times as possible, but mainly to just go out there and have the most fun!"
"I'm super excited to race for the Franchise Co Sleepover Tork Craft Honda Wing factory team this year!" John Botha added. "I'm stoked about riding my Honda CRF 250 RX. "What a machine. "Now it's time to race and I can't wait to do my sponsors proud at the first National of the year at Legends!"
Ever spectacular, Tyron Beverly can't wait to get back out on his red rocket for 2023. "It's an honour to be riding for Harry and Franchise Co Sleepover Tork Craft Honda Wing Racing again this year," Tyron admits. "My CRF 250 RX put me on the box at the first GXCC race a few weeks back and I'm looking forward to fighting at the front all year long, starting with this weekend's National!"
Franchise Co Sleepover Tork Craft Honda Wing Racing also has a strong senior Cross Country team ready to race the 2023 Nationals. Masters' sensation throughout 2022, Warrick van Schalkwyk has switched to a red machine for the new season alongside Senior pair, Wynand Delport and Gerhard Vorster.
"I raced bikes since I was five in the early 1980s, but I never raced a Honda before," Masters' man van Schalkwyk explains. "We spent a lot of time tweaking my new Franchise Co Sleepover Tork Craft Honda Wing CRF 450 RX on its Mitas tyres and TBR suspension and it's worked out brilliantly. "It's such a sexy bike and my kit looks great. "Now I must ride it great. "I'm going out to win at Legends, and the SA Championship for my team boss Harry!"
"Yeah I think the team is off to a fantastic start to the 2023 season," Senior rider Wynand Delport pointed out. "The National Cross Country opener is at a great venue just outside Pretoria this weekend. "The competition is tough, but so is my Franchise Co Sleepover Tork Craft Honda Wing CRF 450 RX and I personally aim to win the class!"
And then the juniors. Johandre Vermaak will fly the Franchise Co Sleepover Tork Craft Honda Wing flag in the 125 High School class. Murray Smith and Jaden Els are the team's 85 cc Senior riders and Liam Scheepers will race in red in the 85cc Junior class.
"Franchise Co Sleepover Tork Craft Honda Wing Racing arrived quietly in 2022, but there will be no holds barred for the season ahead," team Principal Harry Grobler warns. "Last year's team remains pretty much as it was and we have brought in a few heavy hitters to grow our attack. "I'd say we are ready. "Bring on round 1 at Legends, none of us can wait!"

*Honda Racing salutes its partners, Tork Craft Tools, The Franchise Co, Sleepover Motels, CIT Accessories, Motul Oils, Mitas, Leatt Protectives, Pollisport, TNT Nutrition, Galfermoto brakes & Nitro Mousse
Issued on behalf of Honda Cross Country
Photography by: Action in Motion
MSA Publishes media releases from a host of different sources on our website as a service to the sport. It is not practically possible to vet/approve every release that is published. Some news items and articles are written by correspondents and do not necessarily represent MSA's views.