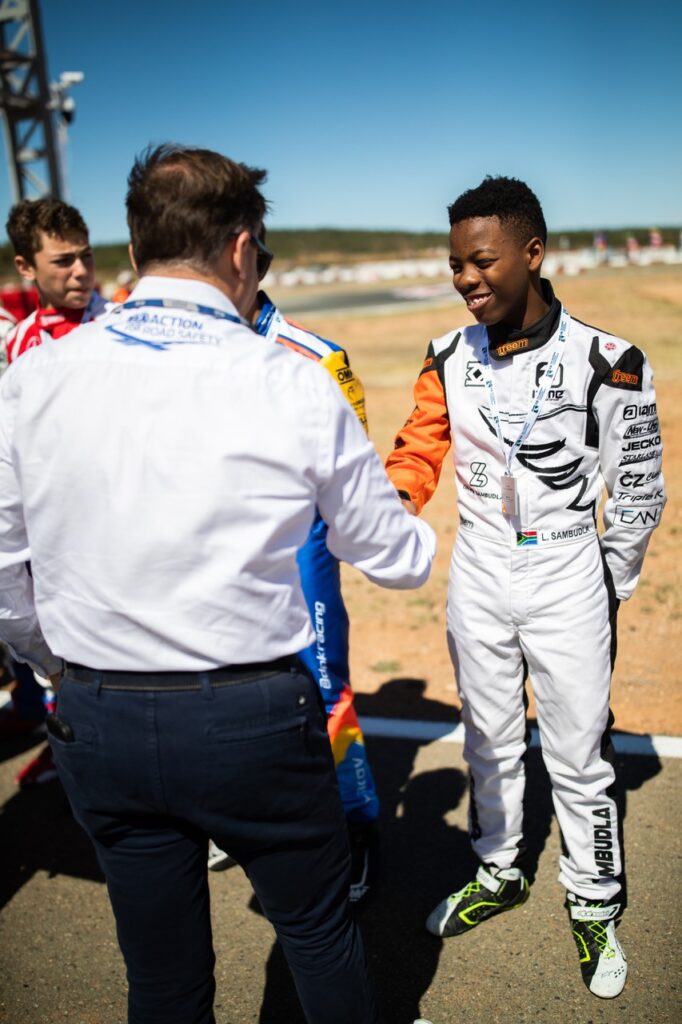 South African born Luviwe Sambudla recently moved from the OKJ to the OK class, with an amazing season debut in the first round of the FIA Karting OK European Championship at Kartódromo Interacional Lucas Guerrero de Valencia, held between 23 and 26 March 2023.

This is the first time that the Kartódromo Interacional Lucas Guerrero de Valencia is hosting an FIA Karting event, and the 1 482-metre-long track allows for a fast pace, with few braking manoeuvres. The width of the track at the first corner favours fluid starts and reduces the usual handicap of starting from the outside lane. The numerous overtaking possibilities contribute to the interesting and competitive races.

After two serious injuries in the past 12 months, Sambudla has clearly demonstrated his stamina and determination with incredible results over the three days.

Driving under the KR Racing banner, Sambudla stunned his fellow competitors in the free practice sessions on Friday, 23 March. In the Free Practice session he placed 25th, then gained 20 places in the first Qualifying Practice session, and managed an unbeatable first place in the Qualifying Heat.

"Not only was Luviwe still in active recovery after his recent injuries, but this type of performance from a driver who has moved up a racing category on the highly competitive international karting circuit, is nothing short of miraculous," says Mpho Elijah Gumbi, owner of ICAN, the South Africa-based driver management company mentoring Sambudla.

Sambudla is philosophical about his performance: "To focus on my goals, I mustn't look in any direction but ahead. I was taught that the top achievers are lifelong learners."

It is exactly this mentality and die-hard attitude that resulted in Sambudla's impressive performance in the Qualifying Heats on Saturday and the subsequent Super Heats and Finals on the Sunday.

Sambudla achieved a P7, two P5's, a P4 and a P2 in the OK Qualifiers, and brought home a P5 in the Superheat and a P13 in the Final. "Given that he was competing against a large, experienced field of 90 OK drivers, this emphasises his ability to remain focused on driving strategically and intentionally," says Gumbi.

"Of note is that Luviwe is the only South African driver featuring in the OK class. And the fact that his current standing is 11th, is something that brings great pride to ICAN. While we function as a team, with all elements being equally important, at the end of the day, the driver must have an indomitable spirit to excel in the international arena. We are thrilled to have been part of Luviwe's journey from a youngster learning the ropes in South Africa, to a young man holding his own against the best that the international race circuit has to offer. This is a solid example of what a child, given the right training and support, coupled with his willingness to learn, can achieve — irrespective of where his journey began. It is very satisfying for the team to see our drivers climb the ranks and is something that we constantly reinforce back in South Africa, where there is a wealth of untapped motorsport talent," adds Gumbi.

Teamwork and a rock-solid support system are indeed the differentiators for drivers like Sambudla. In his own words: "When we move forward together, then success takes care of itself."
Published by: Allyson Koekhoven
Picture Caption: A very proud moment for Luviwe Sambudla as a South African, to be commended by the FIA for making it into the OK Finals – FIA Karting European Championship
MSA Publishes media releases from a host of different sources on our website as a service to the sport. It is not practically possible to vet/approve every release that is published. Some news items and articles are written by correspondents and do not necessarily represent MSA's views.