The FIA Rally Star Training Season resumes in Slovenia this week (September 21-24) when more learning and progression will be among the key targets for some of rallying's brightest prospects for future success.
With two events run prior to the summer break, the FIA Rally Star drivers are preparing to put their growing experience and potential to the test on the Tarmac-based Rally Nova Gorica, located in the town of the same name in western Slovenia.
The event marks the final sealed-surface contest on the FIA Rally Star Training Season calendar ahead of three gravel rallies in Estonia, Spain and Germany.
Once the FIA Rally Star Training Season has concluded, the process of deciding the names of the four drivers who will progress to the FIA Junior WRC Championship in 2024 will enter its final phase. FIA Rally Star is providing this gilt-edged opportunity free of charge to the chosen quartet.
To get this far, the six FIA Rally Star drivers, who all have limited competition experience, had to qualify for their Continental Final via selection events organised by their ASNs or through online competitions. The winners of the five Continental Finals plus the winner of the Women's Final were then chosen for the FIA Rally Star Training Season. The FIA Rally Star drivers will compete in Pirelli-equipped Ford Fiesta Rally3 cars prepared and maintained by M-Sport Poland.
FIA Deputy President for Sport Robert Reid, a former FIA World Rally Championship-winning co-driver, will be an interested observer during Rally Nova Gorica having attended the FIA Rally Star Training Camp, held in Sardinia in May, and selected FIA Rally Star Continental Finals.
The 11th running of Rally Nova Gorica coincides with FIA Volunteers Weekend when the spotlight will shine on those who give up their time without financial reward to make motor sport happen.
The challenge in store
Rally Nova Gorica, which ran for the first time in 2012, puts drivers to the test on 15 stages over a competitive distance of 150.05 kilometres. The event begins with a superspecial stage in the host town on Friday evening followed by eight stages on Saturday and six more on Sunday. As well as the speed, the stage surface varies with sections on smooth but also on uneven asphalt to increase the challenge for the crews, which is amplified by the forecast of rain on all three days of the event. The route includes stages in wooded areas but also in wide-open spaces, while some of the roads are notably undulating in their nature. A round of the FIA European Rally Trophy, the event is organised by Avto Moto Društvo Gorica with the support of the Slovenian ASN, AŠ2005.
FIA Rally Star latest news and views
*Romet Jürgenson backed up his class victory on the FIA World Rally Championship-counting Rally Estonia with a podium finish on Future SM-Ralli Lahti, which marked his debut event in Finland. Jürgenson's busy summer continued when he took another class victory, this time on his home event, Paide Ralli. He used his own Ford Fiesta Rally4 on all three occasions.

*Since Rallye Weiz in July, Abdullah Al-Tawqi has focused heavily on recce and pacenote preparation practice on various roads in Oman where he lives. He's also devoted time to studying onboard videos from Rallye Weiz, from the Rallye Monte-Carlo and Croatia Rally WRC events via Rally.TV, and from Junior WRC drivers William Creighton and Eamonn Kelly. His work with a fitness coach has also continued, with a daily programme of running or cycling undertaken.

*Taylor Gill has spent much of the summer working on developing his skills as a mechanic at the motorsport workshop in Finland where he's employed. He travelled to Croatia earlier this month to carry out a Tarmac reconnaissance simulation and also spent time working on improving his pacenotes.

*Annia Cilloniz has been attending the Vittorio Caneva Rally School in Italy, while also developing her pacenote preparation.
*During the summer break, Jose 'Abito' Caparo has continued to work on his mental and physical fitness. He's studied rally event regulations to improve his understanding of the sport's specific workings and analysed onboard footage to enhance his pacenotes. He also spent time on his simulator to further develop his pacenotes and finetune the information contained and the language used.

*Max Smart travelled from his native South Africa to the UK to undertake additional training with Elite Sports Performance, which supported the FIA Rally Star Training Camp. He then contested the Vale of York Stages Rally, finishing 22nd overall aboard a front-wheel-drive Suzuki Swift Sport. "It was a great event with no pressure," Smart said. "I got to feel my way into it and practice what I've been training in so far. From there I could build the pace while using all the principles and techniques I have learned."
*Rather than contest Rally Nova Gorica, Smart will focus on preparing for the three remaining FIA Rally Star Training Season gravel events.
FIA Rally Star Project Leader Jérôme Roussel said: "I'm really excited as we prepare for Rally Nova Gorica. We've seen some very encouraging performances from the FIA Rally Star Drivers and also observed a very clear and genuine desire to learn and improve. There will be five FIA Rally Star Training Season drivers competing on Rally Nova Gorica rather than the usual six. After a couple of challenging events, we really wanted to give Max Smart the opportunity to be fully prepared for the upcoming gravel rallies, a surface on which he feels more familiar. Like his fellow Training Season counterparts, he's a driver with great potential and we really want that to be realised. As we do for every FIA Rally Star Training Season event, we have worked closely with the national ASN and local organising club and we want to thank them both for their support and enthusiasm. I particularly want to highlight the number of volunteers who have provided much valued assistance as we mark FIA Volunteers Weekend."
Jose 'Abito' Caparo said: "During these last months I have been trying to know more about this rally. The stages look amazing and fast and everything looks to be very well organised from watching the onboard videos. I am 100 percent sure my experience from karting can help me on this Tarmac rally. This includes the racing line, the braking points and not feeling fear of the speed, which is something karting has given me. But then it all has to be translated to the rally car and this will be different. But the two rallies we have raced in have given us the confidence and I am feeling very strong mentally. I have been working on my confidence by practicing doing my pacenotes from watching the onboard videos. My main target for this rally is to complete all the tasks I face. This includes doing my recce like I have prepared it. During the night I will work with my co-driver by watching the onboards. Physically I will do my pre-workout before jumping in the car. In the racing way for sure I will want to push a little bit more but with no mistakes after I made two small mistakes on Rallye Weiz."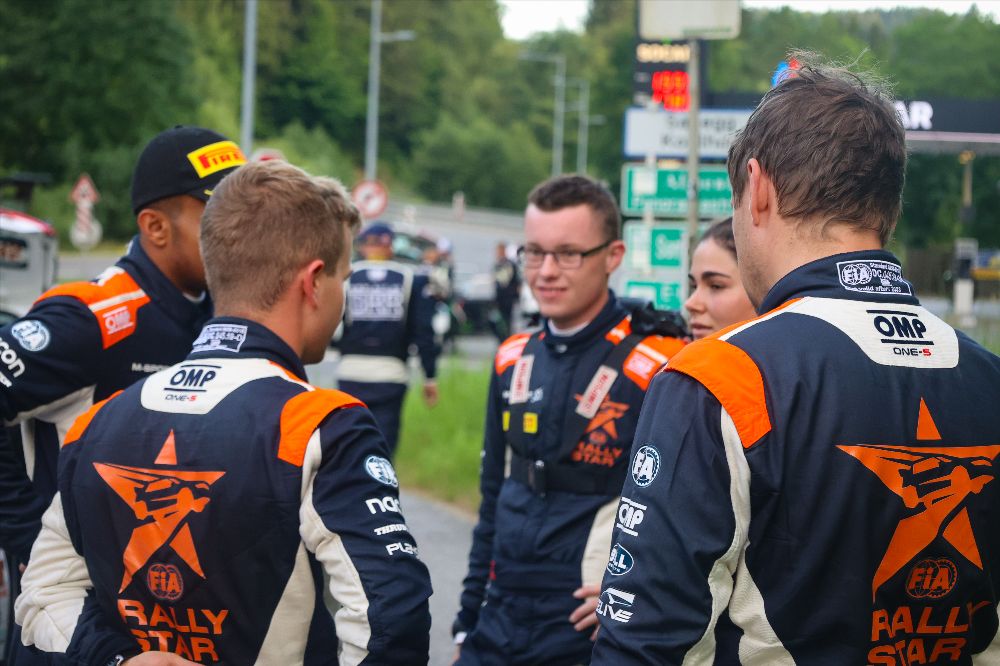 FIA Rally Star Training Season participants (in Rally Nova Gorica start number order)
12 Taylor Gill (19, Australia) Co-driver: Daniel Brkic (AUS)
14 Romet Jürgenson (23, Estonia) Co-driver: Siim Oja (EST)
15 Jose 'Abito' Caparo (26, Peru) Co-driver: 'Willy' Guillermo Sierra Ovalle (PER)
16 Abdullah Al-Tawqi (24, Oman) Co-driver: Ronan Comerford (IRL)
17 Annia Cilloniz (24, Peru) Co-driver: Esther Gutierrez (ESP)
FIA Rally Star Training Season event schedule refresher
The FIA Rally Star Training Season consists of six events, four on gravel and two on Tarmac:
San Marino Rally (Gravel), June 16-17
Rallye Weiz, Austria (Tarmac), July 13-15
Rally Nova Gorica, Slovenia (Tarmac), September 22-24
Rally Saaremaa, Estonia (Gravel), October 6-7
RallyRACC, Spain (Gravel), October 20-21
Lausitz Rallye, Germany (Gravel), November 9-11
A test will take place ahead of each event along with an extensive post-rally debrief. The FIA Rally Star Training Season events have been specifically chosen to equip the drivers with experience of a wide variety of conditions and circumstances.
The six FIA Rally Star Training Season participants will compete in identical Pirelli-equipped Ford Fiesta Rally3s run by M-Sport Poland.
All costs are covered by the FIA with the best four drivers at the completion of the FIA Rally Star Training Season securing a fully-funded season in the FIA Junior WRC Championship in 2024.
MSA Publishes media releases from a host of different sources on our website as a service to the sport. It is not practically possible to vet/approve every release that is published. Some news items and articles are written by correspondents and do not necessarily represent MSA's views.