Romet Jürgenson, Jose 'Abito' Caparo and Taylor Gill were the aces in the pack when the FIA Rally Star Training Season continued on the asphalt stages of Rallye Weiz in Austria last weekend (July 13-15).
They finished first, second and third respectively in the Rally3-based RC3 category, 16.3s apart, after 13 challenging stages.
Organised by a dedicated team of volunteer officials from Rallye Club Steiermark in Austria's Styria region, Rallye Weiz was the second of six events meticulously selected for the FIA Rally Star Training Season. It was also the first of four based on Tarmac and the first to run over two complete legs.
The rally's undulating roads and numerous grip and rhythm changes provided an excellent opportunity for the FIA Rally Star Training Season recruits to continue the ongoing task of building their experience and taking on new skills in their identical Ford Fiesta Rally3s prepared by M-Sport Poland. This process was amplified by rain in advance of the event that led to damp but drying conditions through Friday morning's stages.
How Rallye Weiz unfolded for the FIA Rally Star drivers
While the objective for all the FIA Rally Star drivers was to complete as many kilometres as possible by reaching the finish, there was also a clear expectation for the aspiring FIA World Rally Championship winners of the future to demonstrate their speed and potential.
Peruvian Caparo, who qualified for the FIA Rally Star Training Season by winning the American Final in May, did just that by making full use of his experience racing karts to go fastest of the Rally3 contenders on sages one and three.
The 26-year-old's decision to fit medium and hard-compound Pirelli tyres to his Fiesta Rally3 in a cross formation gave him the confidence he craved, which was reflected by his category lead of 5.7s at the first service halt.
Caparo set another fastest time on SS5 to reach the end of leg one 9.1s ahead of Jürgenson, who was fastest of the FIA Rally Star drivers on sages two and four.
Jürgenson moved into a lead he wouldn't relinquish on Saturday's second stage and the Estonian would go on to complete the event with a tally of five stage wins. Caparo and Gill were fastest twice on Saturday as they secured second and third in the final order.
Under the close supervision of the FIA Rally Star programme representatives onsite, Abdullah Al-Tawqi also completed the challenging route, the Oman driver taking every opportunity to adapt to the rigours of rallying on asphalt, something he'd never done previously.
Annia Cilloniz was fourth among the FIA Rally Star drivers when she rolled into retirement on SS8. After a check-up in hospital, the Peruvian was given the all-clear by medical staff.
Max Smart was unable to contest Rallye Weiz after damage to his M-Sport Poland-run Ford Fiesta Rally3 sustained during a crash in testing could not be repaired on site.
The FIA Rally Star Training Season continues following the summer break with Rally Nova Gorica, a Tarmac event in Slovenia, taking place from September 22-24.
FIA Rally Star Project Leader Jérôme Roussel said: "It was really great to see Abito, Romet and Taylor on the top of the times and being really close to each other in terms of performance all weekend. Abito surprised many people by leading the RC3 class at the start of the rally, partly because of the wise tyre choice he made, so full credit to him. He was consistent on his gravel debut in San Marino with no silly mistakes and it was the same here. Coming from karting we could clearly see he was more comfortable on Tarmac. Every time he improved the set-up of the car the time improved. It really was the perfect rally by him and Willy. Romet did also a perfect rally, being fast when he needed to be fast, backing off in the last stages when it was necessary to avoid getting into trouble. I'm very happy to see he'll be doing Rally Estonia in the WRC next week in his own Ford Fiesta Rally4. Three years ago, he said he wouldn't dare to have dreamt about what's happening to him but it's the reality and he deserves it. For Taylor, this was the first time he drove on Tarmac, but he did a rally without mistakes, strong, calm, dedicated, the perfect job by someone with the potential to go up to another level. It was a difficult rally for Abdullah and hard for him to get the confidence on his Tarmac debut. But his plan was to finish the rally and this is what he did. He knows he has some work to do and that's perfectly fine. It was a disappointing weekend for Annia and Max. Of course, we were very pleased they were okay after their crashes but they missed out getting lots of experience, which is what they need most. Finally, we must thank Rallye Club Steiermark for all their support and assistance and for organising a very nice event with a nice atmosphere. It was also good for the FIA Rally Star drivers to take part on a round of the FIA European Rally Trophy."
FIA Rally Star San Marino Rally driver-by-driver round-up (listed in seeded order)
46 Taylor Gill (19, Australia) Co-driver: Daniel Brkic (AUS)
Finished 10th overall for the second event running but this time he took third among the Rally3 class contenders. Demonstrated plenty of potential on his first Tarmac event with two fastest stage times.
Taylor Gill: "I learned so much about the tyres and the capability of the Ford Fiesta Rally3 on Tarmac, which was a completely new experience for me, especially with the cuts and the dirt being dragged onto the road. But it was great for the learning and gives us a good base moving to the next rally. For sure we've got a bit of work to do before then and we'll spend some time watching back all the in-car videos to see where we can improve, especially with the pacenotes and the recce."
47 Romet Jürgenson (23, Estonia) Co-driver: Siim Oja (EST)
After his unfortunate retirement with suspension damage on the previous event in San Marino, Jürgenson set the pace among the FIA Rally Star drivers on five occasions and won the Rally3 category in eighth overall on the back of a highly impressive performance. It was also the perfect build-up to this week's WRC-counting Rally Estonia, which he'll contest in a Ford Fiesta Rally4 as an addition to his FIA Rally Star Training Season schedule.
Romet Jürgenson: "I'm really happy to be honest. The aim for this rally was to get to the end with a comfortable speed and we managed it quite well with no moments. It was good to battle with Taylor and Abito for comparing the speeds. When you look at the overall classification we are quite okay in terms of speed so it was good for the competition. You can get a lot more from the Ford Fiesta Rally3 than you can get from the Rally4. When you really trust the car you can use the rear-wheel support a lot more. It needs some time to get used to it, but I during this rally we could improve."
48 Jose 'Abito' Caparo (26, Peru) Co-driver: 'Willy' Guillermo Sierra Ovalle (PER)
After spending the San Marino Rally adapting to gravel, 'Abito' utilised his Tarmac-driving experience perfectly with a demonstration of skill, speed and strategy, following his inspired mixed-compound, cross-fitting tyre choice for Friday morning's damp but drying roads. He clocked five fastest stage times and finished second in Rally3 in ninth overall.
Jose 'Abito' Caparo: "The rally was very, very tricky in some parts but we feel amazing afterwards. Willy and me are a great team and with the help of the FIA Rally Star instructors we achieved the goals we were set. We have a lot to improve but we are learning all the time about set-up and the preparation that's needed. The Ford Fiesta Rally3 was amazing, almost like a kart in some places. This rally wasn't just about getting faster but it was also about getting more secure with the car and every stage we could improve on that step by step. We will continue to work hard for the next rallies."
49 Abdullah Al-Tawqi (24, Oman) Co-driver: Ronan Comerford (IRL)
Having shown potential on the San Marino Rally, Al-Tawqi's Rallye Weiz was all about improving his confidence on a surface very much alien to him in terms of his competition experience. He showed caution when required – such as in the gravel section on SS5 – and reached the finish to achieve his pre-event target.
Abdullah Al-Tawqi: "It was the first rally on Tarmac in my life and I finished. I was able to get experience and the feeling on Tarmac, which is so important. Some stages were difficult and technical and some places were slippery and we needed to control the car. Some stages I was able to reduce a little bit the time to the others but I felt more and more confident with the car and thank you to everybody who helped me to finish this rally. I need to do more practice and more recce preparation during the summer, maybe I will do some rallies out of my country to help me prepare for the next rally on Tarmac."
51 Annia Cilloniz (24, Peru) Co-driver: Esther Gutierrez (ESP)
Cilloniz was fourth among the FIA Rally Star drives when she rolled on stage eight and retired. Although her Ford Fiesta Rally3 was badly damaged, Cilloniz and co-driver Esther Gutierrez were uninjured.
Annia Cilloniz: "Things didn't end up as planned. We really wanted to finish but, in this sport, as in life, sometimes we make mistakes. We will continue working hard and come back stronger. For sure Tarmac is not a strength for me at the moment, but with hard work it will be, and I will honour all the trust that has been put in me. I am in a big learning process."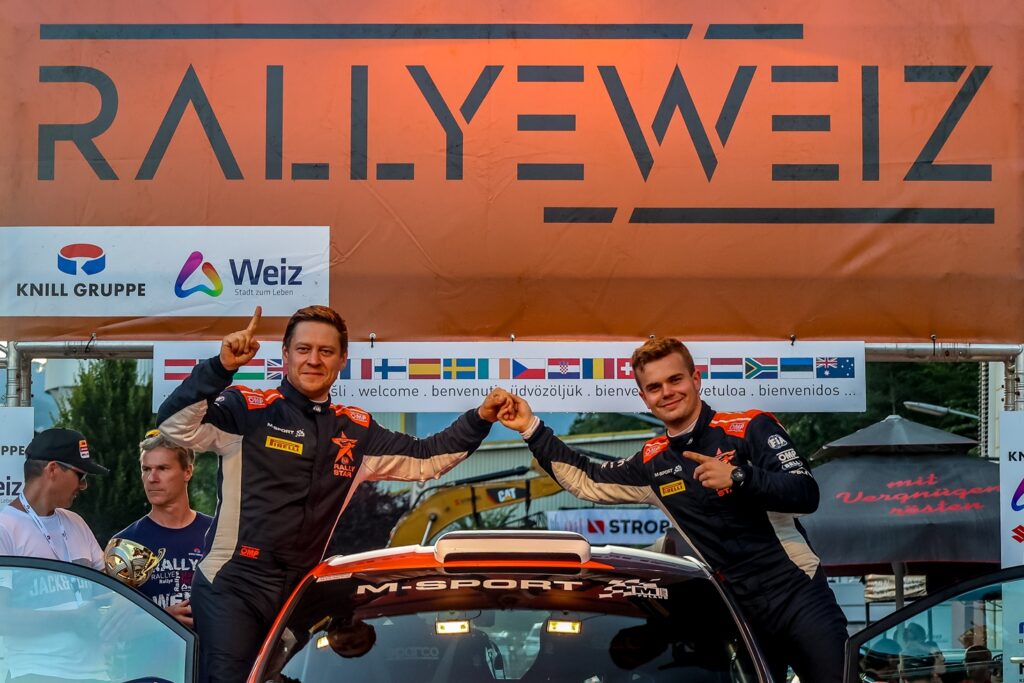 FIA Rally Star Training Season event schedule refresher
The FIA Rally Star Training Season consists of six events, four on gravel and two on Tarmac:
San Marino Rally (Gravel), June 16-17
Rallye Weiz, Austria (Tarmac), July 13-15
Rally Nova Gorica, Slovenia (Tarmac), September 22-24
Rally Saarema, Estonia (Gravel), October 6-7
RallyRACC, Spain (Gravel), October 20-21
Lausitz Rallye, Germany (Gravel), November 9-11
A test will take place ahead of each event along with an extensive post-rally debrief. The FIA Rally Star Training Season events have been specifically chosen to equip the drivers with experience of a wide variety of conditions and circumstances.
The six FIA Rally Star Training Season participants will compete in identical Pirelli-equipped Ford Fiesta Rally3s run by M-Sport Poland.
All costs are covered by the FIA with the best four drivers at the completion of the FIA Rally Star Training Season securing a fully-funded season in the FIA Junior WRC Championship in 2024.
Published by: FIA Rally Star
MSA Publishes media releases from a host of different sources on our website as a service to the sport. It is not practically possible to vet/approve every release that is published. Some news items and articles are written by correspondents and do not necessarily represent MSA's views.