2023 NATIONAL MOTOCROSS | DOUBLE HEADER – ROUND 2 AND 3 | ZONE 7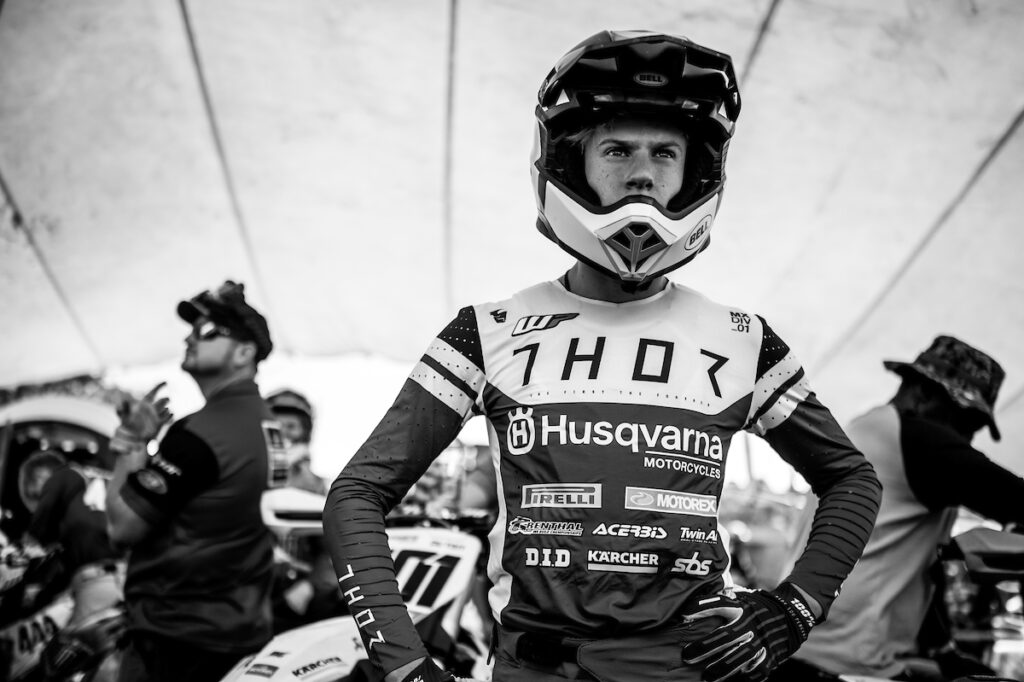 It was a fiery battle in the high school class this past weekend for newest addition, Barend Du Toit, in the Husqvarna Racing team at Zone 7 in Cape Town.
Du Toit engaged in an explosive scramble with Luke Grundy, resulting in a thrilling race that demonstrated the racers' skill and determination. Their impressive performances indicated a potential season-long championship battle between the two talented competitors. Barend dominated the first heat and had to fight back from a bad start in the second heat securing a well-deserved second overall for Round 2.
He displayed tremendous pace in heat one of Round 3, indicating his potential to obtain victory. However, a fuel line issue caused him to play catch-up after losing a lap, a disappointing setback for the team and fans alike. Despite this misfortune, Barend bounced back in the second heat, bagging the win and finishing the day on a high heading to the next round in Pietermaritzburg.
He commented: "I had a great weekend baring a setback in the one moto but I managed to claw my way back and claim that win in the second heat! Feeling stoked and confident for Round 4 and can't wait to get back to the track!"
In the MX2 class, Davin Cocker faced numerous challenges throughout the weekend, including small falls that made it challenging for him to show his true potential. However, his never-give-up attitude exemplified his dedication to the sport. He ended the weekend with a 12th and 4th place finish, respectively.
"I had a much better day at Round 3, which also made for better results which I'm happy about. Improving the race bit by bit and putting in those hours is all I can ask for. Thank you to Husqvarna Racing and everyone who has made it possible!", a content Cocker said.
In the MX1 class, Josh Mlimi demonstrated a consistent performance, securing a 6th and 4th place finish. His focus and determination were evident throughout the race, and his impressive riding skills drew cheers from the spectators.
"All in all I'm happy to leave in one piece and with good points. Made some good steps forward and looking forward to building on where our strengths and weaknesses are." Mlimi said.

"The track was brutal on both days and getting the bike set up really good was also a little challenging, but we keep on working on and off the bike putting in the hours," he added.
Team manager Grant Frerichs commented: "The proverbial black cat struck again with some bad luck plaguing the team at the weekend, but all 3 riders showed glimmers of hope and promising speed. I look forward to the day that the puzzle pieces fall into place and we will be a force to be reckoned with!"
Published by: Grant Frerichs
Photography by: Justin Reinecke – ZCMC Media
MSA Publishes media releases from a host of different sources on our website as a service to the sport. It is not practically possible to vet/approve every release that is published. Some news items and articles are written by correspondents and do not necessarily represent MSA's views.