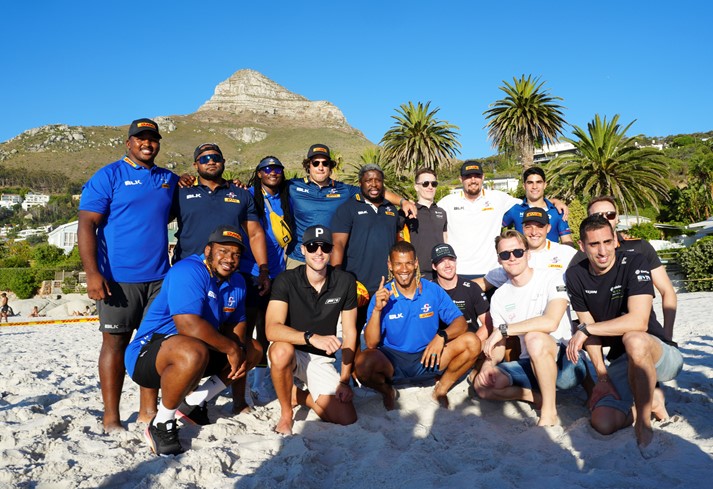 Ahead of making history this weekend with the first-ever ABB FIA Formula E World Championship race in Cape Town this Saturday, seven drivers swapped helmets for rugby balls when they joined the entire DHL Stormers squad for a traditional South African rugby experience at Clifton beach.

The Stormers players took time out from training for their upcoming game against the Sharks to coach the drivers in kicking and passing challenges. The competitive spirit of all the professional athletes involved inevitably emerged as the drivers were lifted by Stormers forwards in a full lineout practice complete with attempted steals.

South Africa native Kelvin Van Der Linde from ABT CUPRA Formula E Team; Envision Racing teammates Sébastien Buemi and Nick Cassidy; NEOM McLaren Formula E Team drivers Jake Hughes and René Rast; Maserati MSG Racing's Maximilian Günther and NIO 333 Racing's Sérgio Sette Câmara took part in the fun-filled beach action, watched by dozens of surprised beachgoing-fans, against the backdrop of the Twelve Apostles Mountain Range.

As the sun set on a beautiful day in the Mother City, it was time for the drivers to relax and swap stories with players Seabelo Senatla, Joseph Dweba, Alistair Vermaak, Scarra Ntubeni and Herschel Jantjies while enjoying some traditional boerewors rolls at the Clifton Lifesaving Club.

Kelvin Van Der Linde, racing driver for ABT Cupra this weekend said: "It was a perfect start into the weekend meeting the Stormers at the beach on my home turf. We had some great conversations about our sport and their sport. Their passion for getting to know more about Formula E is great to see and we look forward to inviting them to our garage over the weekend. And yes, I can feel my muscles hurting from all the training!".

Stormers Head Coach John Dobson said: "As the DHL Stormers, one of our team's missions is to make Cape Town smile – and that includes making visitors to Cape Town smile. It was great fun and a privilege for some of our team to spend time with the Formula E drivers and to share a few of their rugby skills, as well as a few laughs."

This weekend marks the inaugural ABB FIA Formula E 2023 Cape Town E-Prix. It's the sport's ninth season, but the first time Formula E's all-new GEN3 cars – the fastest, lightest, most powerful and efficient electric race car ever built – will compete in sub-Saharan Africa. Excitement is mounting as the Cape Town track is expected to be the fastest of the 16-race season, and drivers will need to use all their skill to handle one of the fastest corners of any Formula E circuit.

With only a few tickets remaining the event is expected to be a sell-out, but final tickets can be found here: https://www.ticketmaster.co.za/artist/cape-town-e-prix-tickets/1222624
South African viewers at home can catch all the action on etv and SuperSport from 15:00.
Published by: ABB FIA Formula E World Championship
MSA Publishes media releases from a host of different sources on our website as a service to the sport. It is not practically possible to vet/approve every release that is published. Some news items and articles are written by correspondents and do not necessarily represent MSA's views.