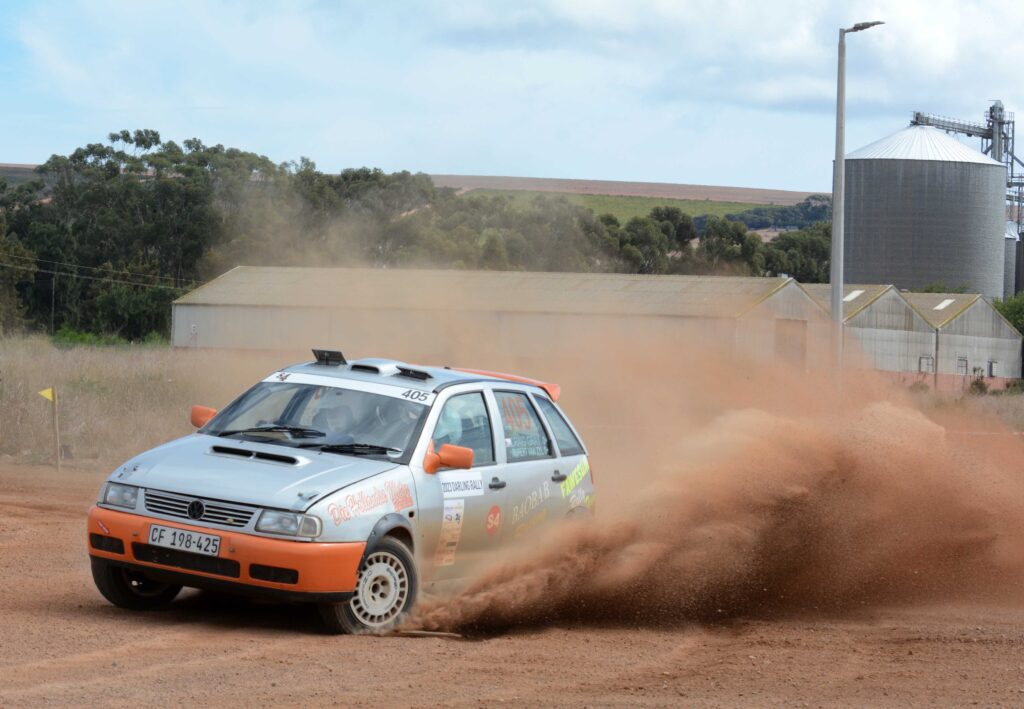 Somebody parked the sun directly above Darling during the week leading up to the 18 March 2023 Darling Rally and scenes of heat exhaustion were being visualised by the 15 competing crews as 38ºC feels like 48ºC inside a rally car.
Overnight rain brought great relief in temperature, but now everyone was panicking about their dry weather tyres on the extremely slippery surfaces. Fortunately this is the nature of rallying and possibly the greatest challenge in the sport is to constantly adapt to circumstances.

Llewellyn Jones and Christophé Pichon had little problem adapting in the CEJ Plant Hire 434 Subaru Impreza WRX STi 2.0 Turbo 4×4, winning five of the eight special stages outright and sharing two more. Keeping up with the Jones's is more than just a statement in the Western Cape as the only drivers capable of doing just that at the moment happen to more Jones's!

Sharing the final two stage wins with his uncle had Owen Jones and Aden Bredenkamp content with second place in class S5 with their 454 Subaru Impreza WRX STi 2.0 Turbo 4×4. Now the Western Cape competitors voted for a Clubs Class only Championship thus there is no such thing as having finished second overall this year.

Nor can we state that the car in third overall was Shaun Jones and Jason Thorpe in their Advanced Asphalting 434 Subaru Impreza WRX STi 2.0 Turbo 4×4. Fortunately they would only have placed fourth overall, but they were third in class S5. Podium domination by the Jones family!

Fourth in class S5 going to the very much still under development accident Guru 469 Audi S3 1.8 Turbo 4×4 of Paul van Wyk and Matt Köhler. With Audi planning their debut in F1 soon rumours are afoot that they will be testing components in this very neat local challenger. Ok, it is wishful thinking. Understeer and overboosting led to a frustrating day, but at least they reached Parc Fermé.

Inus du Plessis and Piet Carinus was in determined mood with the Coastal Tool Hire 461 BMW E36 328i and with Leon Engelbrecht (Automotive Performance) having spent a few sleepless nights finding more horses they were quietly confident at the start.

Their sporting offer to assist three teams to enter the event did not go unnoticed as two more would offer support of similar nature. Werner Koekemoer (ValueCrete) offered assistance to two teams and Salvan Moodley (Inn Da Mood Guesthouse) added another.

No doubts as to why Inus du Plessis became the winner of the inaugural Sportmanship award initiated by Team 409 (Julian Calvert)!

The expected tussle between the two Beemers lived up to expectations and the result basically came down to the difference in traction on the slippery surfaces – and the extra ponies produced by the 330 engine of course. Inus du Plessis and Piet Carinus taking the class S4 win from Werner Koekemoer and Leané Koekemoer in their Valuecrete 474 BMW E36 328i 3.0.

Werner really drove it like a rental after his daughter threatened to never navigate for him again should they fail to finish their home event! Rupert van Zyl and Craig Gray was a little hard of hearing after the event as the exhaust snapped on their Die Hollandse Motor Spesialis 405 VW Polo 2.0. They should hear that they were third in class sometime later in the week.

Seraaj Amlay and Ziyaad Amlay were even more confident in their Ramlay Construction 457 Toyota Tazz 2.0, opting just for three working tyres in SS6 and somehow managing to avoid hitting anything on their way to first place in class S3. Juneyed Edas and Reyanah Edas second in class with their Edas Racing 466 Toyota Tazz 1.6 and third place in class going to Julian Calvert and Nicholas Knights in the 409 VW Golf MkIII GTi 2.0.

The final classified finishers of the event ( not sure f that still applies under the new championship) or simply fourth in class S3 going to Erin Joshua and Ibraheem Amlay in their slightly shorter 462 Toyota Tazz 1.6. An early overshoot required some panelbeating rather than servicing but more valuable experience was gained .

Warren Scholtz and Justin Gay looked quite competitive initially but the 444 Subaru Impreza WRX STi 2.0 Turbo 4×4 found the heat too much and expired after four stages. Gareth Vernon and Marius Rudolph traded their trusty MkI Golf for a BMW E36 328i and managed three stages before vanishing from the scoreboard. Riyaan Amlay and Yaseen Amlay also just managing three stages in their Ramlay Construction 433 Toyota Corolla RXi 1600.

The rain limited dust and initially created a rather slippery surface, but by midday it was dry – but still slippery. Encouraging was the large contingent of spectators and supporters present and prizegiving enjoyed good support at Darling Brew. Compliments to Roxy Young and her team for a splendid effort in preparing a great hub for the event.

Almost impossible to name every individual who worked towards the success of this event but Robert Marle and Billy Thorpe certainly deserve special mention.

Thank you to the following who made this event a reality: Dynamic Plant Solutions, Goeie Hoop Onderdele, Kirsten Vervoer, Darling Brew, CEJ Plant Hire, Coastal Hire, Agri World, KC Tyres Brackenfell, A&A Powder Coaters, Grain Carriers, Elsana Quarry, Subaru Somerset West, ValueCrete Readymix and Hello Darling.

Published by: Patrick Vermaak
Picture Caption: 469 S5 Paul van Wyk – Matt Köhler – acciDent Guru Audi S3 2.0. 4th Class S5
MSA Publishes media releases from a host of different sources on our website as a service to the sport. It is not practically possible to vet/approve every release that is published. Some news items and articles are written by correspondents and do not necessarily represent MSA's views.