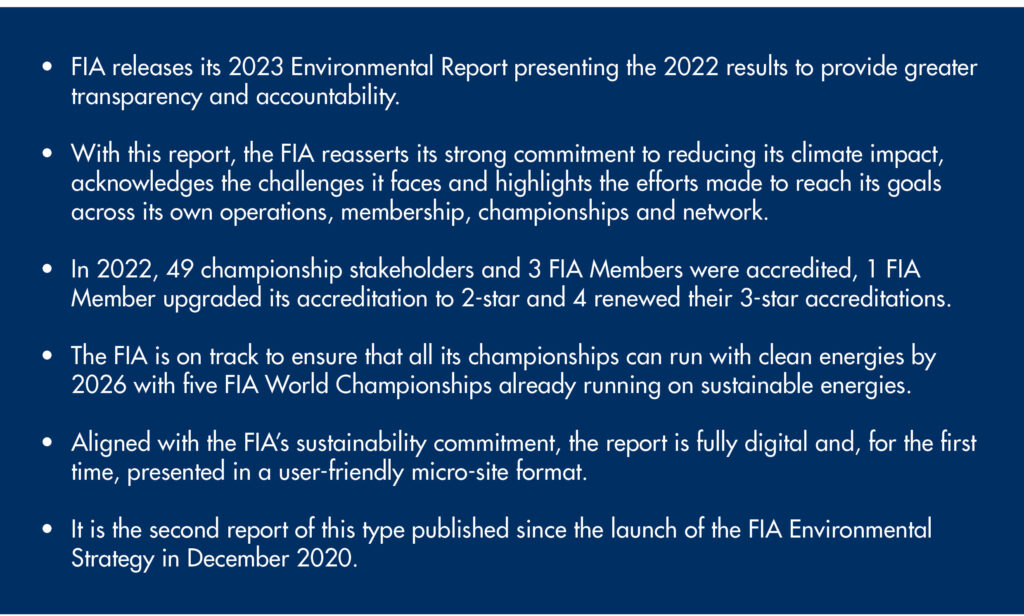 Addressing Challenges
The FIA is taking another significant step forward to demonstrate its commitment to transparency and accountability by publishing its 2023 FIA Environmental Report in a fully digital user-friendly micro-site format.
The second edition of the report looks at the 2022 results and the progress made towards the objectives set for the next target date of 2025 in the FIA Environmental Strategy 2020-2030. It gives a full insight on the FIA Environmental performance and the measures it takes to reach its goals across its own operations, its membership, its championships and its network.
The 2022 results­ – because they were not affected by the impact of the COVID-19 pandemic – are the first fully representative ones since the adoption of the Strategy in December 2020.
Strongly committed to sustaining its efforts to further reducing emissions, the Federation has implemented measures and in 2022, average footprint per employee decreased by 16% compared with the baseline year of 2019, as a result of their adoption (new business travel policy, reduction of energy consumption, etc.).
To consolidate that result, an extended homeworking policy allowing to reduce the footprint of staff commuting has been implemented in 2023.
In 2021, the FIA obtained ISO 14001:2015 standard certification and achieved carbon neutrality. It was again carbon neutral in 2022 by fully offsetting residual emissions through high-quality verified compensation projects.
The offsetting of emissions is one step in the FIA's pathway to net zero, defined in its Environmental Strategy. The FIA's target is to halve its GHG emissions by 2030 and become net zero by removing any residual emissions. In 2022, the FIA received the IOC Carbon Action Award for its carbon reduction plan.
Overall Greenhouse Gas emissions of the FIA in 2022 were nearly at their 2019 level with a 0.7% increase explained by a 20% increase in staff number compared with the last three years and a rise of activities. As in previous years, most of the footprint comes from business travel (73.5%) and logistics (23.7%) and the FIA is conscious of the challenges ahead as both are inherent to the nature of its activity.
In 2023, a working group, involving some of our Members and experts, was launched to provide recommendations and possibly involve other stakeholders to help the FIA identify and invest in innovative technologies allowing carbon removal in the value chain.
FIA President Mohammed Ben Sulayem said: "The rise of activities last year, strong prospects and ambitions for future growth, and the end of the COVID-19 pandemic, have shaped new challenges for our Federation. We know that we must strengthen our sustainability efforts to positively contribute to the global response to climate change, ensuring that mobility and motor sport are a key part of the solution."
FIA CEO Natalie Robyn said: "One of our primary responsibilities is to reduce our own environmental impact and to continuously increase our performance by implementing the best solutions available to us. As part of our wider drive to reform our Federation, we are examining ways to improve our sustainability, showcase our research and innovation, and create impactful partnerships. We will continue to ensure that environmental sustainability and decarbonisation are an integral part of our model."
FIA Environment and Sustainability Commission President Felipe Calderón said: "In the context of the urgent need of rapid and significant CO2 emissions reduction, our fundamental objectives have not lost any of their relevance. We want to enhance efforts in encouraging and supporting all our stakeholders – championships, Motor Sport and Mobility Clubs, drivers, fans, sponsors, suppliers – in their climate transition. To this end, the FIA will go further using its global outreach to strengthen its climate leadership in sport and embark motor sport and mobility ecosystems into a low carbon future."
Progressing with our Members, Championships and Network
The FIA aims to support its Members in building capacity and expertise in sustainability to better address environmental challenges, and measure and reduce their impact.
Progress was made following the 2022 FIA Members' survey on sustainability. Existing programmes were promoted, such as the carbon calculator tool designed for Members, and adapted, such as with the FIA Sustainable Mobility Programme that supported Club-led projects for the first time. New initiatives were also developed such as the FIA Environmental Seminar project providing training for Members on climate action and environmental challenges, with support of the FIA Sport Grant Programme. The FIA President 's Climate Action Award was also created and granted for the first time to the Royal Automobile Club of Jordan.
The FIA advanced towards its objective to have all Sport & Mobility Members accredited with minimum 1 star in 2025 and 2 stars by 2030. It also worked closely with its championship stakeholders to ensure that they are all aligned with its environmental requirements and ambitions.
In 2022, 49 championship stakeholders and 3 FIA Members were accredited, 1 FIA Member upgraded its accreditation to 2-star and 4 renewed their 3-star accreditations.
The Sustainable Energies Roadmap was further improved in 2022 and the FIA is on track to ensure that all its championships can run with clean energies by 2026, with five FIA World Championships already running on sustainable energies.
The FIA uses its global outreach to advocate for sustainability in motor sport and mobility through active involvement in global forums. In 2022, the FIA took part in events such as the Annual Summit of ITF, Formula E Innovation Summit, Sport Positive Summit, UNFCCC Sports for Climate Action Framework meeting, and COP 27.
You can access the 2023 FIA Environmental Report website here.

ABOUT THE FIA ENVIRONMENTAL STRATEGY 2020-2030
The FIA Environmental Strategy 2020-2030 was adopted in December 2020. The Strategy identifies a total of 50 objectives with different target dates across four spheres of responsibility – FIA, Members, Championship, Network. They pursue three strategic goals:
• Climate Action – Accelerate net-zero transformation;
• Technology & Innovation – Foster sustainable & innovative solutions; and
• Sustainable Practices – Drive sustainable change
These overarching goals are aligned with eight identified Sustainable Development Goals (SDGs).