The Husqvarna Racing Team showcased their exceptional skills and determination at the thrilling double header event in Ganyesa this past weekend. The team's OR2 class rider, Davin Cocker, emerged as the standout performer, securing victory in both rounds and clinching the prestigious OR2 championship title. Despite facing challenges, the team demonstrated resilience and a commendable fighting spirit throughout the weekend.

Cocker illustrated his prowess as he dominated both rounds three and four. With remarkable skill and strategic riding, Cocker emerged victorious, leaving his competitors in his dust. Reflecting on his exhilarating race weekend, Cocker expressed his gratitude, stating, "It was an incredible race, and I'm thrilled to have secured the OR2 championship win. The team's dedication and support have been instrumental in my success, and I can't thank them enough."

In the OR3 class, Ryan Pelser faced a challenging weekend. Despite the rough and tight track conditions in Round 3, Pelser demonstrated his unwavering passion for the sport, finding joy in the thrilling experience. The track conditions improved on the second day, allowing Pelser to push harder and make progress resulting in an impressive fourth-place finish in his class. Reflecting on the race, Pelser commented, "I had a good time overall, despite the challenges. Racing is all about overcoming obstacles, and I'm looking forward to pushing myself even further in the upcoming rounds."

The Husqvarna Racing Team welcomed two fill-in riders, Michael Docherty and Charan Moore, who exhibited their talent and dedication throughout the weekend. Docherty delivered an outstanding performance in the third round. However, his previous wrist injury gave him trouble after the demanding first day forcing him to make the difficult decision to sit out the fourth round.
Docherty expressed his satisfaction being back at the racing: "It was a great weekend, and I enjoyed being back on the track after Dakar. I faced some challenges with the bike setup and my wrist, but overall, it was a positive experience, and I'm grateful for the opportunity to race."

Charan Moore encountered a series of unfortunate events during the doubleheader event. In the third round, Moore's race was marred by a collision that damaged his radiator. With the help of supportive local farmers, he managed to make it back to the pits and go out for a few more laps after his radiator was fixed. In the fourth round, an unexpected fuel shortage forced him to retire from the race. Reflecting on the weekend, Moore stated, "It was a bit of an unlucky weekend, but I was so stoked to be back riding. My FX450 performed amazingly, and the team was fantastic. I look forward to building on this experience and coming back stronger for the final round."

Team manager Grant Frerichs commented, "Another up and down weekend for the team in Ganyesa but Davin Cocker managed to prove once again how dominant he is in the series."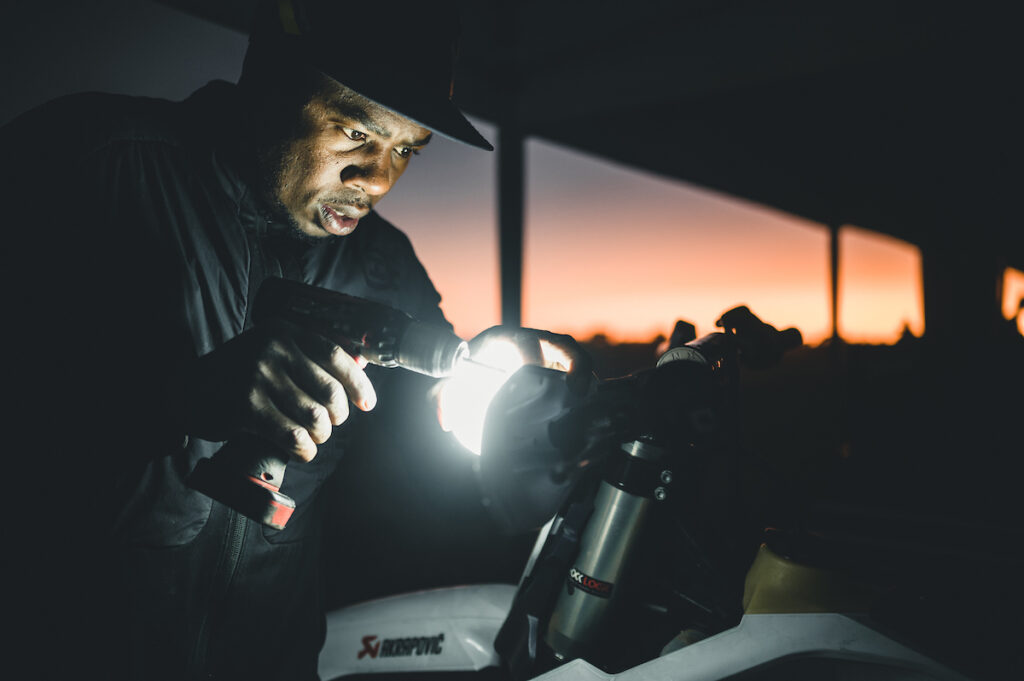 Published by: Grant Frerichs
Photography by: Justin Reinecke – ZCMC Media
MSA Publishes media releases from a host of different sources on our website as a service to the sport. It is not practically possible to vet/approve every release that is published. Some news items and articles are written by correspondents and do not necessarily represent MSA's views.