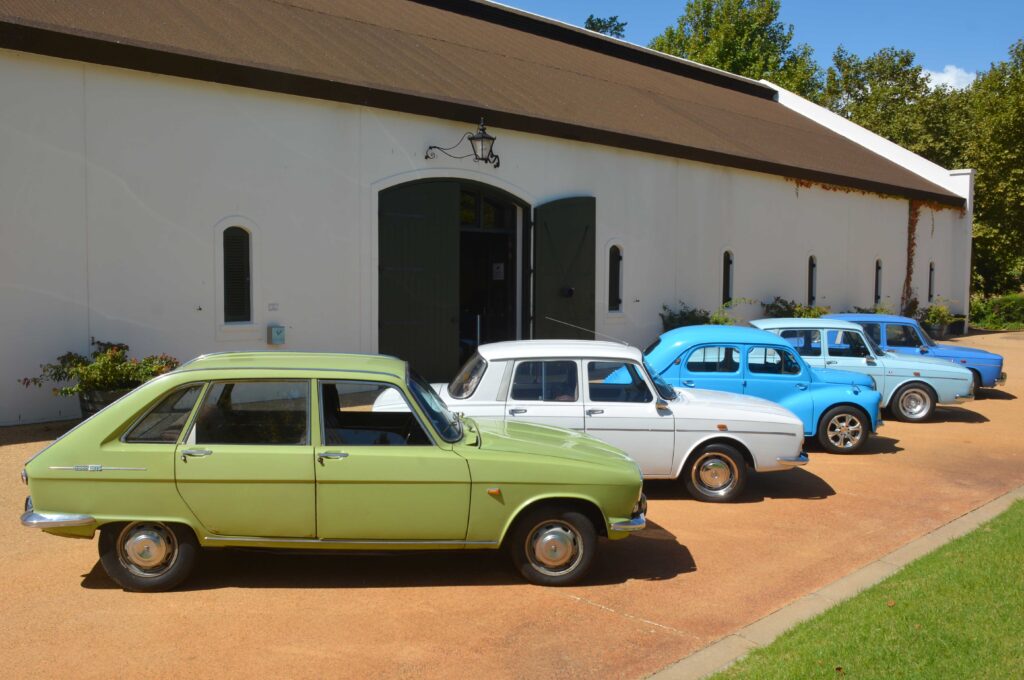 Induction as permanent display in the main hall at Franschhoek Motor Museum qualifies as a truly significant achievement when one considers that this hall hosts two, of the three, six time South African Racing Driver Champions (John Love and Ian Scheckter).

To note a little Renault R8 Gordini displayed next to the only South African built car to have scored points in two world championship disciplines (LDS Ecosse Mk3) raises the bar even higher, but when this little French car dominated the most significant motorsport event in the Paarl / Franschhoek valley, with a Klapmuts born and bred driver at the helm, celebrating the King of Paarlberg on what would have been the 84th birthday of Hennie Mostert made 26 March 2023 a significant day.

Who would have thought that the very first Renault R8 Gordini to reach South Africa would survive 56 years registered to the same owner, running the same numberplate, never be restored and dominate the Paarl Hillclimb to become part of Franschhoek folklore?

Born in Klapmuts on 26 March 1939, Hennie Mostert became a living legend amongst local motorsport enthusiasts as driver and technical advisor to all driving Renault products.

When Willy Learmonth (former WP Saloon Renault Gordini racer) addressed friends and family at the Franschhoek Motor Museum reveal the level of respect he enjoyed amongst his peers and competitors were once again highlighted.

Whether he was racing Brian Peek in a VW vs Renault Challenge race at Killarney or sharing a Renault Dauphine with Adrian Pheiffer in the Kyalami 9 Hour, his total domination of the Paarlberg Hillclimb, in what was essentially a production 1967 Renault R8 Gordini, became legendary.

Proving that it is not the size of the car or man that counts, but the size of the heart!

Franschhoek Motor Museum now have a home grown Renault "diamond" sparkling in Hall D that had granddaughter, Sunell Mostert, remark that she never truly realised what her grandfather had achieved until today. Imagine the pride when two year old Isabel Mostert (daughter of Berto and Lize Mostert) discovers the significance of her grandfathers achievements much later in her life?

Watching brothers, Jacques Mostert (eldest son) and Berto Mostert (youngest son), reveal the totally original 1967 Renault R8 Gordini an emotional Reinett Mostert (widow) and Elzaan Mostert (daughter) could not hide their proud tears.

Eric "Liefie" Roux, Chairman Cape Town Renault Club, and members in attendance complimented proceedings by having their pristine vehicles on display in front of the hall.
Take the time to visit the Franschhoek Motor Museum and learn more about the King Of Paarlberg, Hennie Mostert, and his all-conquering 1967 Renault R8 Gordini.

Proudly local takes on a completely new meaning!

Published by: Patrick Vermaak
Picture Caption: Jacques Mostert and Berto Mostert reveal the 1967 Renault R8 Gordini
MSA Publishes media releases from a host of different sources on our website as a service to the sport. It is not practically possible to vet/approve every release that is published. Some news items and articles are written by correspondents and do not necessarily represent MSA's views.