The past weekend (23-24 June) saw the BMW ///M Performance Parts Race Series Championship battle remain wide open going into the winter break, following an action-packed fifth round with a host of twists and turns at Zwartkops Raceway.
With 47 cars entered to compete around the shortest circuit on this year's calendar, the group was split into two parts. Classes D & E started the race programme, with Classes A, B & C in a separate race.
Leon Loubser continued his dominance around Zwartkops Raceway in Class A after he started the day from his fourth Dunlop Pole Position for 2023. Loubser quickly built up a commanding lead in Race 1, in which he also recorded the weekend's Arrow Automotive Fast Flyer Lap of 1:02.851. William Einkamerer and Bob Neill held onto their respective second and third places. Neill retired with two laps remaining, which saw him classified in third place, having completed two-thirds of the race distance. The early laps of Race 2 delivered the promised fast and fierce battle up front, with Einkamerer holding the initial lead before Loubser took control on Lap 7. Neill also made up a position to finish as runner-up. Loubser's double victory did not just see him take the Class A win for the day, but the fast 70-year-old also took the ITOO Driver of the Day award.
Class B saw Renier Smith head up the pack into Race 1 from Lyle Ramsay, Lorenzo Gualtieri, Andreas Meier and Nek Makris. Gualtieri quickly shot to the front but faced fierce competition from the rest of the group, led by Smith. However, the order changed on the final lap. Makris, who had gradually made his way towards the front, first past Meier, then Ramsay, and in the closing stages, Smith, finished as runner-up. Meier and Ramsay also passed Smith shortly before the flag, with Smith hanging on to complete the top five. Gualtieri's win made it three for the season. Race 2 saw Ramsay slot into an early lead, but Smith kept the leader honest until the penultimate lap. An incident between the pair saw Smith retire while Ramsay suffered a puncture. Nevertheless, he fended off Makris and Meier to take his third Class B win, while the latter two completed the podium just behind him. Oz Biagioni took fourth place further back, while Sav Gualtieri fended off Mansoor Parker and Fabio Fedetto to complete the top five. Race 1 winner Lorenzo Gualtieri retired early. After looking good throughout Friday, Josh le Roux withdrew before Race 1 due to braking issues. Makris' two second places saw him take the Class B honours on the day by a single point.
Breakouts played a big part in the Class C battles on the weekend. This started with Dewit Oosthuizen and Anton Pommersheim moving into Class B on Friday. Saturday morning's qualifying session saw Jaco Storm break into the Class B times, but he opted to take a 30-second time penalty in Race 1 while retaining his grid position. Storm took the win on track but again broke out, this time without a Joker in hand. The final results saw him conclude the Class B classification after his 30 second penalty was applied. Alan Hilligenn inherited the win, while Troy Cochran held off Nicholas Fisher for second place. Varish Ganpath and Eugene Gouws completed the top five, following a good battle that included Hein van der Merwe. Hilligenn held the field off to cross the line first in Race 2, but in the process, also broke into the Class B times. He opted for a 30-second penalty, which saw Van der Merwe take his first win since the season opener. Fischer, who survived a scary off-track excursion, finished as runner-up, with Cochran in close pursuit. Hilligenn playing the Joker, was classified in fourth place, while Gouws finished fifth. Hilligenn took the Class C honours by one point in the day's closest contest from Fisher and Cochran, who ended tied on 14 points, but with Fischer recording the better aggregate time.
Reinhardt Miller took his first ATS Motorsport Pole Position in Class D, ahead of Neil Reynolds and Cobus Bohmer, after the latter broke out of the Class E time on Friday. Nicholas Herbst qualified in fifth place, ahead of George Economides, back on the grid for the first time in 12 months. The top five retained their positions in Race 1, with Miller taking his fourth win of 2023, while Bohmer fended off Herbst to complete the podium behind Reynolds. Race 2 saw Economides take his maiden victory in the series, following a good threeway tussle with Herbst and Miller. Bohmer completed his first weekend in Class D with a fourth place in Race 2, while Manny Ribeiro, who competed in his first event since Round 2, completed the top five. However, it was Miller who took the honours on the day.
Bohmer's Class E breakout on Friday was followed by Dave Rehse breaking into Class D in Saturday morning's qualifying session. This saw Dewald Smith head up the three contenders in Race 1, with both races producing a good contest between himself and Arri van Heerden. On both occasions, it was Van Heerden who took the honours. With four consecutive wins and following Rehse's breakout, he now holds the Class E points lead. Caren Nienaber bounced back from a Qualifying accident to complete both races in third place.
Loubser, Meier, Fischer and Miller retained their respective Class A, B, C and D class leads into the winter break. A significant change occurred in the 2023 overall championship, where Loubser took the lead, ahead of Meier, Miller, Makris and Van Heerden. Only seven points separate the top five heading into the final three rounds of the season. After breaking out five rounds into the season, former leader Rehse had 20% of his points subtracted, which sees him in seventh place.
Round 6 will see BMW ///M Performance Parts Race Series make a maiden coastal visit to Aldo Scribante Racetrack on 1-2 September.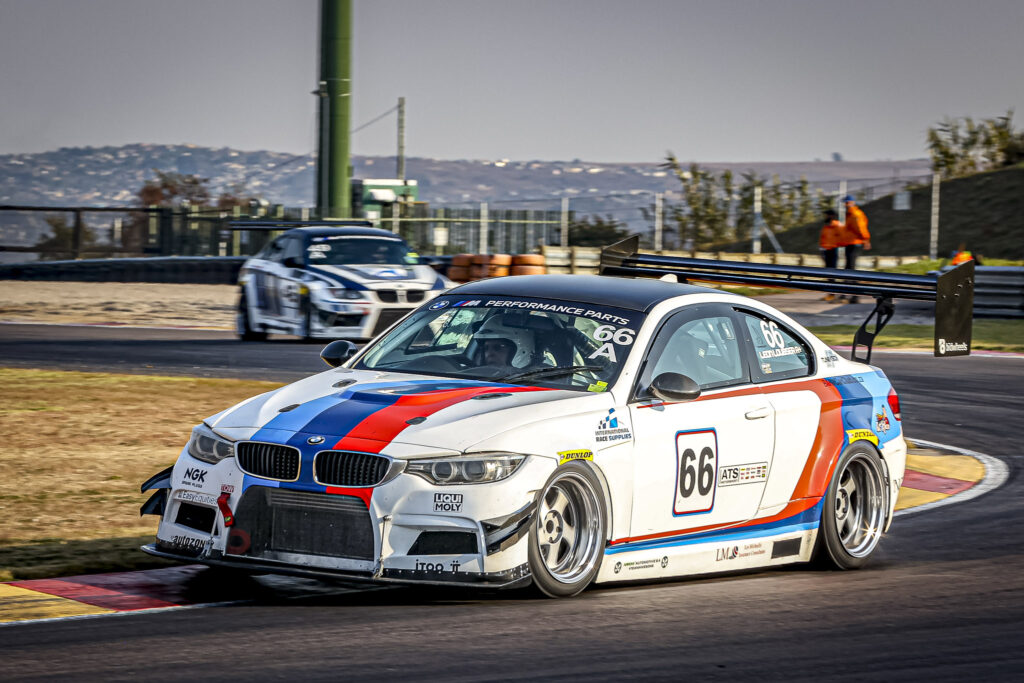 Issued by Brandsponential on behalf of BMW Car Club Gauteng
Photography by: Willie Pretorius and Marius Gerber
MSA Publishes media releases from a host of different sources on our website as a service to the sport. It is not practically possible to vet/approve every release that is published. Some news items and articles are written by correspondents and do not necessarily represent MSA's views.