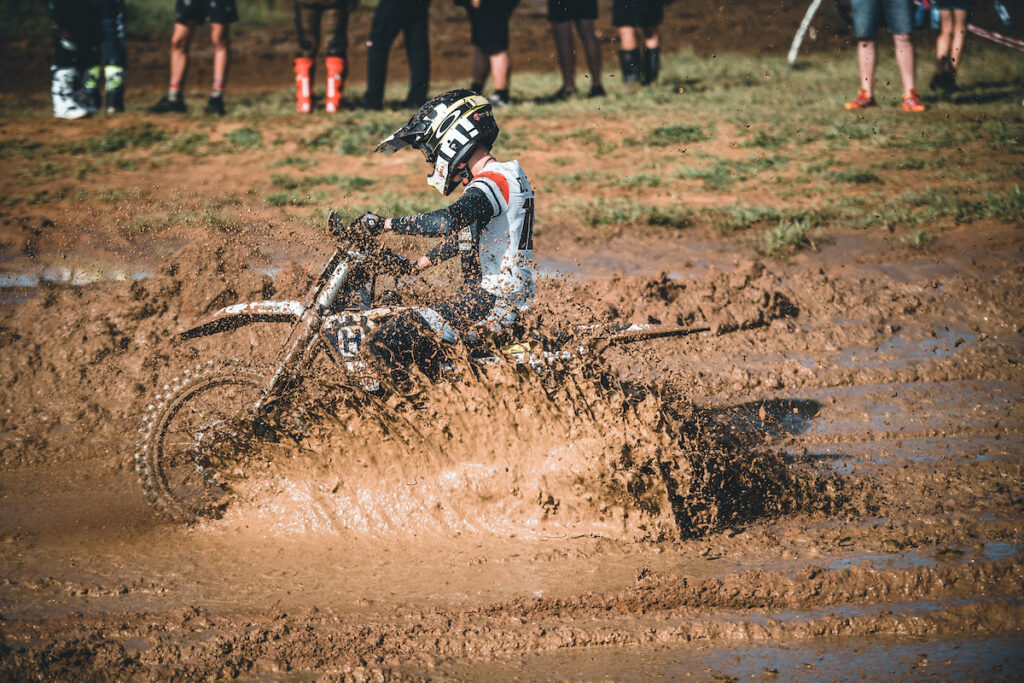 2023 National Motocross | Round 1 | Phakisa
The familiar blue and white of Husqvarna Racing showed some promise at the soaking-wet season opener in Welkom this weekend. The trio of Josh Mlimi, Davin Cocker and, newcomer to the squad, Barend du Toit had a wet welcome to the 2023 Motocross National Championship season.

Mlimi who was quite happy to have the first race of the season out the way after wading his way back into competitive racing last season is slowly coming to grips with his FC450 Husqvarna machine. "I'm super happy to be back racing again and especially walking away from a brutal race, both healthy and safe is awesome," a relieved Mlimi said. The track was described as brutal by Mlimi who made a few mistakes seeing him hit the deck in each of the races. "I know I could have done better but the season is still long and full of promise" he continued.

Cocker found it hard to pass in the single rutted track as a result of the muddy conditions but enjoyed the battle out there. "I really didn't expect the mud to be that bad, I felt comfortable and ran some decent times but made too many mistakes in the end," he said.

The new addition to the team du Toit realised a dream of his by starting for the Husqvarna Racing team. "I had a blast and really just tried to soak it in that I was actually racing for the team, I learnt a lot and cannot wait for the next round in Cape Town," the youngster said.

Husqvarna South Africa's Grant Frerichs said the team showed promise speed-wise and said that the team was held back by some small errors. "I am happy with the riding of the 3 athletes under the Husqvarna pit. All three riders still showed some promising speed but were hampered by mistakes. We will go back to the drawing board and eliminate the mistakes to ensure we come out swinging at round 2" Frerichs said in closing.
Published by:  Grant Frerichs
Photography by: Sage Lee Voges – ZCMC Media